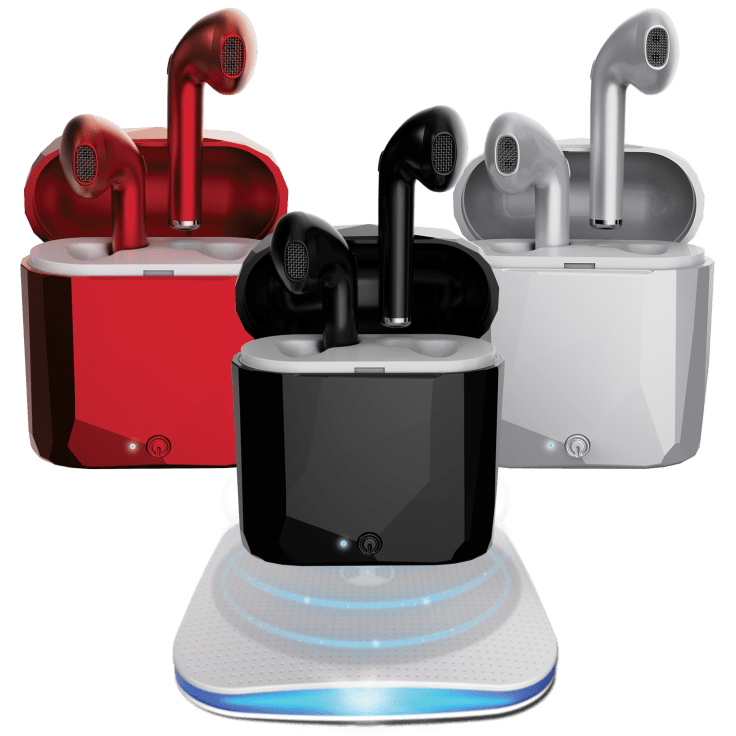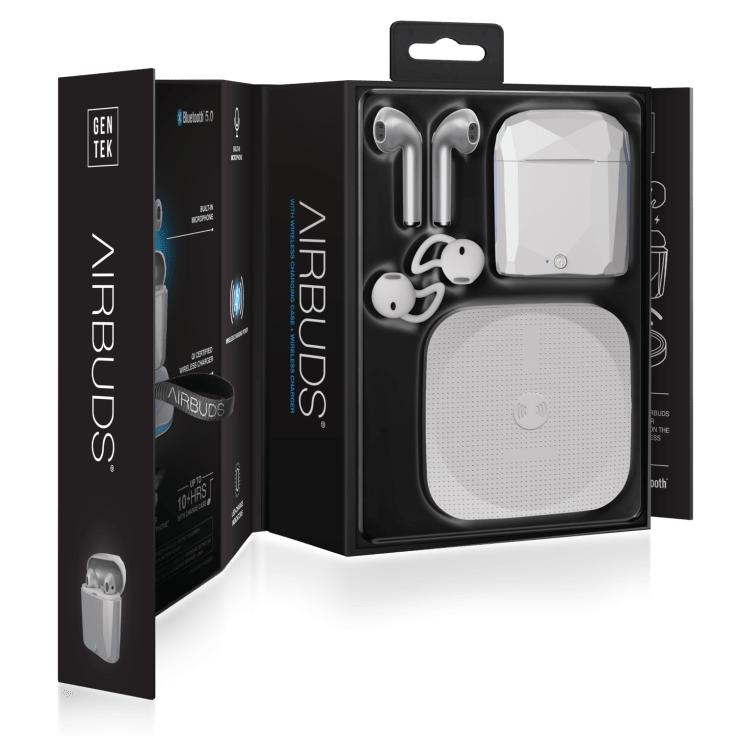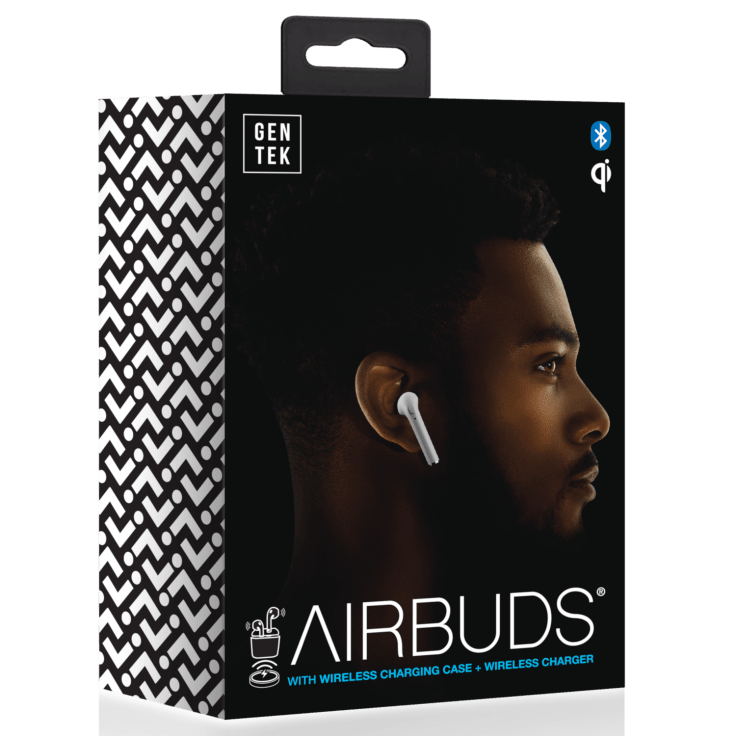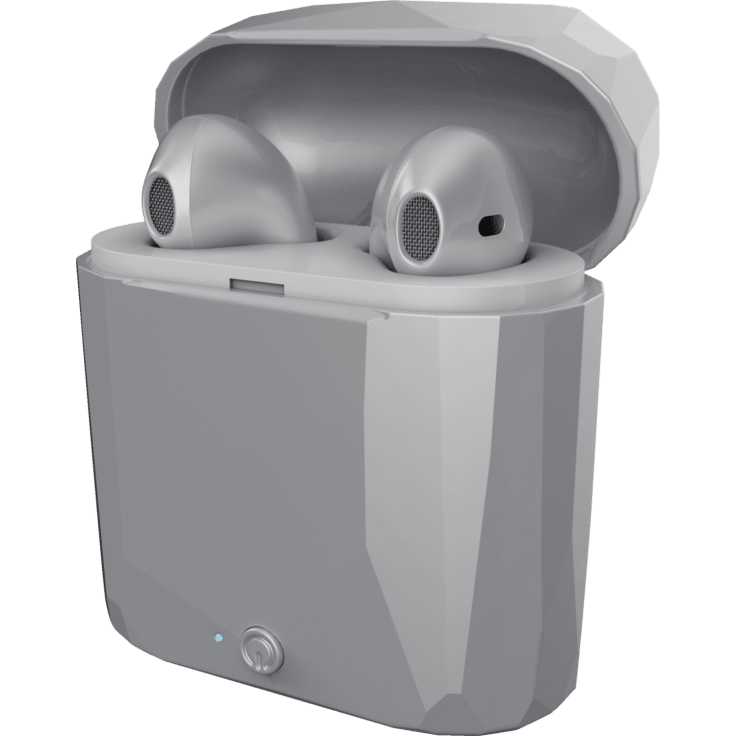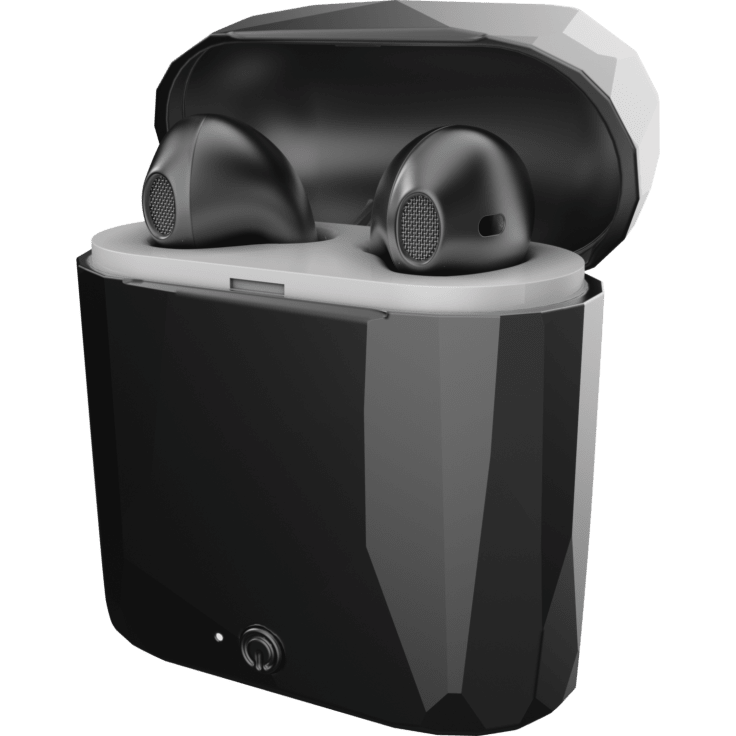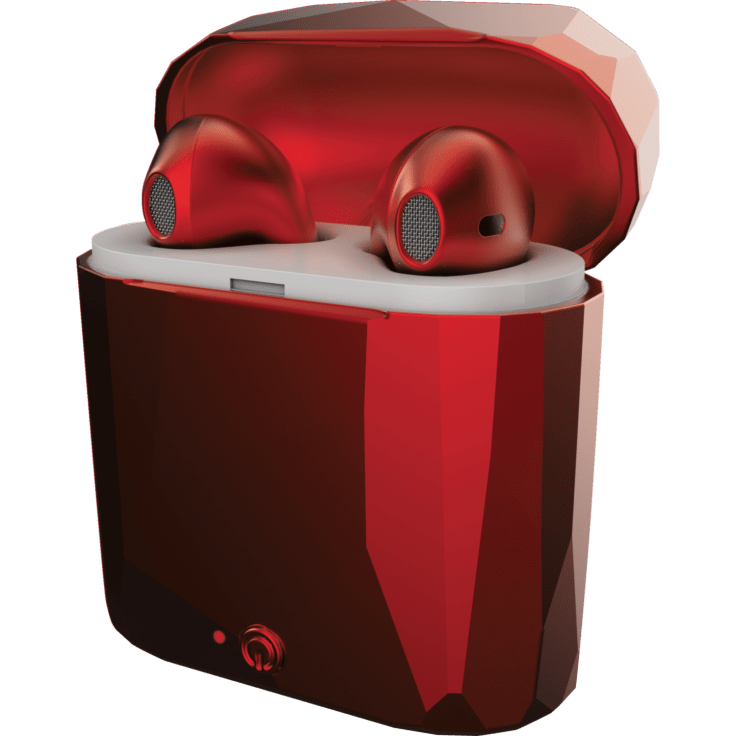 GenTek Airbuds True Wireless Charging Earbuds + Qi Charger Bundle
Features
Available in Black, Silver, or Red
These airbuds pair together for true wireless stereo sound with absolutely no wires!
The latest Bluetooth 5.0 Technology allows for quick seamless pairing to your phone.
So lightweight and comfortable, you'll barely even notice they're in your ears.
Includes a pocketable carrying case that can charge your earbuds up to four times when not in use.
Included wireless charging pad allows you to charge the earbuds & case with ease, and charges your phone too!
Optional sports ear hooks included for vigorous activity, like at the gym.
Built-in microphone for hands-free calls
Specifications
Charge Time: 1 Hour
Talk Time: Up to 3 Hours
Standby Time: Up to 120 Hours
Bluetooth Range: 35 Feet
Wireless Charging Pad Included
True Wireless Design
Mini Charging Case
Compact Wireless Charging Pad
Pre-paired Technology
Bluetooth: V5.0
Premium Quality
Included In The Box
1x GenTek Airbuds True Wireless Charging Earbuds + Qi Charger Bundle
1x Set of Sports Hooks
Warranty
Estimated Delivery Date
Thursday, Oct 15 - Friday, Oct 30
Reviews
Verified Purchase
Love!Love!Love!
I absolutely love these air buds they stay securely in your ears while you're taking a walk or working out my husband's got a pair, our son's got a pair and now I have a pair they are great!!!
Written by @B000 - January 23rd 2020
Verified Purchase
Great headphones
Written by @npaparo - January 22nd 2020
Verified Purchase
Great stereo sound from these airbuds!
I have two pair of Airbuds but so far I'm very happy with the sound from these. I'm also happy that a "charging" pad was included along with the airbuds so that you can charge them when not using the case. I recommend this product!
Written by @Diva52 - January 4th 2020
Verified Purchase
Great-looking Earbuds
These are stylish, functional, and great quality!
Written by @BritGirll - January 20th 2020
Verified Purchase
Decent headphones, crappy charger
The headphones are okay for the price I paid, wish they went up on the volume louder but the wireless charging pad sucks. It turns on and off every second so it doesn't charge at all because it keeps stopping and restarting the charge. Even tried using it with different devices to be sure it wasn't my device but nope same thing. I contacted support about getting it replaced and still haven't heard back. What a disappointment.
Written by @makkieruby - April 23rd 2020
Verified Purchase
Cheaply made
When I attempt to take Airbuds out of case one get stuck, which causes Airbud to come apart.
Written by @NSE - April 17th 2020
Verified Purchase
Product Broke
They were for my grandkids for Easter and the product was broken.
I ordered two of them and gave one now to my grandson and it was broken. I have the other still in the box to mail to my granddaughter after the COVID-19 ends.
How do I get a replacement or money back? Not sure about the other one in the box.
Written by @cindyspaulding - April 13th 2020
Verified Purchase
This product sucks
I would have picked Moore stars but customer service can't even respond.
Written by @Alfred4140 - January 24th 2020
Verified Purchase
Disappointed !!!!!!!!!!!
I received my airbuds on January 14th and my left earbuds does not work. How do I return my Airbuds ?
Written by @Azul6565 - January 17th 2020
Verified Purchase
Extremely disappointed
The quality is very poor does not look as advertised
Written by @Tesoro225 - January 5th 2020