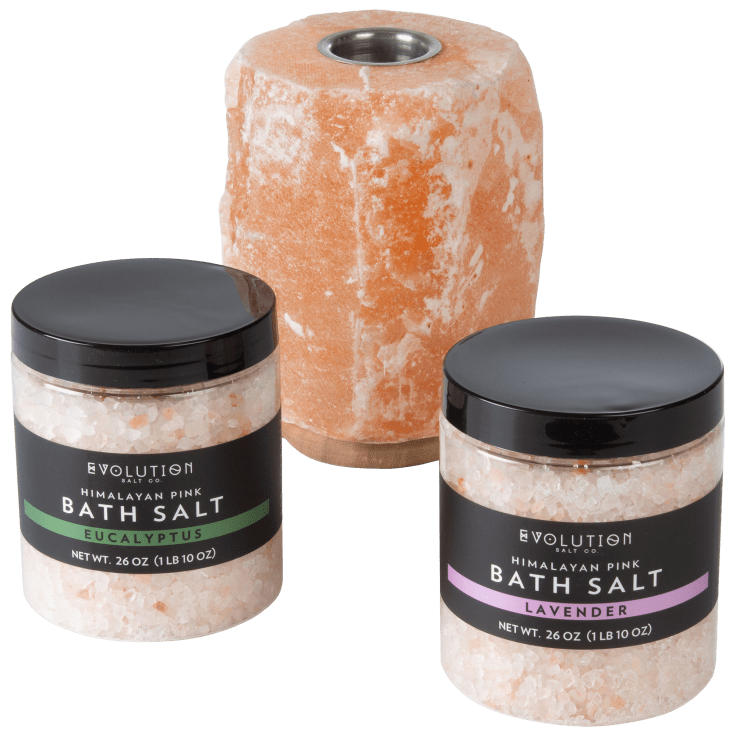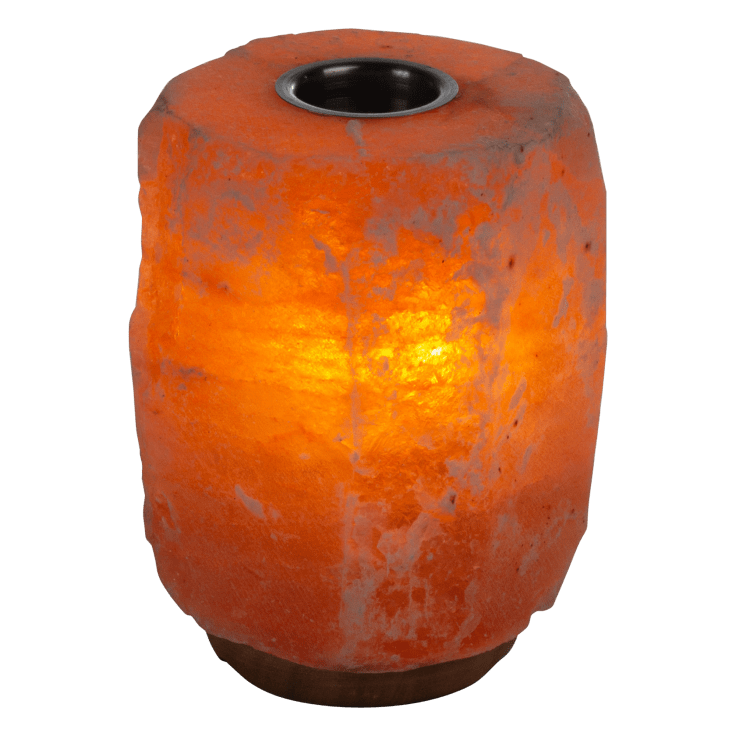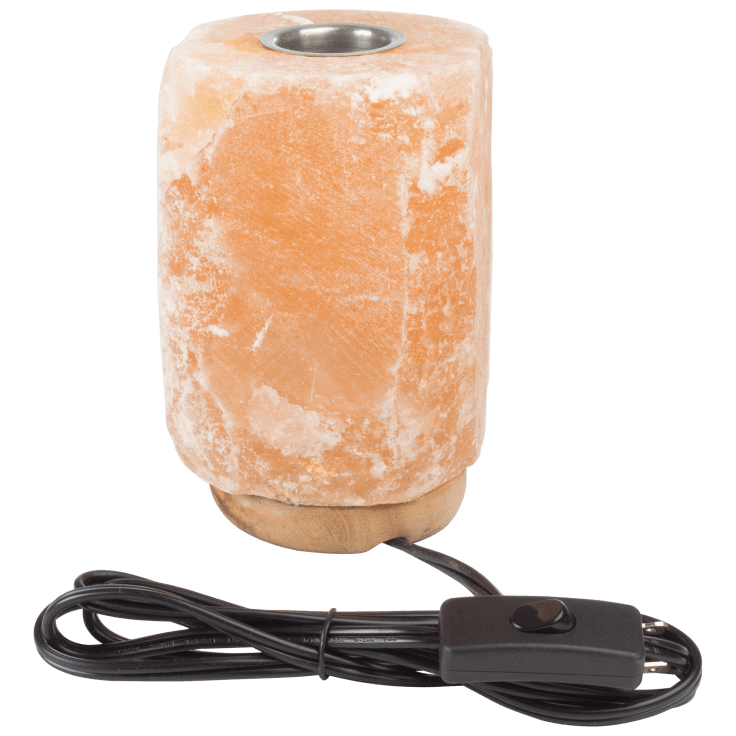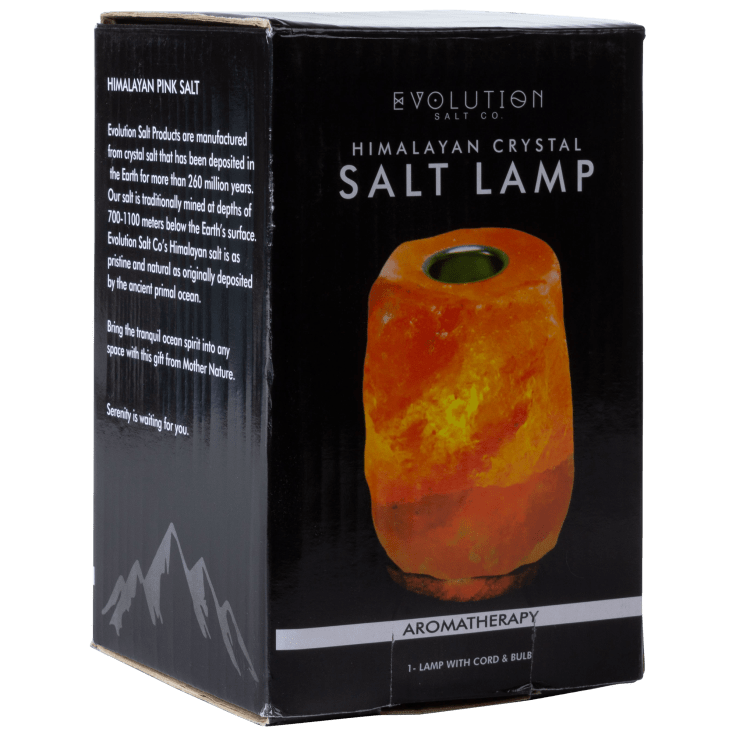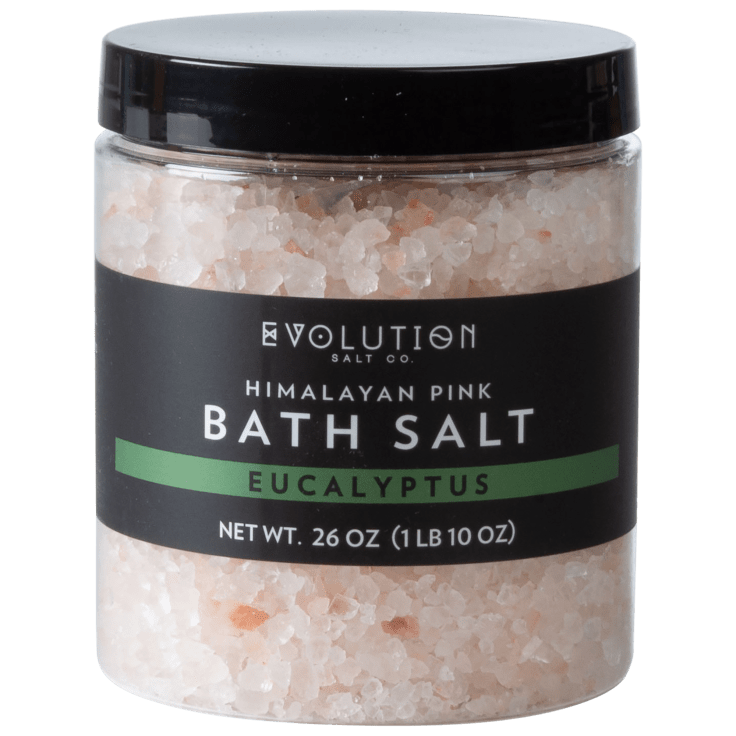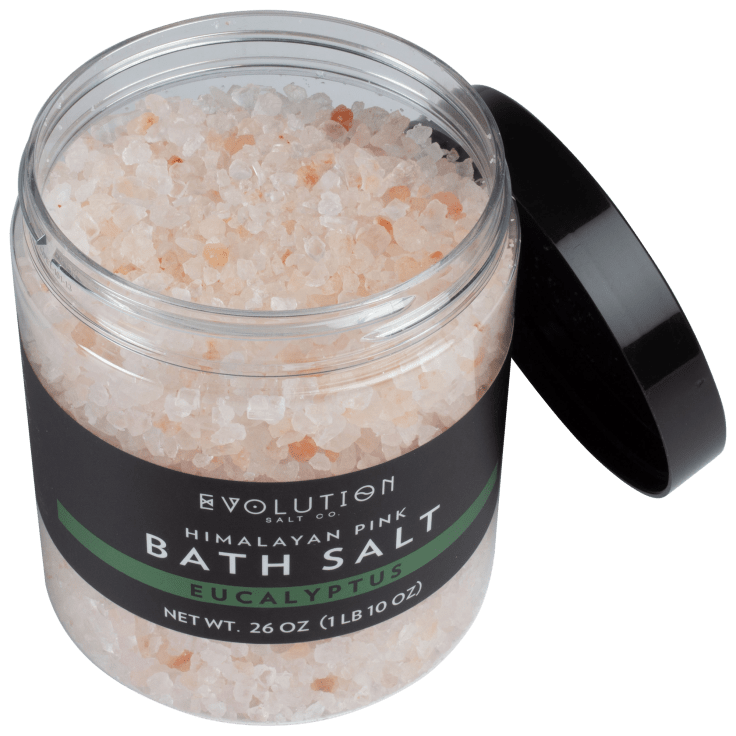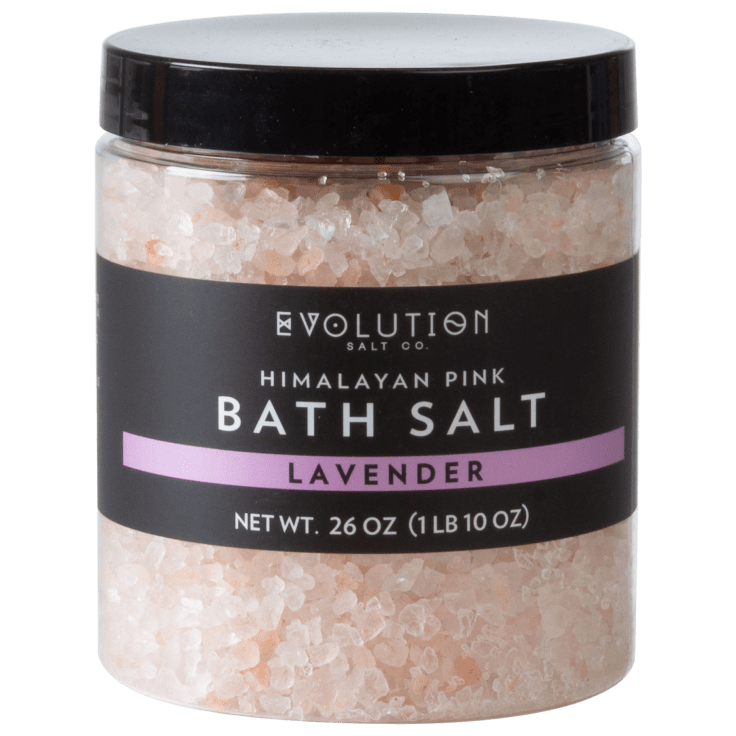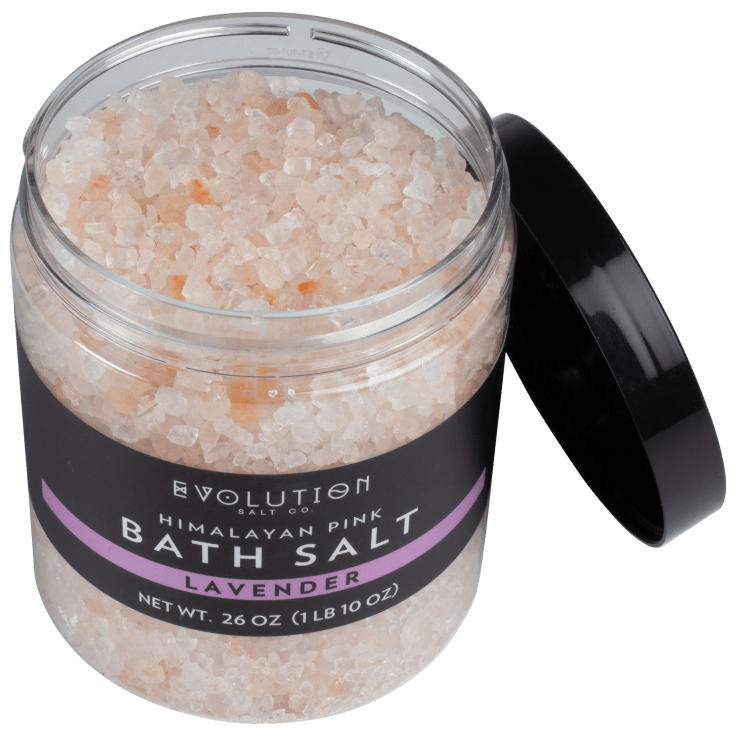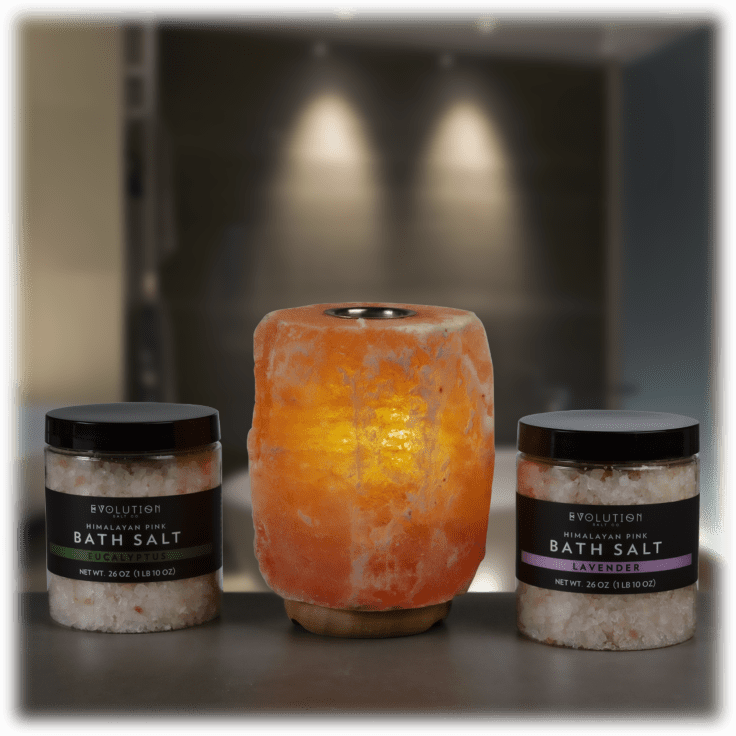 Evolution Salt Co. Himalayan Salt Lamp Diffuser & Scented Bath Salts
Features
Himalayan salt lamps are made from beautiful pink Himalayan salt that is mined in the foothills of the Himalayan Mountains in Pakistan
These lamps have hygroscopic properties and readily absorb moisture out of the air
The natural color of a salt lamp creates an orange or pinkish glow that can add beauty to any decor
Himalayan salt lamps make a great addition for any space: in your bedroom, at the office, by your computer, next to your television, or anywhere else you want to brighten a space with a beautiful glow
Evolution Salt Co's aromatherapy salt lamp lets you reap the benefits of essential oil aromatherapy
Place a few drops of water or a carrier oil into the cup, then add some of your favorite essential oil or blend
The provided bulb will heat the cup which will then diffuse the essential oil
Enjoy creating a beautiful ambiance in your home or office.
Each lamp comes with a UL/CSA approved wire assembly, which includes a 15-watt clear C7 bulb
Bath Salts
Himalayan salt baths have been known to improve the texture, tone, and appearance of your skin, combat water retention, promote sinus health, prevent muscle cramping and soreness, regulate sleep, and even decrease stress

Lavender's perfectly balanced floral-herbaceous aroma provides an unmatched array of attributes calming, relaxing, refreshing, toning, and cleansing
Eucalyptus essential oil is known for treating a number of respiratory problems including cold, cough, running nose, sore throat, asthma, nasal congestion, bronchitis, and sinusitis; and is also very helpful for muscular aches and pains

Size per Jar: 26 oz
What's Included
1x Himalayan Salt Lamp Diffuser
1x Himalayan Bath Salt Coarse - Eucalyptus
1x Himalayan Bath Salt Coarse - Lavender
Warranty
Reviews
Verified Purchase
Love it
Omg smell so good and the lamp is very heavy. Love it
Written by @yenizunny - July 26th 2021
Verified Purchase
Great product
Written by @bernicemitch - July 16th 2021
Verified Purchase
Impressed
Quite impressed when I opened the box. Quality product Very happy with it at a great price
Written by @HowardWells - July 16th 2021
Verified Purchase
Beautiful product
Large jars of fragrant bath salts. Large
Salt lamp with oil diffuser.
Very good.
I am pleased.
Written by @ellab - July 7th 2021
Verified Purchase
Great gift
Great price for lamp and salt. Gave the lamp as a gift and kept the salt for my own use.
Written by @deeasia99 - July 6th 2021
Verified Purchase
Evolution salt light diffuser
Great buy and product. Delivery was completed as promised. I'm pleased with Morning Save offers.
Written by @msmeg - July 3rd 2021
Verified Purchase
I was pleasantly surprised at the size for both diffuser and salt containters.
Written by @Dealsbargains - June 17th 2021
Verified Purchase
EucaLavendar Heaven
This lamp works wonderfully, fills the room with scent fast. The salts smell great!
Written by @Dawndenisedugan - June 12th 2021
Verified Purchase
❤❤❤❤❤❤
I love this item and soooo glad I ordered it!!! It's so unique and I also use it as a nightlight as well as an aroma diffuser!! So so glad I have it!!! Thank- You so much…
Written by @kkrbear - May 18th 2021
Verified Purchase
'Yes Yes Yes Sooooooo HAPPY'
This Set Of Three Is AWESOME And Smells So Amazing, I Thank You…
Written by @c6028 - May 18th 2021
Verified Purchase
Good Products
Salt lamp was a good size, however didn't come with any packaging or instructions. Bath salts large sizes and fragrant really good. I would've liked to receive protective sealed jars.
Written by @Franshopping1 - July 17th 2021
Verified Purchase
Lighted Salt Lamp
Received the lamp and 2 jars of bath salts. Wish they would have put some kind of Packing Material in the BOX!!! The lid on one of the bath salts was broken and the bath salt was loose inside the box, box was also damaged so all the bath salt spilled out inside my house when I brought it inside. I was surprised the lamp wasn't broken. Wish the lamp had a dimmer control on it, so you could adjust how bright you want it. A bit bright for me, really lights up the room. overall not bad.
Written by @jmdbugg - July 12th 2021
Verified Purchase
Product came damaged. No packing material
Written by @sistamarypaul - July 6th 2021
Verified Purchase
Shipping Packaging Terrible
Salt lamp was broken and cracked upon receipt, the switch to turn on lamp is smashed where the on-off is smashed into housing. This item is too heavy to only have a small amount of packing pillows.
Written by @matayachris - July 6th 2021
Verified Purchase
Don't buy !!!!!
This is a piece of junk!!!
I have been buying Himalayan Salt lamps for many years. The company I've always bought was Himalayan Glow .
The quality of this company is so bad!!!
It came with a switch that isn't even put together correctly which is an electrical hazard. The diffuser metal cup is sharp and jagged, Salt rock not even centered on the base.
I don't usually write bad reviews but I don't want anyone else to waste their money with this company. Glad I'm only out $30. plus dollars or I would definitely have them send a pickup for the item.
One positive thing is, Morning Save did respond to my email and wants pictures.
My son saw the box with the lamp and threw it away before I got pictures.
It's also not worth my time to worry about it.
I will only be buying from Himalayan GLOW .
Written by @bethold - June 18th 2021
Verified Purchase
Item damaged and everytime I try to contact you about the issues you won't let me. I spent too much money and waited too long for damaged product. I would like a replacement or my money back
Written by @cychristian - June 12th 2021
Verified Purchase
Because I didn't get them and I paid money that I didn't have for them to say they was delivered where is them
Written by @lizooxox - May 23rd 2021
Verified Purchase
Himalayan Salt Lamp
I RECEIVED MY ORDER THAT APPEARS TO BE DAMAGED DOESN'T WORK DUE TO SCUFF MARKS ON THE WOOD STAND AND THE LAMP.
JUST LOOKING AT THIS LAMP IT APPEARS TO BE A RETURN DAMAGED PRODUCT THAT WAS SHIPPED TO ME. I'M VERY DISAPPOINTED WITH THIS ORDER.
I ALREADY HAVE 2 Himalayan Salt LAMPS THAT ARE 2 YEARS OLD FROM ANOTHER COMPANY THEY WORK FINE AND DEFINITELY DO NOT LOOK LIKE THE ONE MORNING SAVE SENT TO ME.
Written by @jghutchins - May 16th 2021