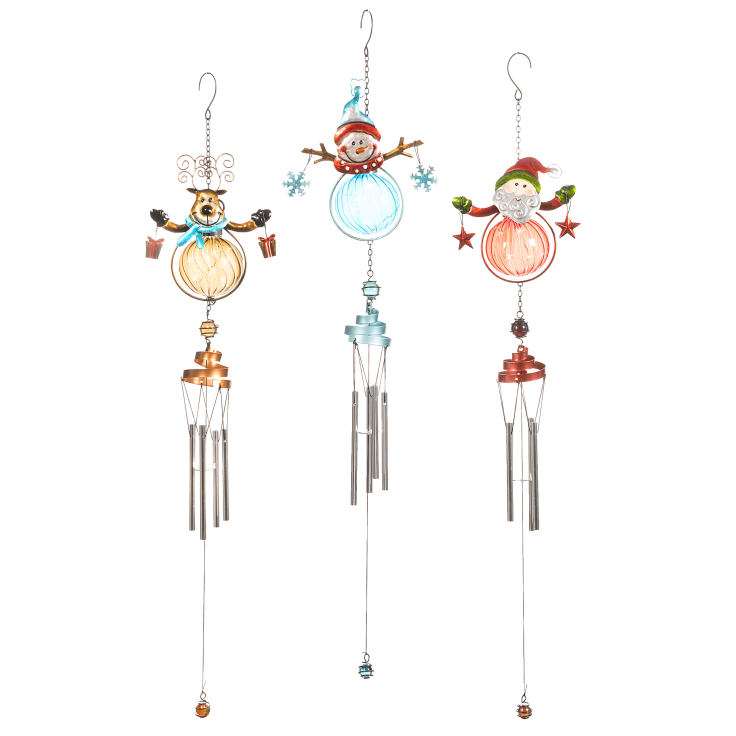 Darice Christmas Solar Metal and Glass Wind Chime (Random)
Features
Put your neighbors in the holiday spirit with this solar glass and metal Christmas wind chime
Its hook and chain allow you to easily hang this one-piece ornament from your front porch
Three assorted styles - Bear, Snowman, or Santa
Customers will receive one of the three styles at random!
What's Included?
1x Darice Christmas Solar Metal and Glass Wind Chime
Warranty
Reviews
Verified Purchase
So cute!
I got this for my dad. I was happy with how well packaged it came and the size is perfect! Super excited to gift this.
Written by @dwightschrute - November 5th 2020
Verified Purchase
Snowman
Written by @maria5977 - November 10th 2021
Verified Purchase
windchime
Written by @Crazyme266 - November 24th 2021
Verified Purchase
Only problem was the tying of the strings of the chimes. Very difficult to untie.
Written by @tennismann - December 10th 2020
Verified Purchase
Wind chimes
Disappointed that I got both chimes alike and not two different ones



Written by @dropthepuck - August 3rd 2021
Verified Purchase
did not receive wind chimes
I understood that the chimes would be random and that was ok as I was buying them for gifts. But I did not receive any windchimes at all, instead I received 3 boxes of copper wire lights for which I have no use.
Written by @JoanKC - July 27th 2021
Verified Purchase
I hate clowns
I ordered penguins when they had plenty.
They were for my brothers grave. He collected penguins, and for 17 years, he had some sort of penguin. Until this year

Written by @Bafriend2me2 - December 8th 2020
Verified Purchase
I ordered 3 and thought I might get 1 of each but I got 3 Santa's.
Written by @Qiturbeliackin - April 10th 2021