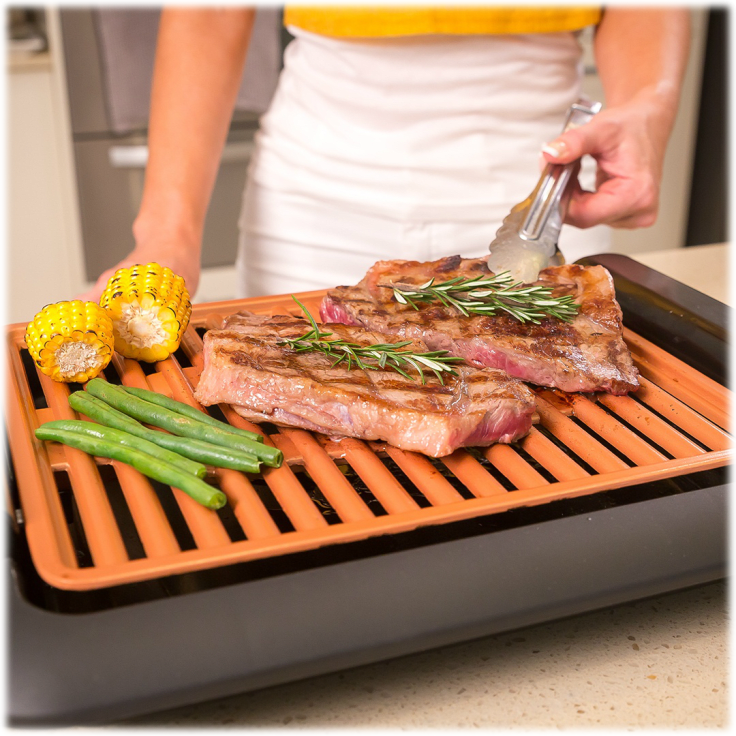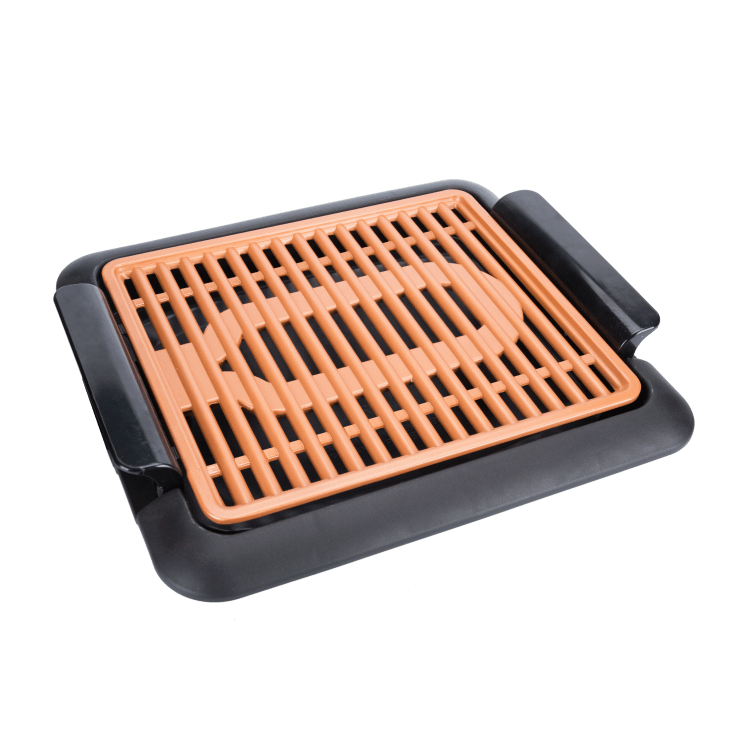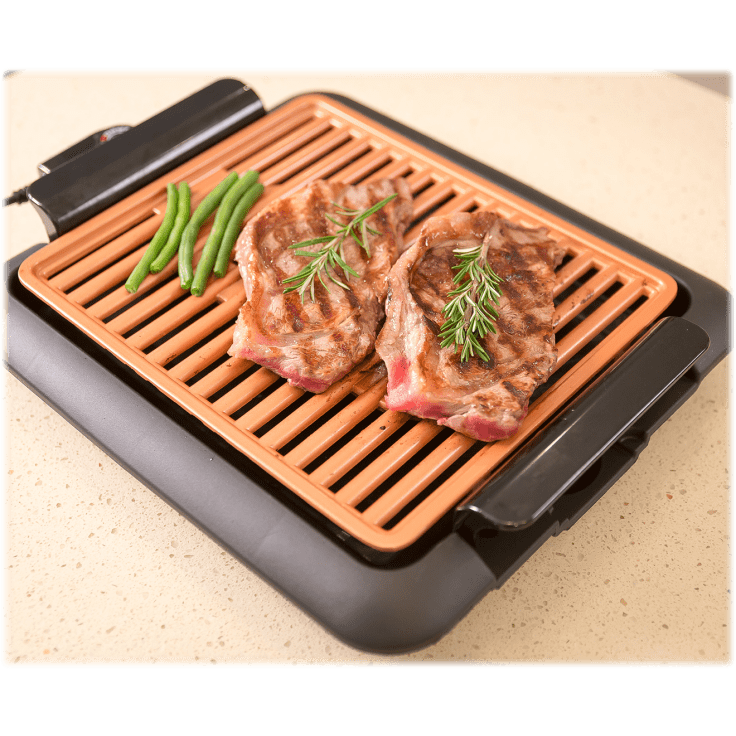 Copper Pro Smokeless Indoor Electric Grill
Features
Want to have an outdoor BBQ, but the rain is putting you off? Well, now you can grill your favorite meats and veggies indoors with the Copper Pro Grill!
Featuring smokeless drip tray technology, an titanium infused ceramic grill plate, and a non-stick cooking surface that's perfect for poultry, fish, sausages and more.
Features:
Titanium infused grill plate
Electric, adjustable temperature with 4 heat settings
Ceramic copper coated
Dishwasher safe dripping tray
Smokeless drip tray technology - grill indoors!
Non-stick cooking surface
Scratch resistant
Easy to wipe surface
Great for steaks, chicken, vegetables and more
Materials: Titanium, copper, ceramic
PFOA/PFOS free
Dishwasher safe (drip tray)
Overall dimensions: 3.9-inch x 18-inch x 15-inch
Cooking surface: 9.8-inch x 11.8-inch
Please note: always remember to add approx. 3-4oz of water to the drip tray so that grease/fat drips onto water and less smoke forms
Warranty
Estimated Delivery Date
Tuesday, June 16th - Monday, June 22nd. Due to a high volume of orders, delivery times are longer than usual.
Reviews
Verified Purchase
Thank you very much.
Written by @snickerdo9 - September 29th 2019
Verified Purchase
I have not used it yet but it does look great and that we are going to have fun with this item.
Written by @karengibbons - August 10th 2019
Verified Purchase
Written by @ssnyder3220 - July 15th 2019
Verified Purchase
Wow everything i order was low priced but the quality was everthing they said it woul be
Written by @Emmanuel46 - July 11th 2019
Verified Purchase
Thank you! This is what I needed, like it very much. WDB
Written by @WDBridges - July 11th 2019
Verified Purchase
GOOD PRODUCT
WORKS AS ADVERTISED… I LIKE IT AND USED IT ALREADY THE FIRST DAY IT ARRIVED. THE ONLY THING I DO NOT LIKE IS THE ELECTRICAL LIGHT/TEMPERATURE,…IT IS CONFUSING…IT WILL COMES ON…THEN OFF WHEN REACH THE DESIRED TEMPERATURE?..THERE SHOULD BE TWO LIGHTS…ONE RED WHEN TURN ON…AND GREEN WHEN THE DESIRED TEMPERATURE WAS REACH…OTHER THAN THAT.IT IS A GOOD BUY
Written by @MANNYB9 - October 5th 2019
Verified Purchase
Written by @Michael332211 - July 31st 2019
Verified Purchase
Just in time
This grill showed up just in time. We were planning on cooking steaks for dinner and a tropical storm hit. We pulled out our new grill and had wonderful steaks. Excellent!!!
Written by @animaniac20 - July 9th 2019
Verified Purchase
Disappointed
Written by @debrawelikonich - July 18th 2019