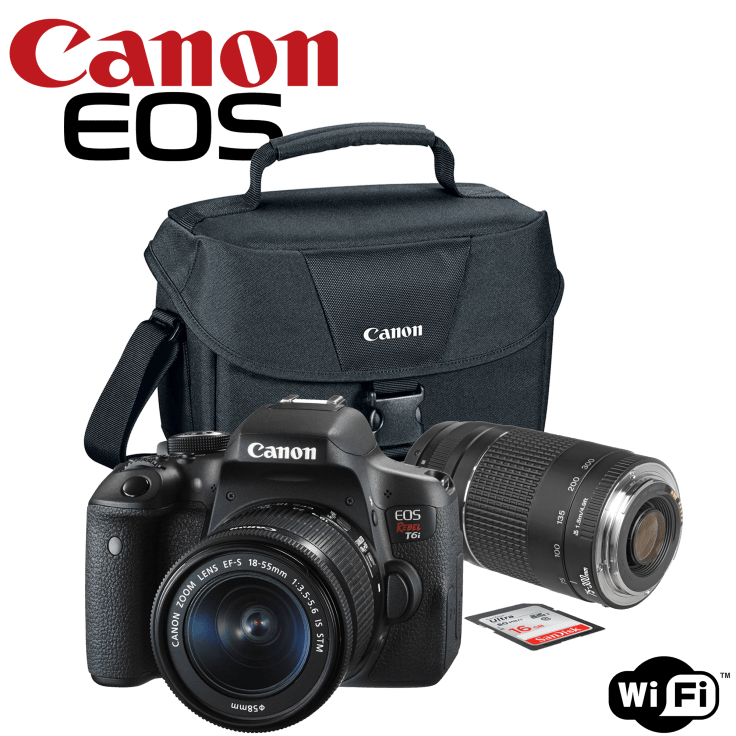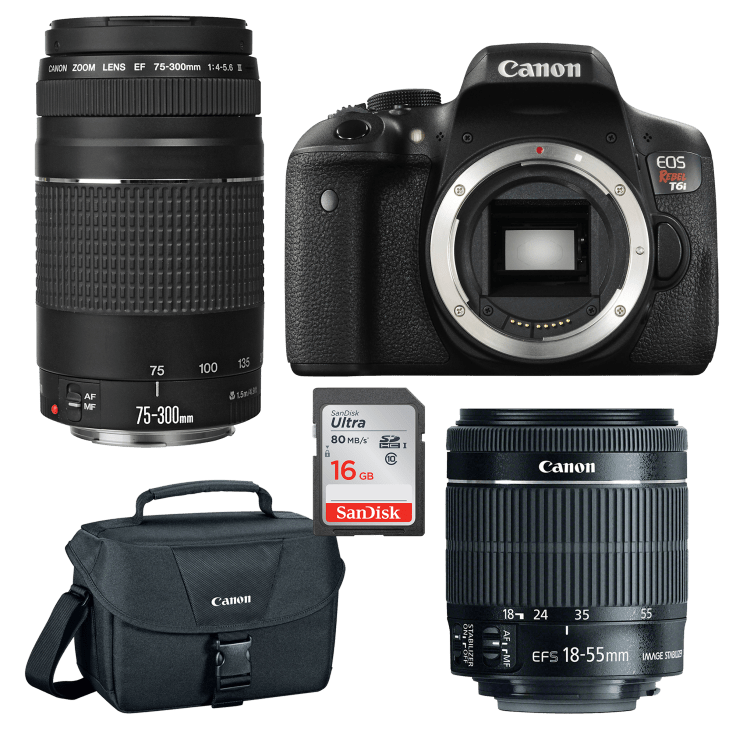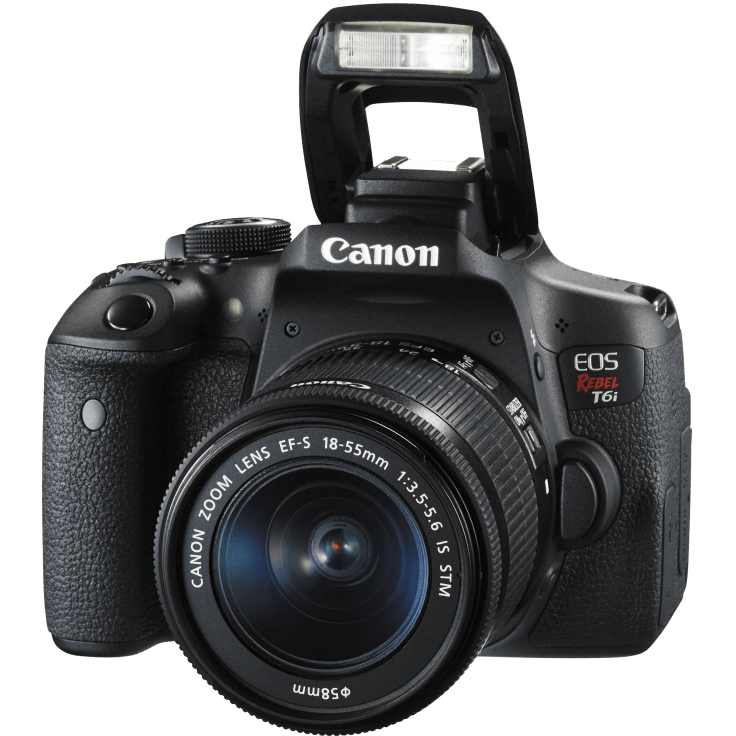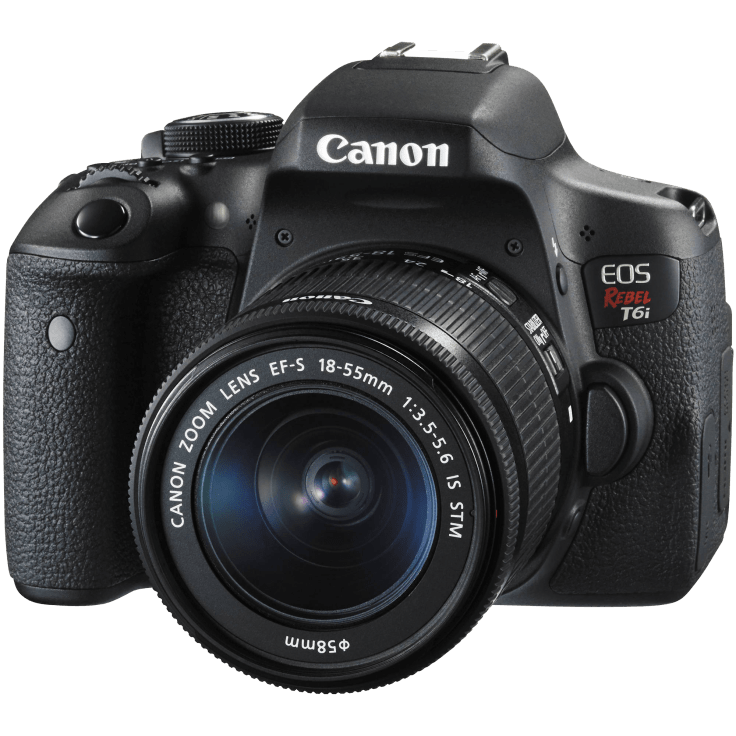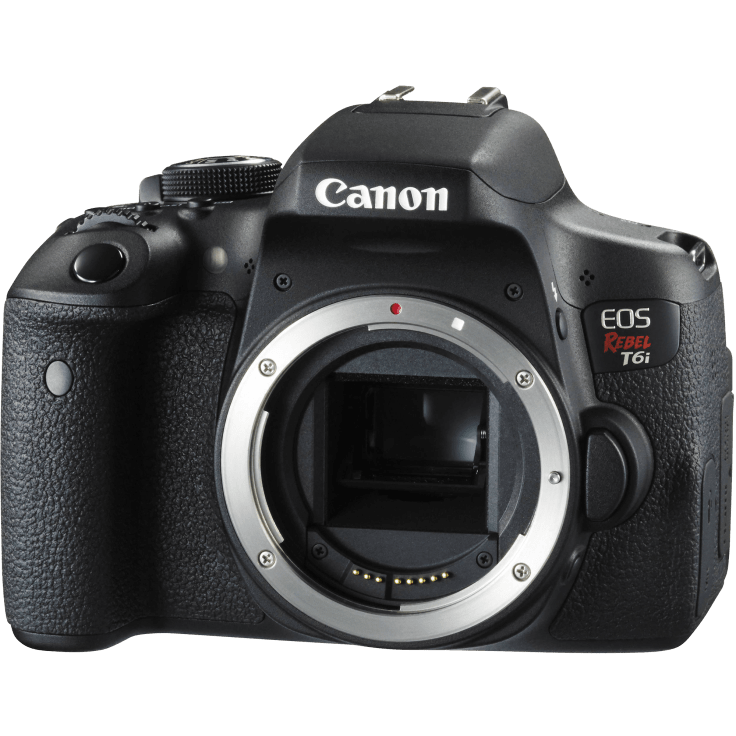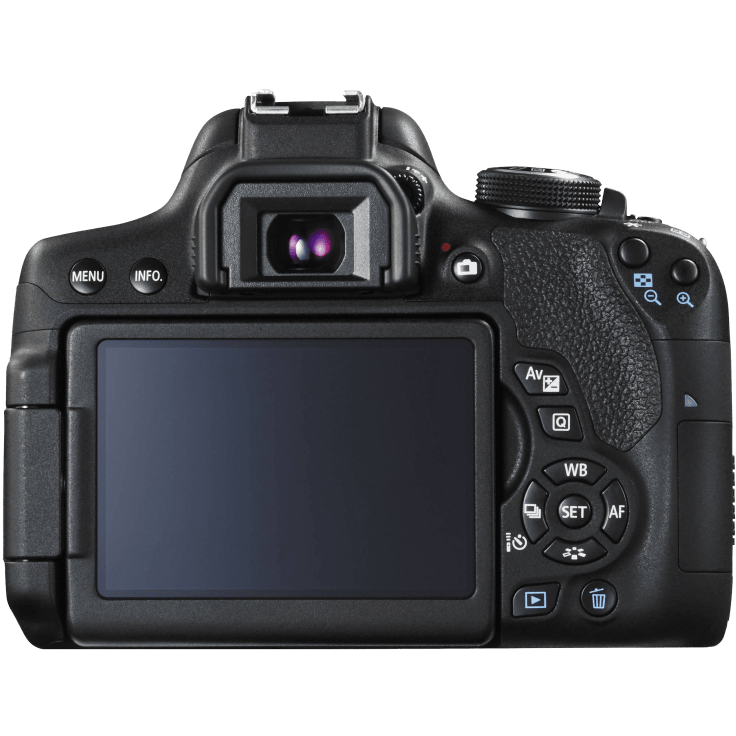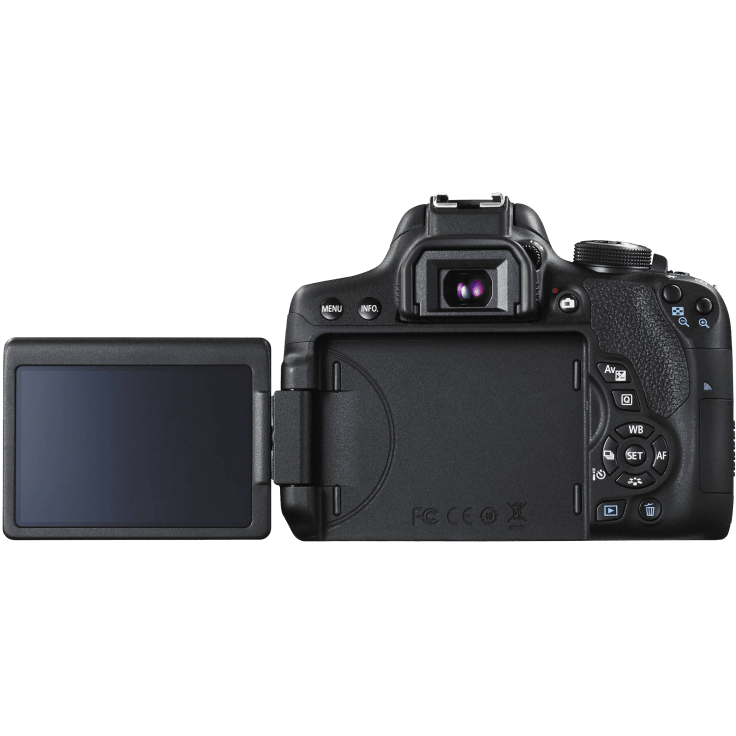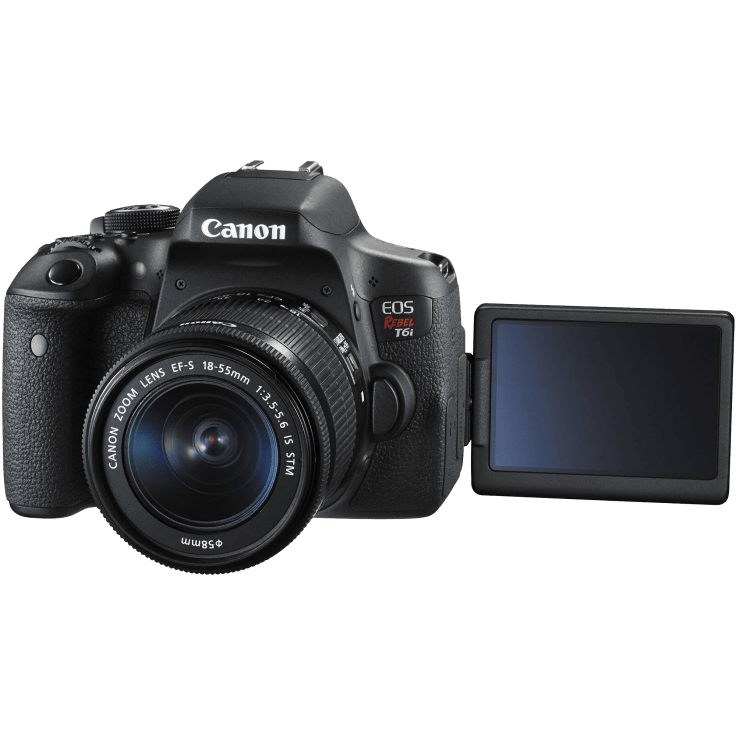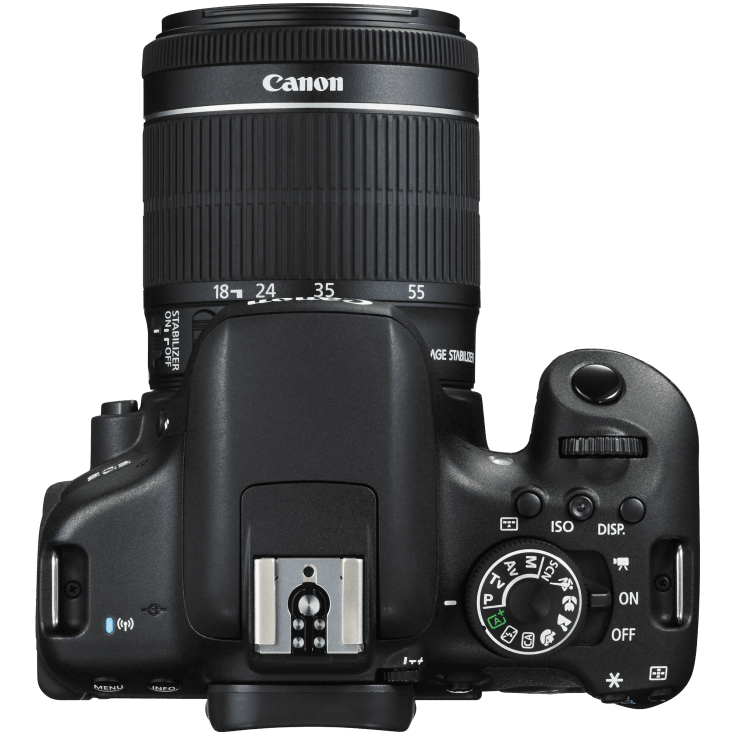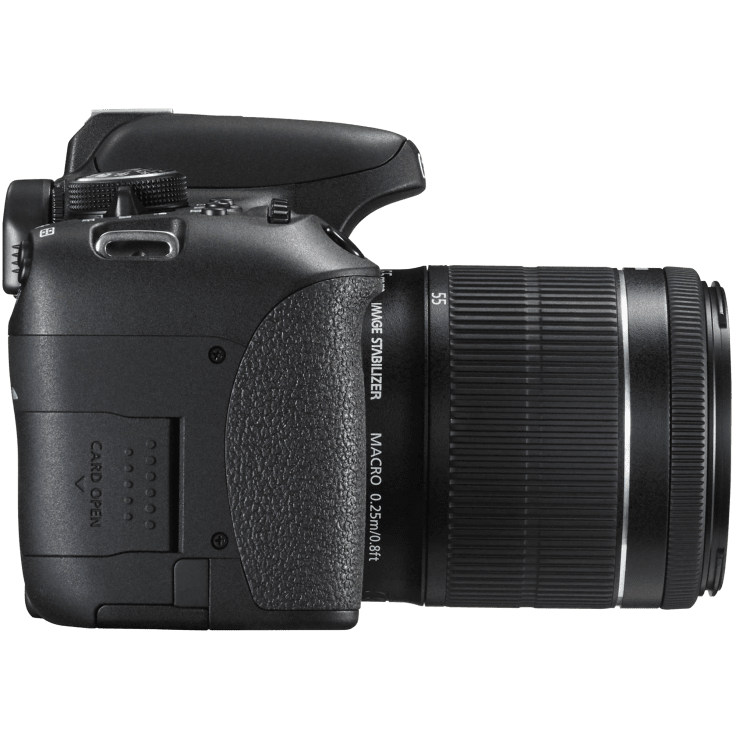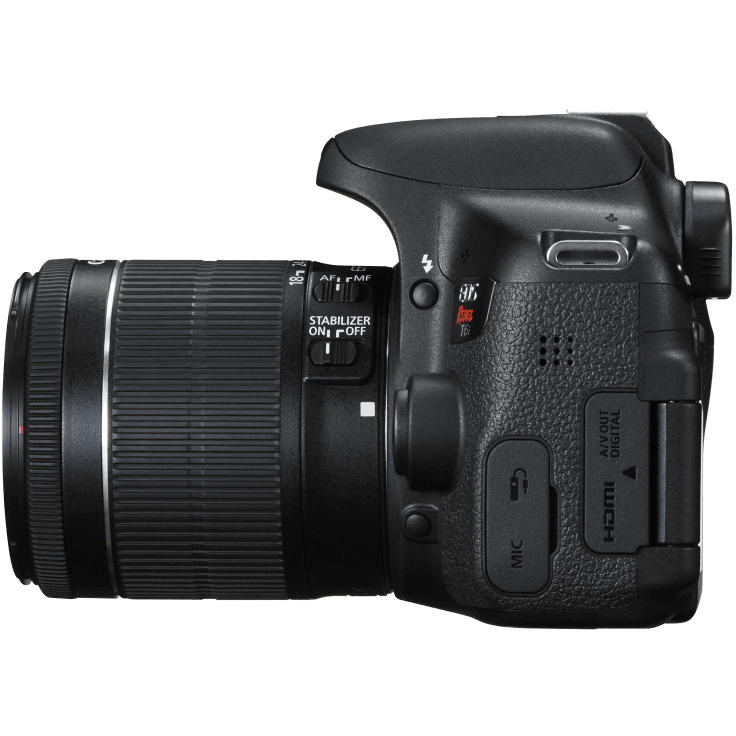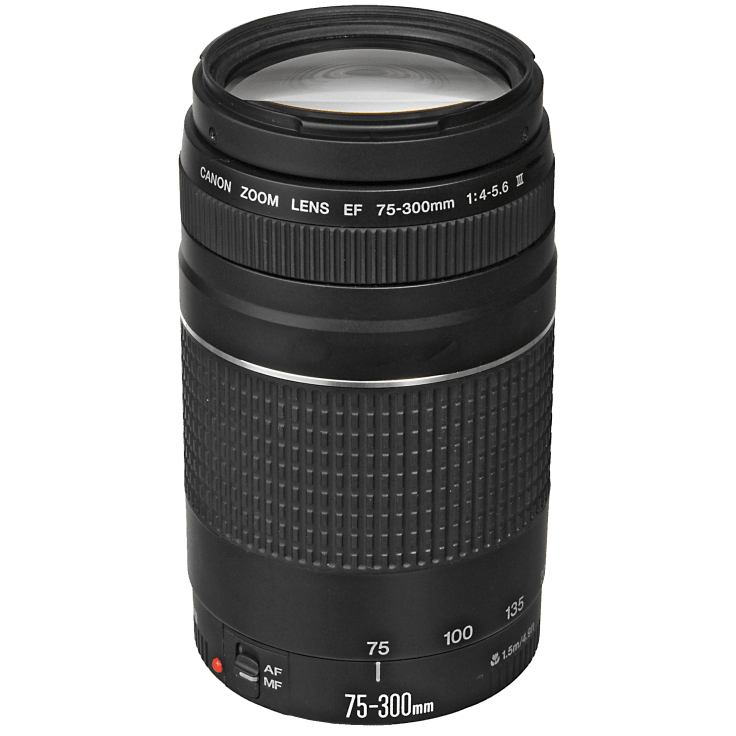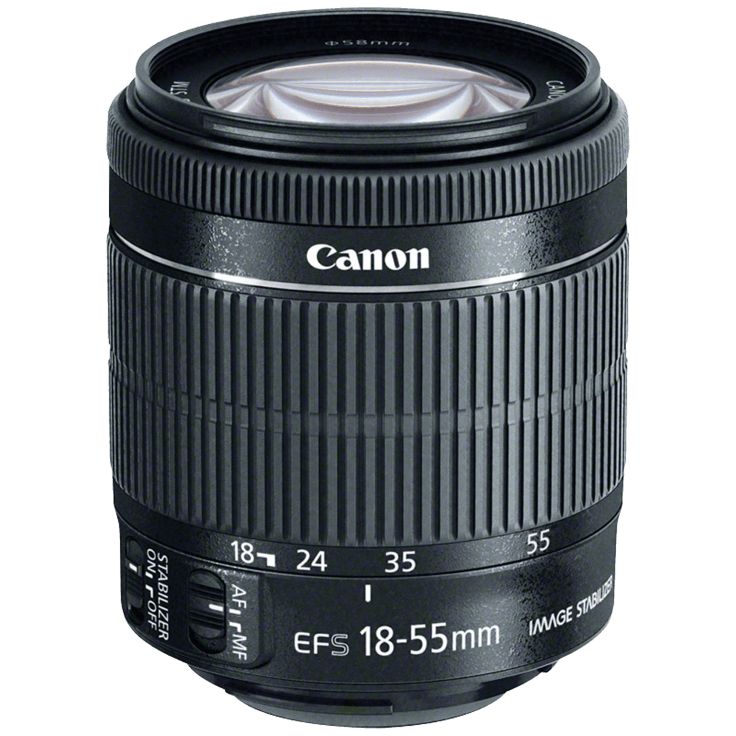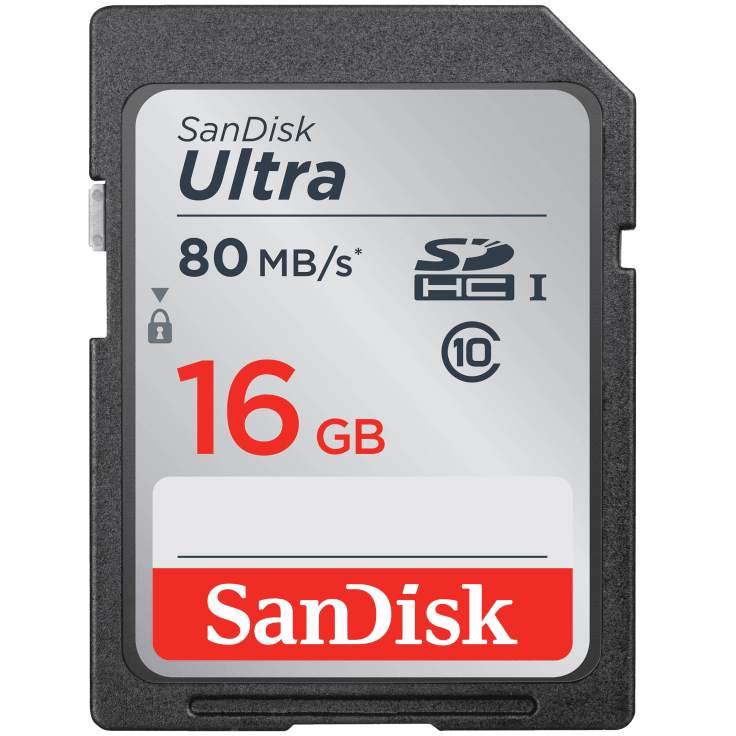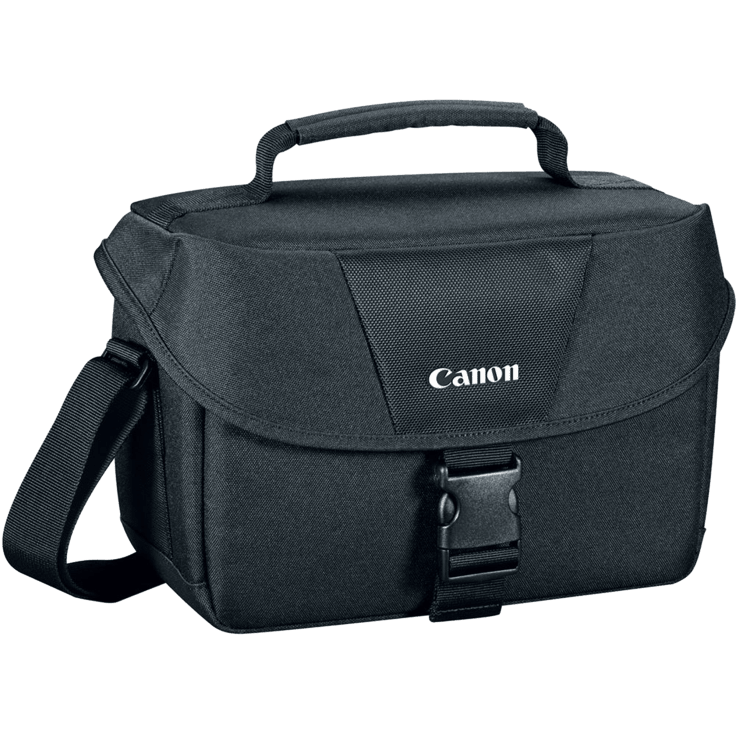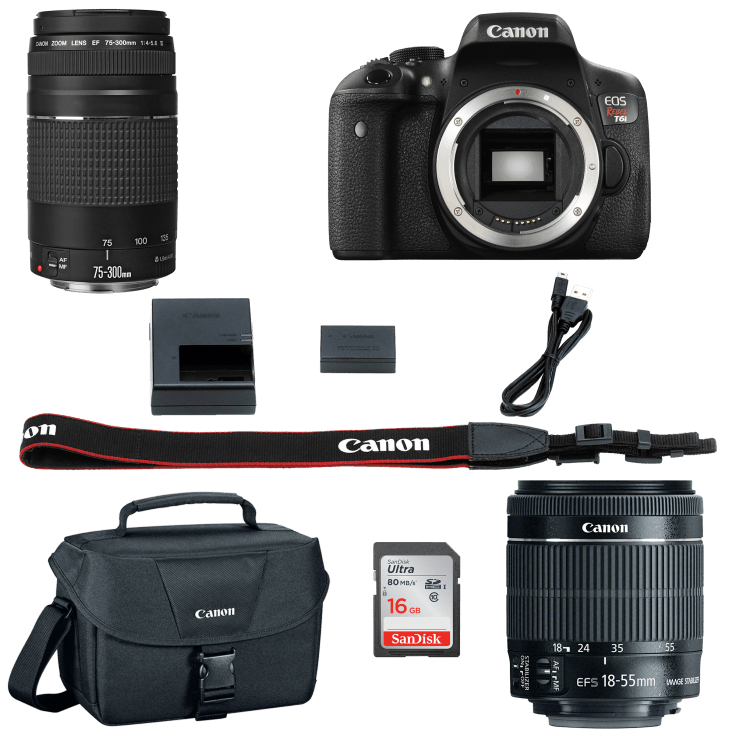 Canon EOS Rebel T6i with EF-S 18-55mm & EF 75-300mm Zoom Lenses Bundle
Features
This is a bundle includes Canon EOS Rebel T6i, EF-S 18-55mm & EF 75-300mm Zoom Lenses, carrying bag, and a 16gb memory card.
CAMERA FEATURES
24.2 Megapixel (APS-C) CMOS sensor
The EOS Rebel T6i camera has a next-generation 24.2 Megapixel CMOS (APS-C) sensor that can capture images of incredible depth and beauty. With high resolution and an ISO sensitivity of ISO 100–12800 (expandable to H: 25600) the EOS Rebel T6i can capture images of immense quality in more lighting situations than possible with point-and-shoot cameras and camera phones. Advanced technologies combined with sophisticated automatic exposure features make the EOS Rebel T6i easy to use. Simply turn the camera on and feel confident that the results will be stunning whether they're being shared on the web or printed large and displayed on your wall.
Built-in Wi-Fi® and NFC
From uploading photos to social networking sites, emailing family and friends, or archiving images to a computer, the EOS Rebel T6i camera offers a number of easy solutions for sharing. The EOS Rebel T6i is equipped with built-in Wi-Fi® to make wireless sharing of photos between compatible devices incredibly easy and convenient. Using Canon's new Camera Connect App*, the EOS Rebel T6i can connect to a number of compatible smartphones and iOS devices* for image browsing and transfer.
EOS Full HD Video
Using technologies designed for professionals and refined for simplicity, the EOS Rebel T6i camera makes gorgeous, polished Full HD videos at the press of a button. Technologies like advanced Hybrid CMOS AF III mean the camera focuses fast, and stays focused, even if the subject is moving. Advanced EOS optics help deliver shallow depth-of-field to provide the beautiful cinematic ambiance seen in professional films. Canon STM lenses provide smooth AF when shooting moving subjects, and the high ISO sensitivity allows the camera to record videos in low light with reduced image noise for clear, sharp footage. An automatic wind noise elimination feature makes sure voices and music do not get drowned out by the sound of the wind blowing. Videos are recorded in MP4 format, which helps provide high quality videos that take up relatively little storage space, but are also easy to share and upload. Canon offers a wide selection of compatible EF and EF-S lenses too choose from, so users have the freedom to create truly unique videos to express their artistic vision.
Hybrid CMOS AF III
The EOS Rebel T6i camera features a robust, sophisticated AF system for Live View and video shooting. This Hybrid CMOS AF III focuses incredibly quickly and accurately, and maintains focus even while the subject is in motion. This is incredibly useful when photographing or making videos of fast-moving children or pets when unpredictable movement is involved. Designed for providing the best possible autofocus capability, the EOS Rebel T6i delivers photos and videos with sharp, consistent focus regardless of the shooting situation. When using the EOS Rebel T6i with a Canon STM lens, operation is even smoother and quieter.
Vari-angle Touch Screen ClearView II LCD Monitor
Canon EOS Rebel DSLR cameras that come with a Vari-angle Touch Screen 3.0-inch ClearView II LCD monitor use capacitive technology similar to today's popular mobile devices. The screen is touch-sensitive and delivers intuitive touch panel operation. Two-finger touch gestures can be used for zooming or changing images. Menu and quick control settings can be accessed, and focus point and shutter release can be activated with the touch of a fingertip using Touch AF. Displaying fine detail (at approximately 1.04 million dots), this screen is perfect for composing and reviewing images. Thanks to a solid construction between the monitor's resin-coated cover and the liquid crystal display, reflections are minimized, and the display can be viewed, without glare, from any number of angles.
Specifications
Models: Whole Bundle: 0591C114, Camera: 0591C003[BA], Lens: 6473A003[AA], Bag: 9320A023AB
Condition: New
24.2 Megapixel (APS-C) CMOS sensor
Built-in Wi-Fi and NFC for easy sharing
EOS Full HD (1920 x 1080) Video
ISO: 12800 (image), 6400 (video)
Up to 5 photos per second
Max 19-Point AF
Hybrid CMOS AFIII
Vari-Angle LCD
Includes EF-S 18-55mm f/3.5-5.6 IS STM lens and EF 75-300mm f/4-5.6 III lens
Dimensions: 5.20 x 3.98 x 3.07 in. (W x H x D)
Image Size:
| | 3:2 | 4:3 | 16:9 | 1:1 |
| --- | --- | --- | --- | --- |
| Large (approx.): | 24.00 Megapixels (6000 x 4000) | 21.30 Megapixels (5328 x 4000) | 20.20 Megapixels (6000 x 3368) | 16.00 Megapixels (4000 x 4000) |
| Medium (approx.): | 10.60 Megapixels (3984 x 2656) | 9.50 Megapixels (3552 x 2664) | 8.90 Megapixels (3984 x 2240) | 7.10 Megapixels (2656 x 2656) |
| Small 1 (approx.): | 5.90 Megapixels (2976 x 1984) | 5.30 Megapixels (2656 x 1992) | 5.00 Megapixels (2976 x 1680) | 3.90 Megapixels (1984 x 1984) |
| Small 2 (approx.): | 2.50 Megapixels (1920 x 1280) | 2.20 Megapixels (1696 x 1280) | 2.10 Megapixels (1920 x 1080) | 1.60 Megapixels (1280 x 1280) |
| Small3 (approx.): | 0.35 Megapixels (720 x 480) | 0.31 Megapixels (640 x 480) | 0.29 Megapixels (720 x 408) | 0.23 Megapixels (480 x 480) |
| RAW (approx.): | 24.00 Megapixels (6000 x 4000) | 24.00 Megapixels (6000 x 4000) | 24.00 Megapixels (6000 x 4000) | 24.00 Megapixels (6000 x 4000) |
Video Shooting:
File Format: MPEG-4 AVC / H.264
Audio: AAC
Full HD (Standard): 1920 x 1080 (30 fps/25 fps/24 fps): 216 MB/min.
Full HD (Lightweight): 1920 x 1080 (30 fps/25 fps): 87 MB/min.
HD (Standard): 1280 x 720 (60 fps/50 fps): 187 MB/min.
HD (Lightweight): 1280 x 720 (30 fps/25 fps): 30 MB/min.
SD (Standard): 640 x 480 (30 fps/ 25 fps): 66 MB/min.
SD (Lightweight): 640 x 480 (30 fps/ 25 fps): 23 MB/min.
INCLUDED IN THE BOX
1x Rebel T6i Camera
1x EF-S 18-55mm f/3.5-5.6 IS STM lens
1x EF 75-300mm f/4-5.6 III lens
1x 16GB Class 10 SHDC Memory Card
1x EOS 100ES Shoulder Bag
1x Battery pack (LP-E17)
1x Battery charger
1x Neck Strap
1x USB cable
Estimated Delivery Date
Monday, March 2nd - Thursday, March 5th