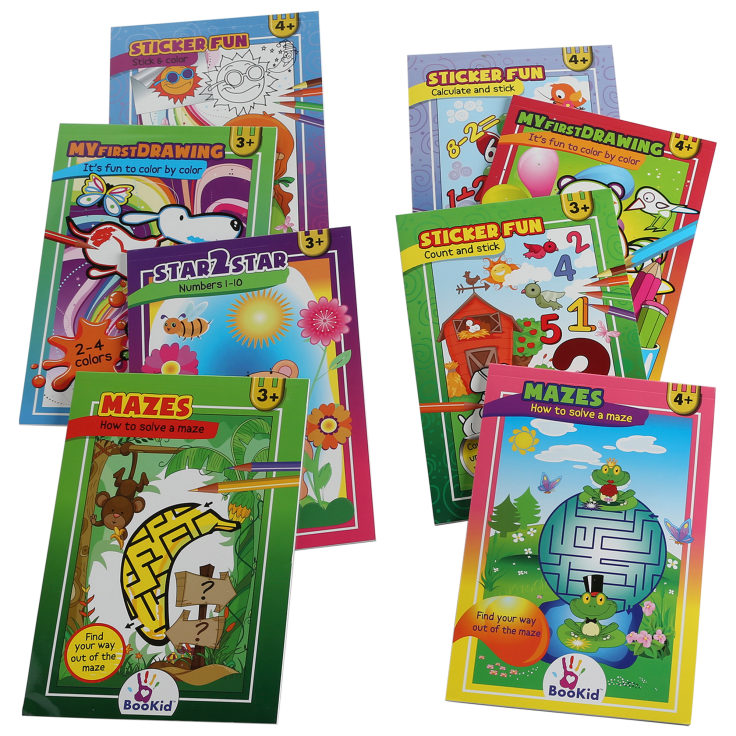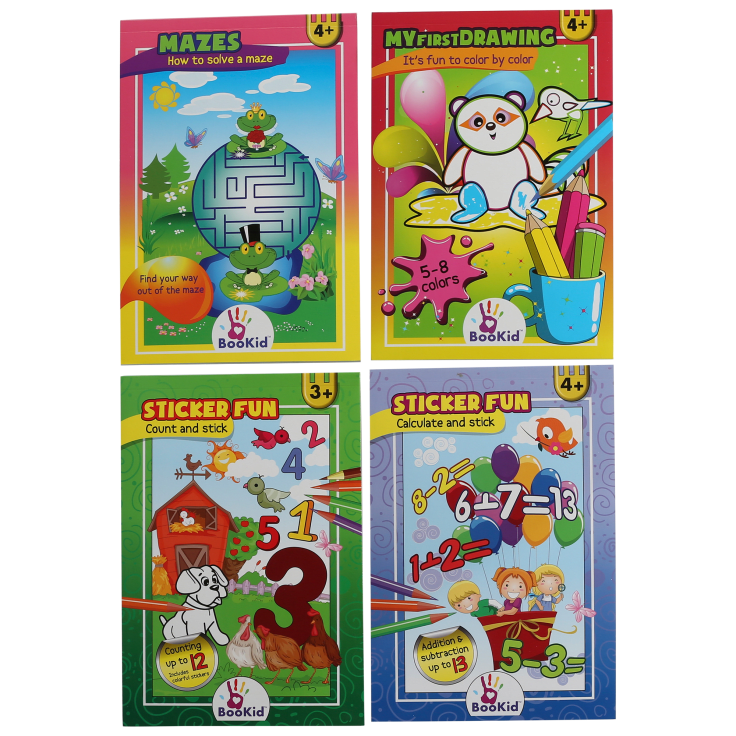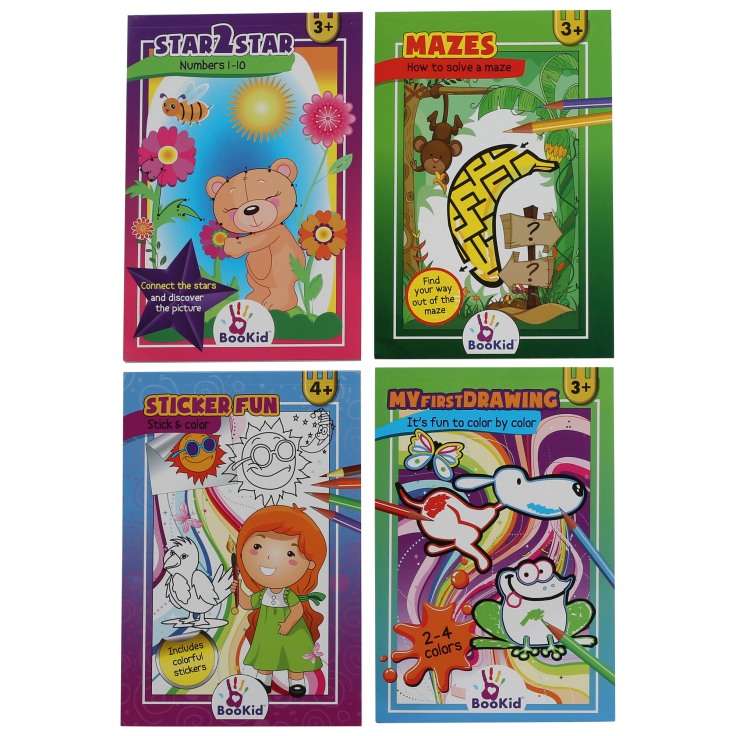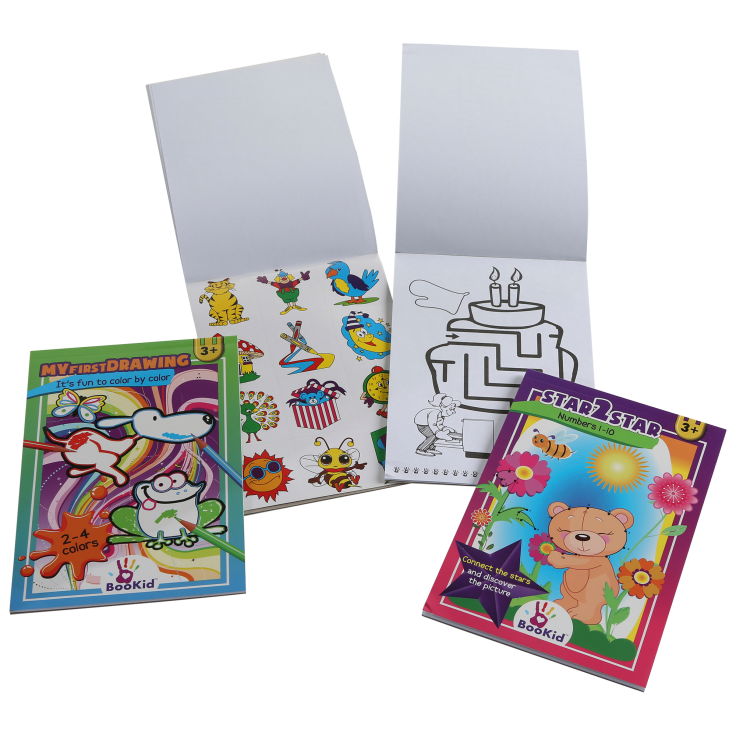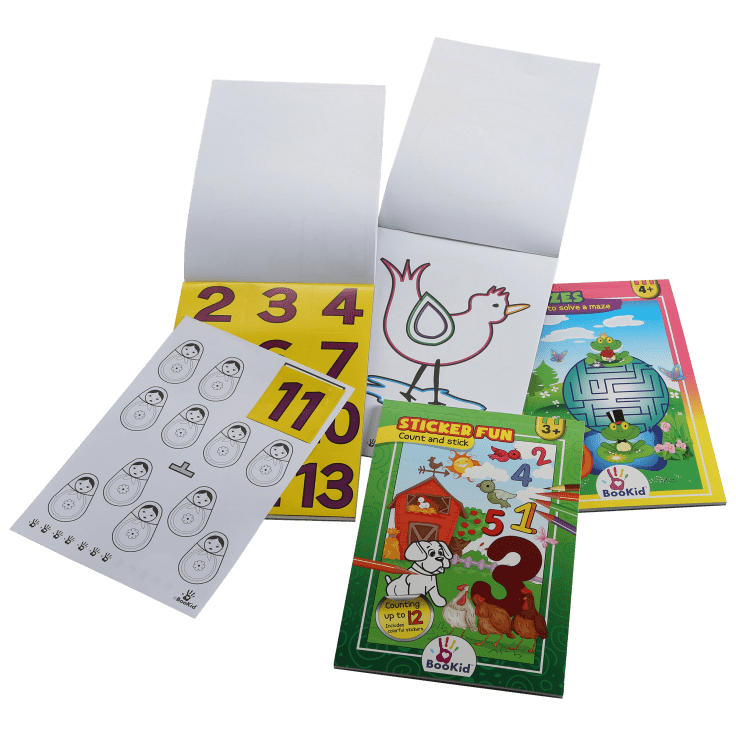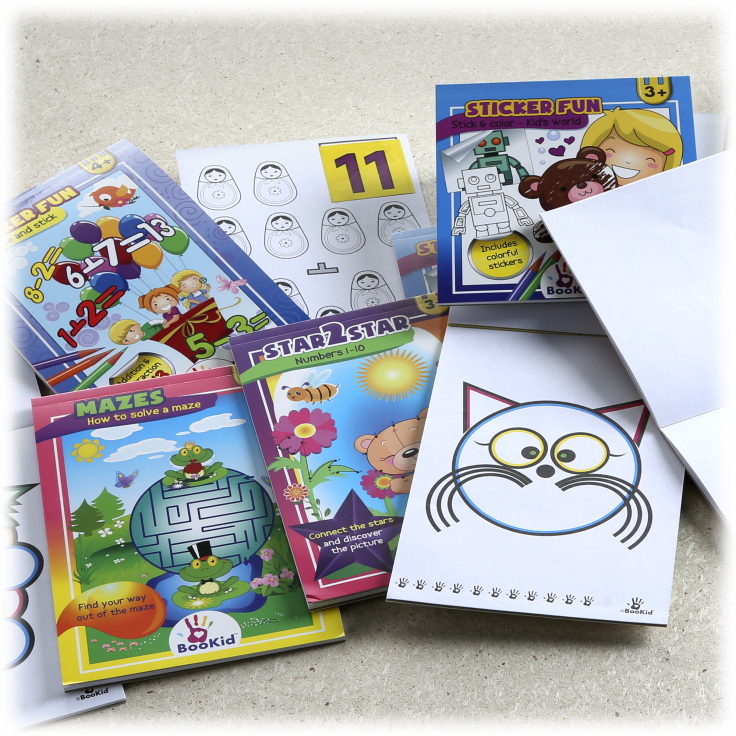 BooKid Jumbo Activity Set for Kids Ages 3-4
Features
My First Drawing
The defined shapes and thick lines are intended to make coloring easier
The advanced activity books from the "My First Drawing" line contain exercises that will assist in learning the different colors
The desire to "stay inside the lines" improves concentration, precision, and fine motor skills
Selecting the colors helps toddlers develop their personal expression
Book options:
Sticker & Fun
Children love stickers!
Kids will love this entertaining and informative activity book
A variety of activity books with different exercises that involve colorful stickers
Each exercise develops different skills, such as motor control, hand-eye coordination, visual perception, and hand strength
Some books can assist in improving mathematical skills such as: learning to count, adding, and subtracting
Book options:

Count and Stick: Counting up to 12
Calculating and Stick: Addition & Subtraction up to 13
Mazes:
These wonderful winding mazes will lead the child on one fantastic adventure
Find your way out toward the EXIT. Color the picture after solving the maze
Book options:
Star 2 Star: Numbers 1-10
Before you start, you will need a pencil, pen, or crayons
This easy and fun activity of "Connect the STARS" activity books help develop: basic math skills, improved concentration as well as work ethics, and fine motor skills
Specifications
Each book measures: 6.6" x 6.3"
WHAT'S INCLUDED?
4x Jumbo Activity Set Age 3-4:

1x Mazes: 4+
1x My First Drawing: 5-8 Colors
1x Sticker & Fun: Count and Stick: Counting up to 12
1x Sticker & Fun: Calculating and Stick: Addition & Subtraction up to 13

4x Jumbo Activity Set Age 3-4:

1x Mazes: 3+
1x My First Drawing: 2-4 Colors
1x Star 2 Star: Numbers 1-10
1x Sticker & Fun: Stick and Color
Warranty