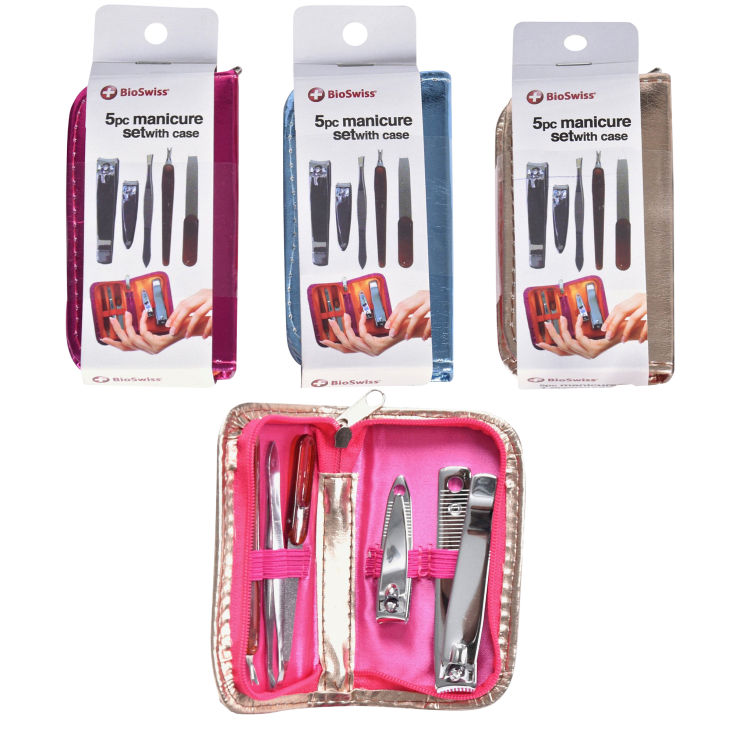 BIOSWISS 5-Piece Manicure Set in Metallic Zipper Case
Features
Compact zippered manicure set includes large and small nail clippers, tweezers, a cuticle trimmer, and a metal nail file.
Everything you need for on-the-go nail maintenance. It contains the beauty essentials needed to keep nails neat and trim.
Color may vary
Included in the Box
1x BIOSWISS 5-Piece Manicure Set in Metallic Zipper Case in Assorted Color
Warranty
Estimated Delivery Date
Standard: Friday, Oct 9 - Monday, Oct 26. Standard carrier delivery times are longer than normal.
Enhanced: Monday, Oct 5 - Wednesday, Oct 7.
Reviews
Verified Purchase
in a cute package and i can just drop this in my purse
Written by @lovelywoman - July 2nd 2020
Verified Purchase
Written by @DeJuan825 - June 6th 2020
Verified Purchase
I love this product good price thank you
Written by @holyspirit14 - June 4th 2020
Verified Purchase
Mani & Pedi Tools
I love them! Thank you!

Written by @wenda13 - May 29th 2020
Verified Purchase
Mani pedi
Both kits came just in time. I am getting ready to go on a trip. Both kits are just what I need to carry . I don't think I will need the pedi part but it's nice to have.
Written by @swrightfranklin - May 28th 2020
Verified Purchase
I can find my nail stuff
it's cute

Written by @kellysturgeon - June 18th 2020
Verified Purchase
Small but does the job!!!!
Written by @MichelleDPatric - June 13th 2020