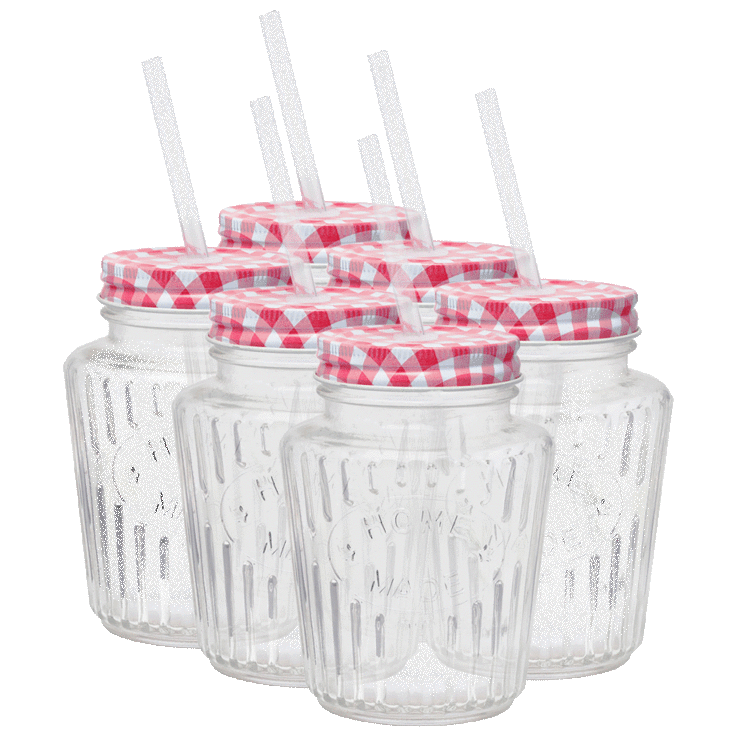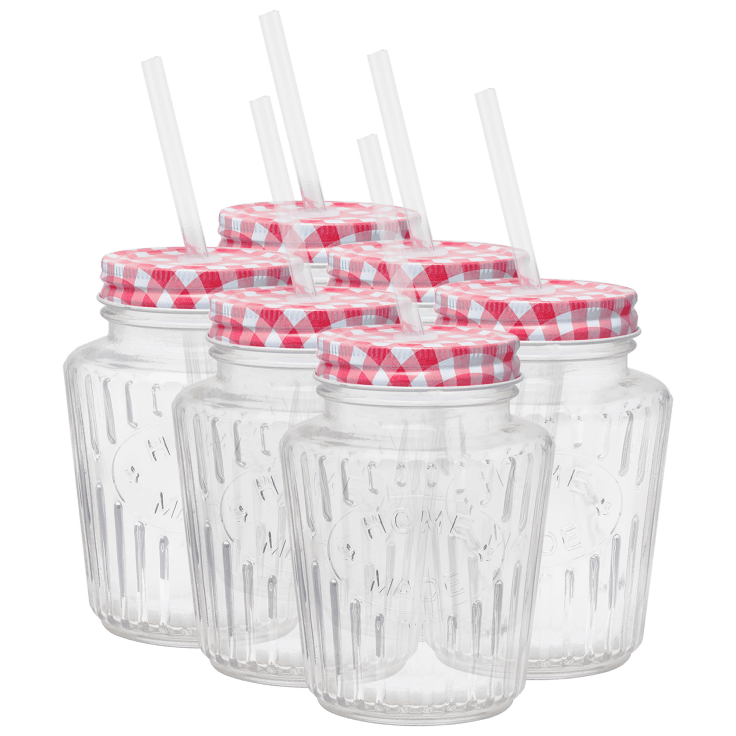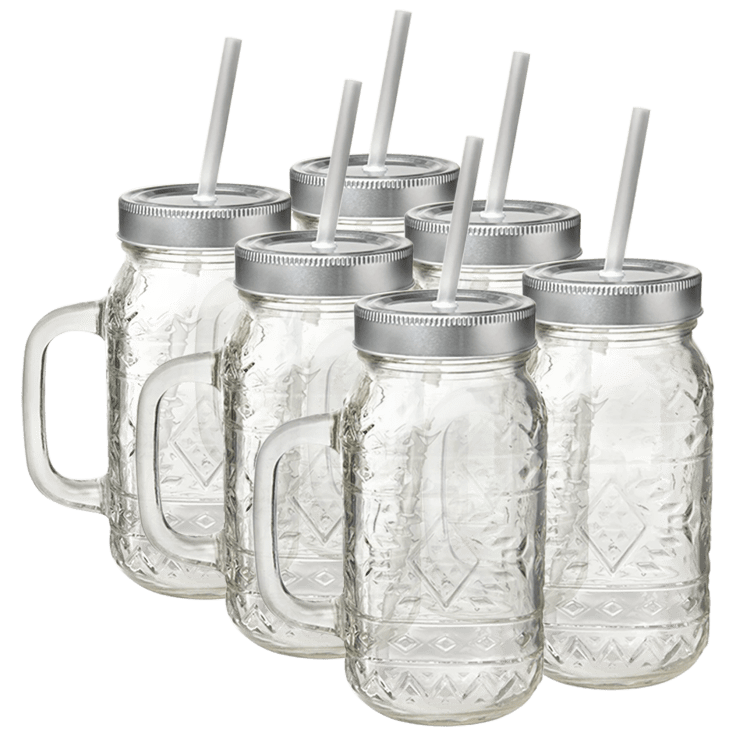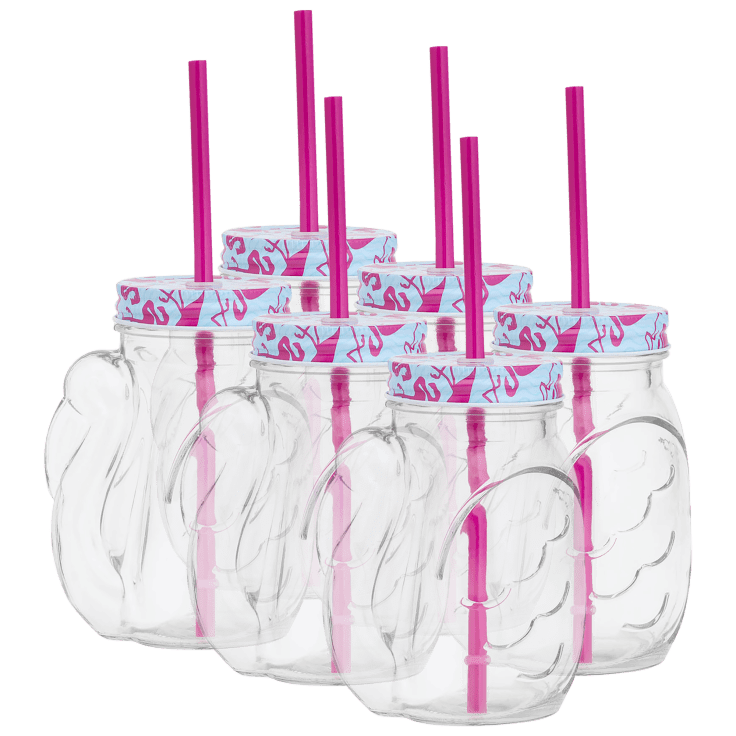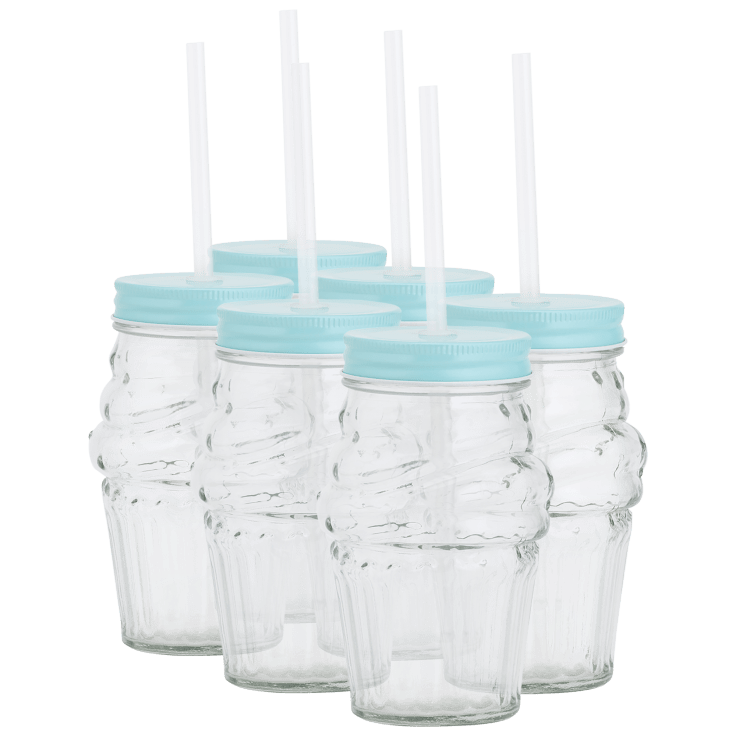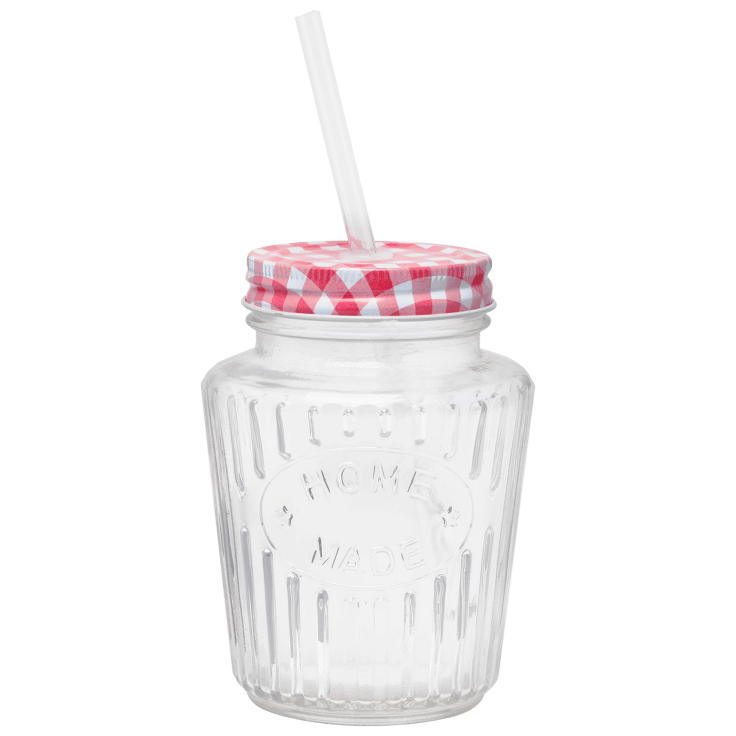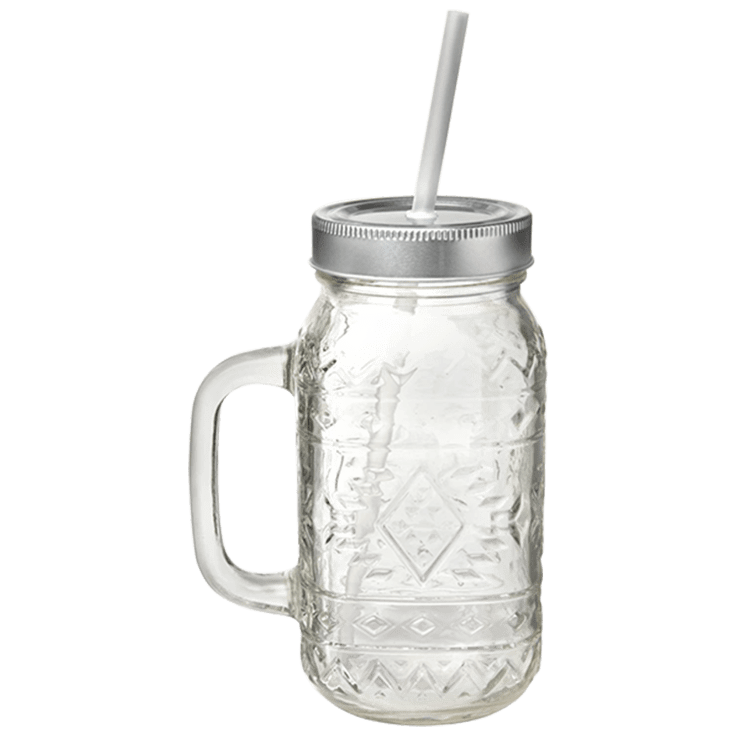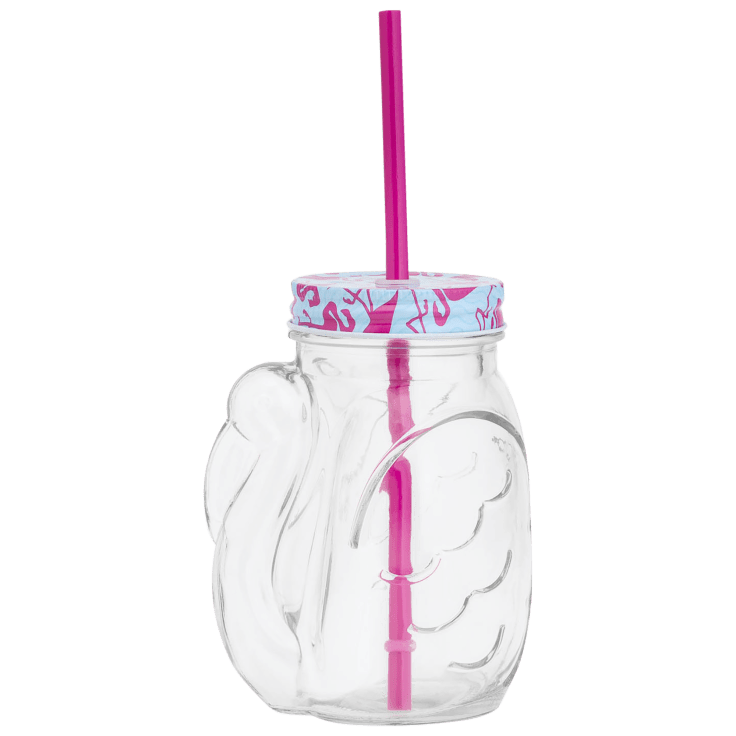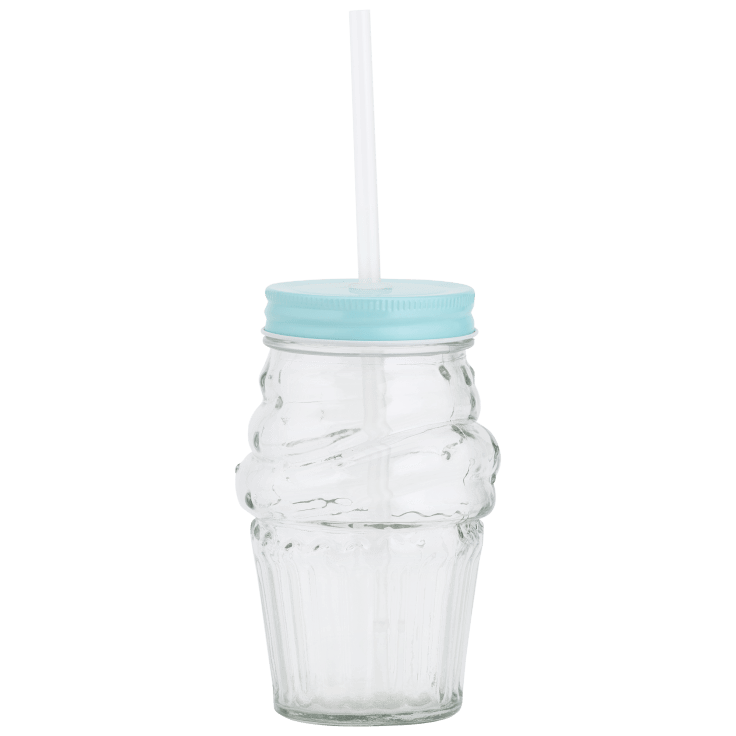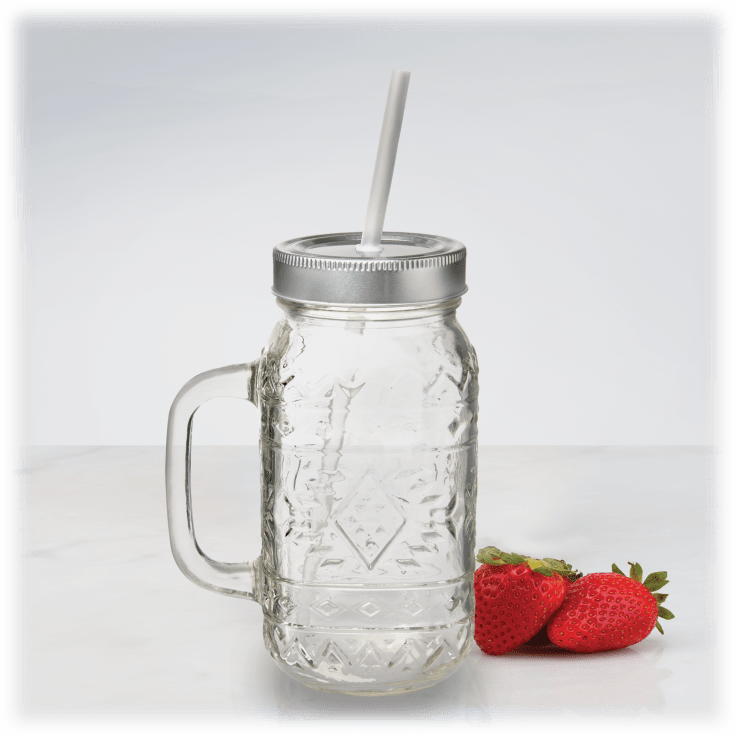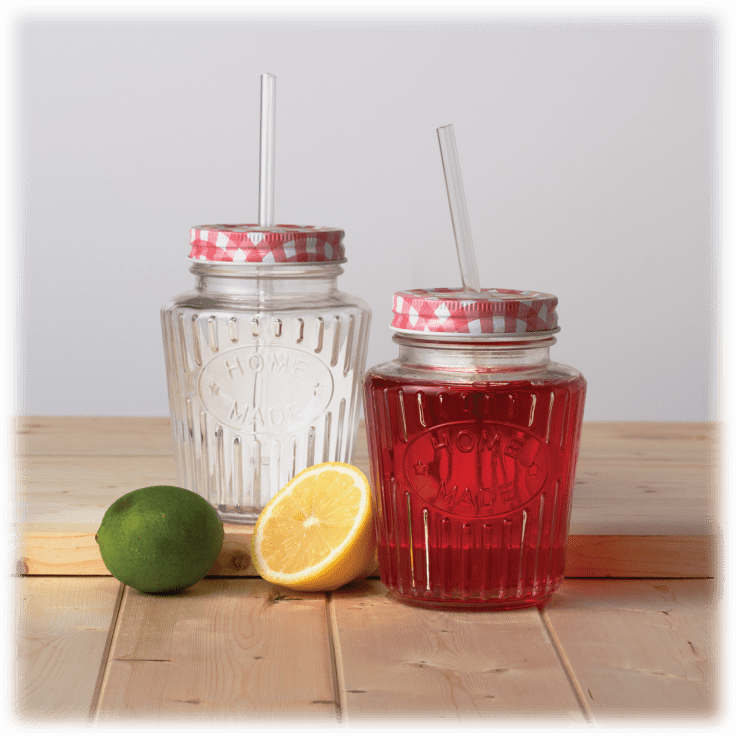 6-Pack: Amici Home Glass Jar Cups with Straw
Features
4 FUN DESIGNS TO CHOOSE FROM:

Flamingo: At 18 oz, the Clear Flamingo Mason Jar Set by Amici Home are figural glass mason jars lovingly molded into the shape of a flamingo.
Homemade Mason Jar: At 20 oz., features a wide, ribbed body topped with a metal, twist top lid. These mason jars now feature a metal red Gingham twist top lid with a hard-plastic straw. Perfect for a retro, homemade feel, each mason jar can accommodate your friend's and family's favorite beverages. This mason jar has raised, textured features over clear glass, giving it a sturdy feel in anyone's hand.
Santa Fe: At 24 oz., the design on this mason jar features a southwestern Ikat design in raised relief over clear glass and offers a decorative way to showcase your favorite beverages for parties and get-togethers
Ice Cream: At 16 oz., the ice cream mason jar set by Amici Home are figural glass Mason jars molded into the shape of ice cream cones
Whether you're indoors or outdoors, this glass mason jar is a great way to get the conversation going while showing your personal sense of style

Lined with BPA-free silicone and a hard plastic reusable straw.
TRENDY DESIGN - Beautiful summer drinkware meant to elevate your kitchen and serveware essentials.
LARGE CAPACITY - Each measures 4.25" L x 3.75" W x 9" H with a capacity of 18oz.
MAKES A GREAT GIFT - This drinkware set is a great gift idea for the fashion-conscious homemaker in your life and forms part of a well-decorated home.
HAND WASH ONLY - The glass portion of this item is dishwasher safe, but the lids and straws require handwashing to maintain its beauty and functionality.
SET OF 6 - This piece comes as a set of 6 matching jars so you have enough to go around.
Specifications
BPA-free plastic
Dimensions-

Flamingo: 4.25" L x 3.75" x /9" H 18 oz
Homemade: 3.5" D x 8.5" H 20 oz
Ice Cream: 3.5" D x 9" 16 oz
Santa Fe: 4.75" L x 3.25" W x 9.5" H 24 oz

Capacity-

Flamingo: 18 oz
Homemade: 20 oz
Ice Cream: 16 oz
Santa Fe: 24 oz
INCLUDED IN THE BOX
6x Amici Home Glass Jar Cups with Straw
Warranty
Estimated Delivery Date
Standard: Friday, Apr 23 - Tuesday, Apr 27.
Enhanced: Friday, Apr 23 - Tuesday, Apr 27.