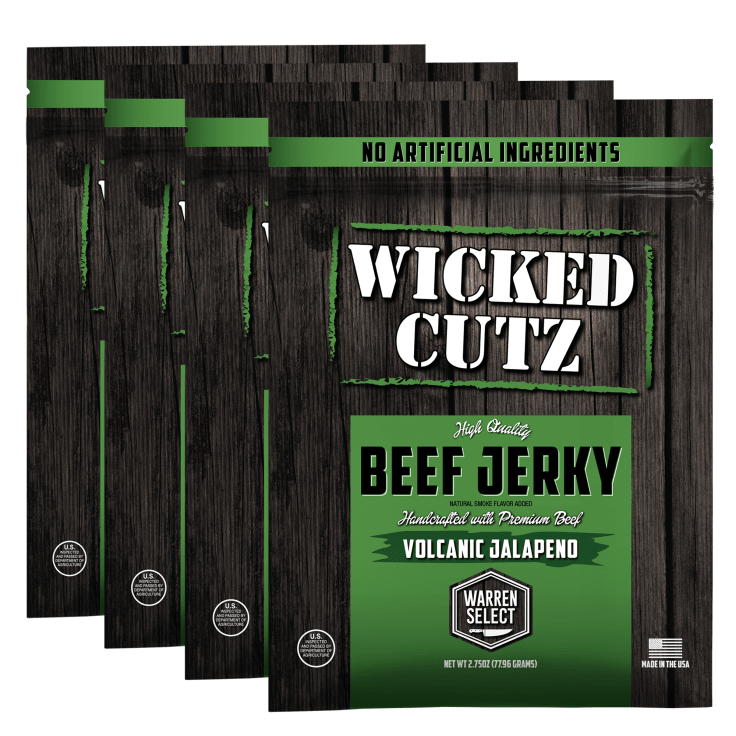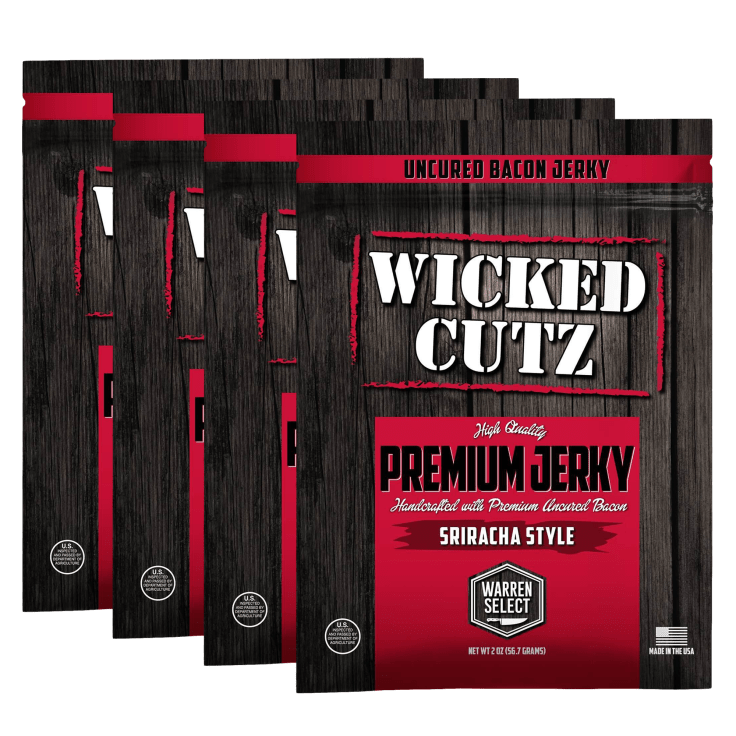 4-Pack: Wicked Cutz Premium Jerky
Features
Volcanic Jalepeno Beef Jerky
Volcanic Jalapeno craft beef jerky starts as a southern bell and erupts like a boxing kangaroo with a caffeine addiction. Just like an active volcano, the sweet and smooth first bite slowly builds into a hot and spicy eruption that will leave you begging for more. Flavored with 5 different peppers and blended with proprietary spices, this jerky will have you ready to tackle Mount St. Helens by the time you finish it!
Sriracha Bacon Jerky
Bacon, wait… let us say it again, BACON, did you catch that? B A C O N jerky is here and we've smothered it in mouth-watering sriracha sauce to blast you with a taste so satisfying you'll be sending us those hogs from your latest hunt and begging us to make you more!! This is REAL STRIPS OF BACON!! Very easy to chew, tender and full of flavor.
Specifications
| Flavor | Sriracha Bacon | Volcanic Jalapeno |
| --- | --- | --- |
| Serving size: | 1oz | 1oz |
| Calories | 140 | 45 |
| Calories from Fat | 90 | 10 |
| Total Fat | 10g | 1g |
| Saturated Fat | 3g | 0g |
| Trans Fat | 0g | 0g |
| Cholesterol | 15mg | 15mg |
| Sodium | 600mg | 220mg |
| Total Carbohydrate | 6g | 3g |
| Fiber | 0g | 0g |
| Sugar | 6g | 2g |
| Protein | 6g | 8g |
| Vitamin A | 2% | 2% |
| Vitamin C | 4% | 0% |
| Calcium | 0% | 0% |
| Iron | 0% | 4% |
Sriracha Bacon ingredients: Uncured bacon, white sugar, sriracha sauce, gluten-free tamari sauce, honey, cayenne, granulated garlic, ground pepper, sea salt, red wine vinegar, ginger, water
Volcanic Jalapeno ingredients: Beef, brown sugar, soy sauce, water, fresh jalapenos, worcestershire sauce, ground pepper, hickory smoke, cayenne, granulated onion, jalapeno powder, granulated garlic, citric acid
In the box
4x Bags of jerky, your choice of flavor
Warranty
Estimated Delivery Date
Tuesday, September 24th - Monday, September 30th