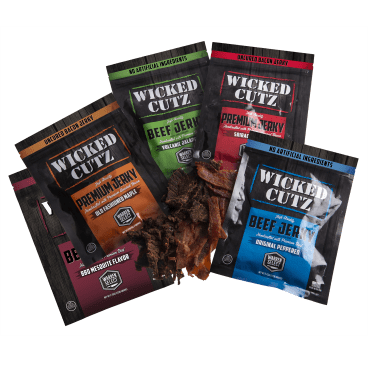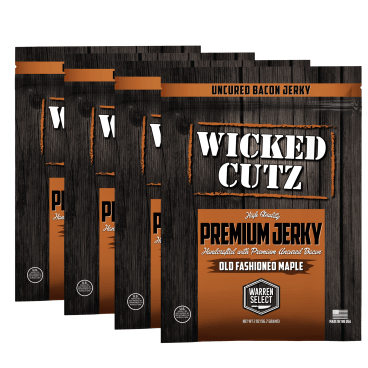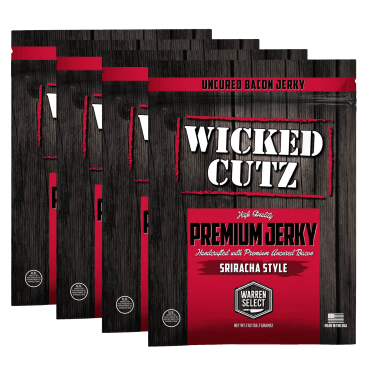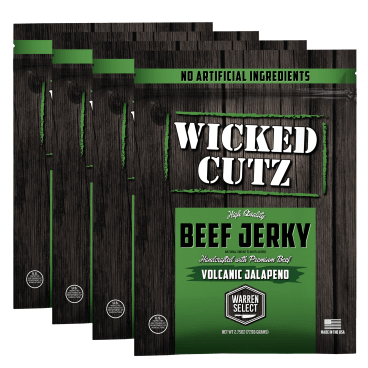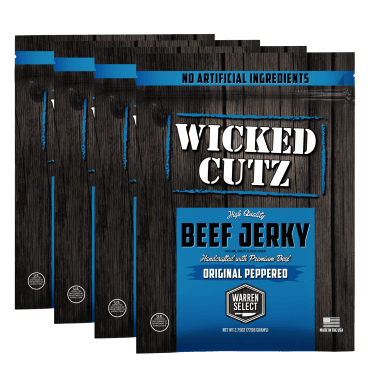 4-Pack: Wicked Cutz Premium Jerky
Features
Original Peppered Beef Jerky
The flavor starts as a Smokey black pepper flavor. Then the heat slowly rises to let you know this jerky has bite. Wicked's premium Cutz are the ideal savory snack to satisfy your hunger and fuel your workout, road trip, or a long day at work. It's high in protein and preservative free.
Volcanic Jalepeno Beef Jerky
Volcanic Jalapeno craft beef jerky starts as a southern bell and erupts like a boxing kangaroo with a caffeine addiction. Just like an active volcano, the sweet and smooth first bite slowly builds into a hot and spicy eruption that will leave you begging for more. Flavored with 5 different peppers and blended with proprietary spices, this jerky will have you ready to tackle Mount St. Helens by the time you finish it!
BBQ Mesquite Beef Jerky
BBQ Mesquite is no ordinary jerky, it's a blast of Western Culture wrangled with a lasso and beat down in BBQ sauce by a herd of wild Buffalo. Our flavor is so pronounce and our taste is so delicious, this jerky will leave even the most loyal Pitmasters wishing they had more. Be careful though… our craft jerky will make those first place Pitmaster trophies from the local showdown look like child's play! This is the perfect combination of a conventional jerky. It's easy to chew and extremely tender. If you like our peppered Jerky and our turkey jerky, then you are going to flip out over this one!! There's a reason we are always out of stock!!
Old Fashioned Maple Bacon Jerky
BACON… need we say more? Probably not, but in case your mouth isn't watering yet, picture strips of bacon lounging in a bed of brown sugar marinade just before they're sizzled to perfection with only the sound of your taste buds cheering in the background. That's what you get when you bite into this ol' fashion favorite and we assure you, you'll be damn happy you did!
Sriracha Bacon Jerky
Bacon, wait… let us say it again, BACON, did you catch that? B A C O N jerky is here and we've smothered it in mouth-watering sriracha sauce to blast you with a taste so satisfying you'll be sending us those hogs from your latest hunt and begging us to make you more!! This is REAL STRIPS OF BACON!! Very easy to chew, tender and full of flavor.
Specifications
Model: WCBJ03BM, WCPJ02MA, WCBJ03PB, WCPJ03SR, WCBJ03VJ
Condition: New
| | BBQ Mesquite Beef | Maple Bacon | Peppered | Sriracha Bacon | Volcanic Jalapeno |
| --- | --- | --- | --- | --- | --- |
| Serving size: | 1oz | 1oz | 1oz | 1oz | 1oz |
| Calories | 60 | 120 | 50 | 140 | 45 |
| Calories from Fat | 10 | 70 | 10 | 90 | 10 |
| Total Fat | 1.5g | 8g | 1g | 10g | 1g |
| Saturated Fat | 0g | 2.5g | 0g | 3g | 0g |
| Trans Fat | 0g | 0g | 0g | 0g | 0g |
| Cholesterol | 25g | 15mg | 20mg | 15mg | 15mg |
| Sodium | 85mg | 650mg | 105mg | 600mg | 220mg |
| Total Carbohydrate | 1g | 5g | 1g | 6g | 3g |
| Fiber | 0g | 0g | 0g | 0g | 0g |
| Sugar | 1g | 5g | 1g | 6g | 2g |
| Protein | 9g | 8g | 9g | 6g | 8g |
| Vitamin A | 0% | 0% | 0% | 2% | 2% |
| Vitamin C | 2% | 0% | 0% | 4% | 0% |
| Calcium | 0% | 0% | 0% | 0% | 0% |
| Iron | 4% | 0% | 4% | 0% | 4% |
BBQ Mesquite ingredients: Beef, brown sugar, soy sauce, tomato sauce, white vinegar, mesquite smoke, granulated onion, granulated garlic, ground pepper, cayenne, cumin
Maple Bacon ingredients: Uncured bacon, pork, water, salt, turbinado sugar, celery powder, lactic acid start culture (not from milk), brown sugar, maple syrup, honey, water
Peppered ingredients: Beef, soy sauce, water, brown sugar, worcestershire sauce, hickory smoke, granulated garlic, lemon juice, ground pepper, seasoned salt, granulated onion
Sriracha Bacon ingredients: Uncured bacon, white sugar, sriracha sauce, gluten-free tamari sauce, honey, cayenne, granulated garlic, ground pepper, sea salt, red wine vinegar, ginger, water
Volcanic Jalapeno ingredients: Beef, brown sugar, soy sauce, water, fresh jalapenos, worcestershire sauce, ground pepper, hickory smoke, cayenne, granulated onion, jalapeno powder, granulated garlic, citric acid
In the box
4x Bags of jerky, your choice of flavor
Warranty
Estimated Delivery Date
Tuesday, July 2nd - Monday, July 8th