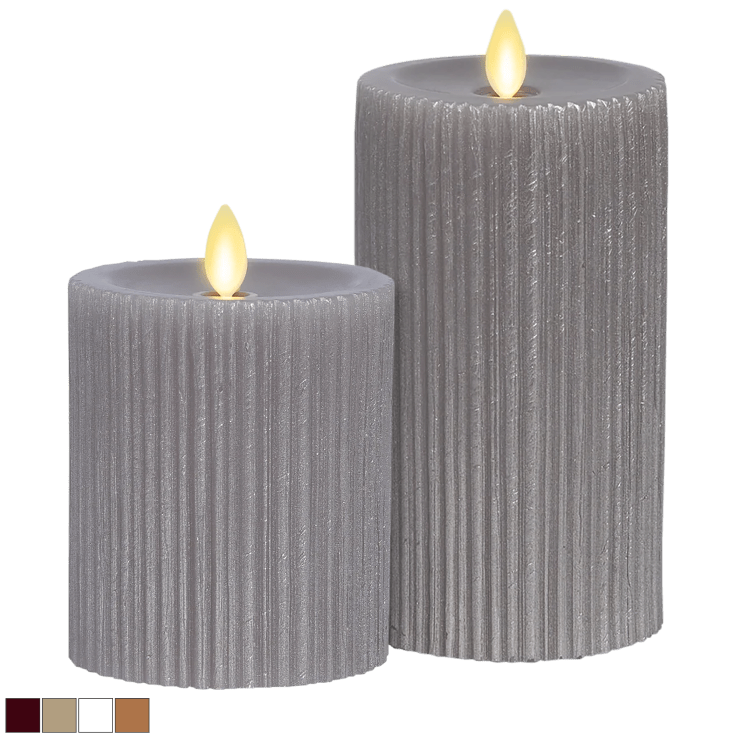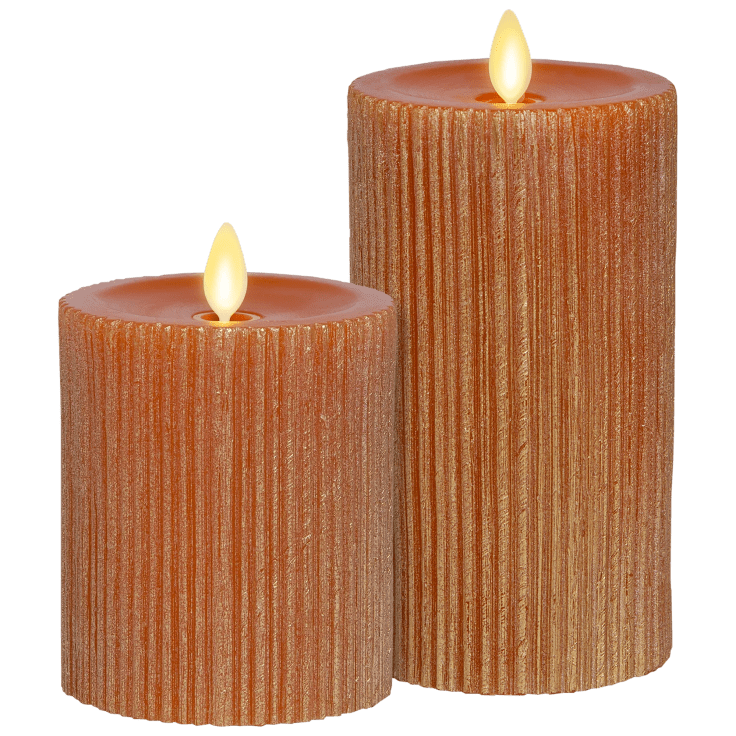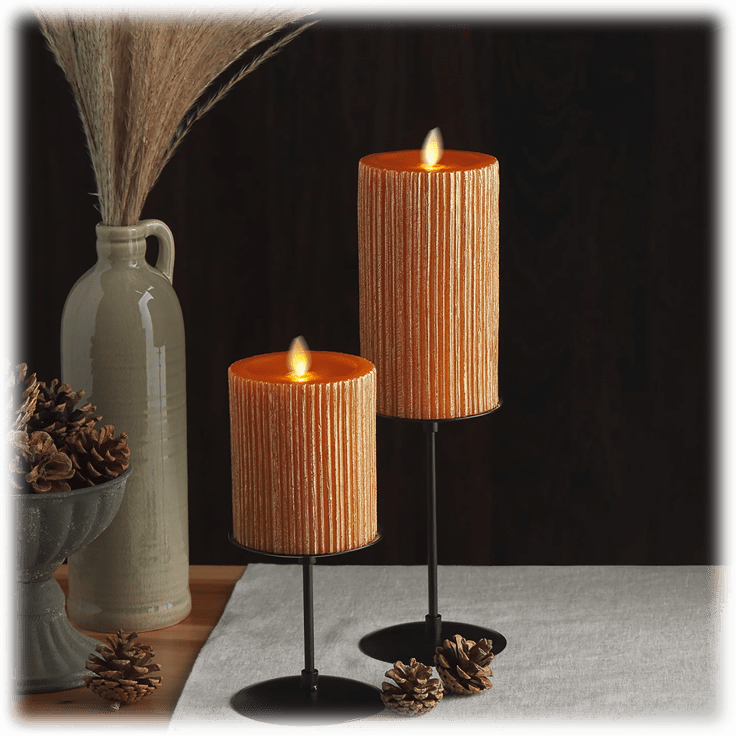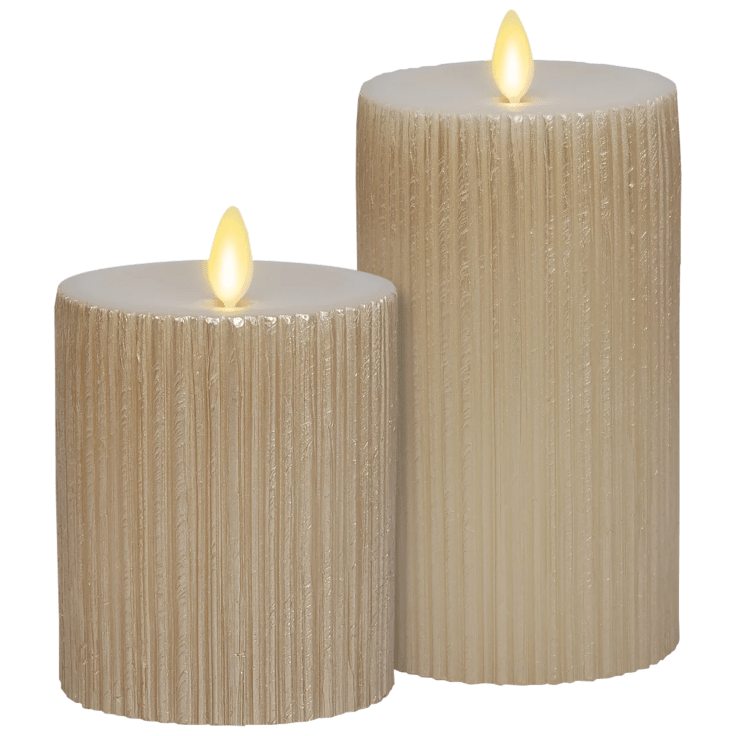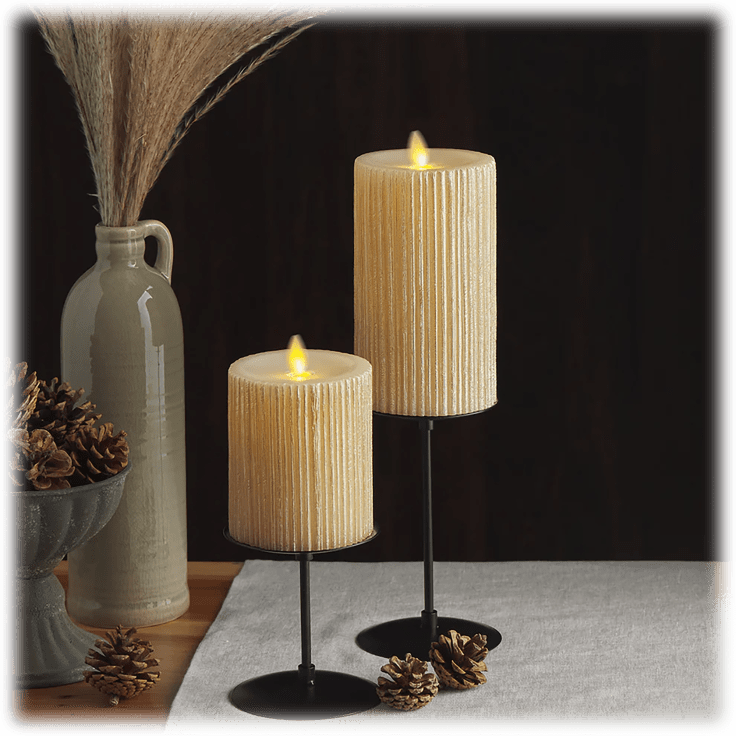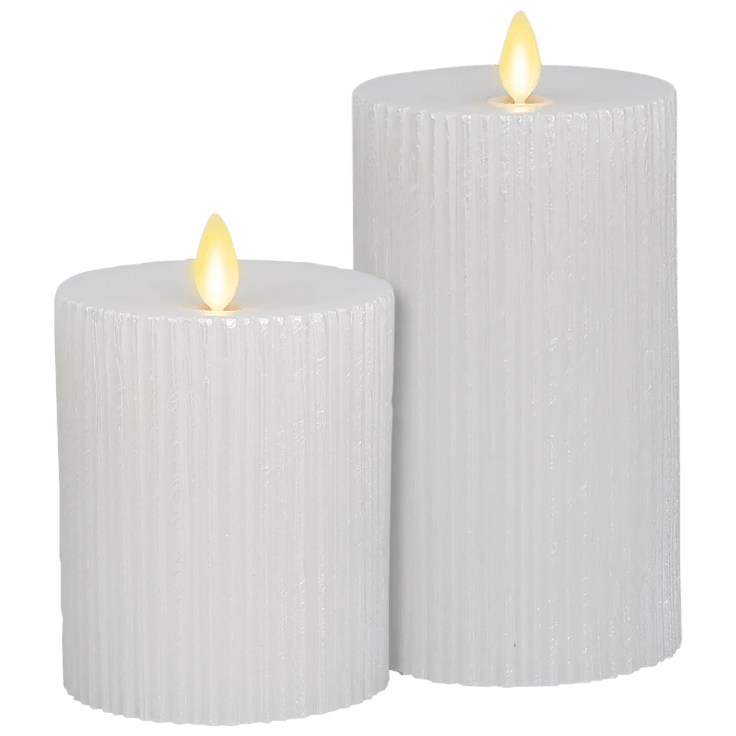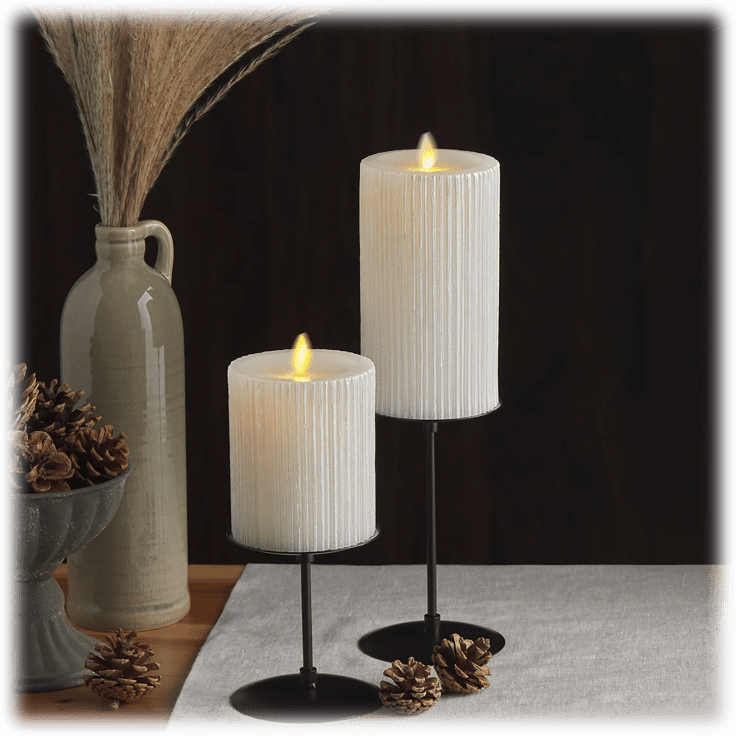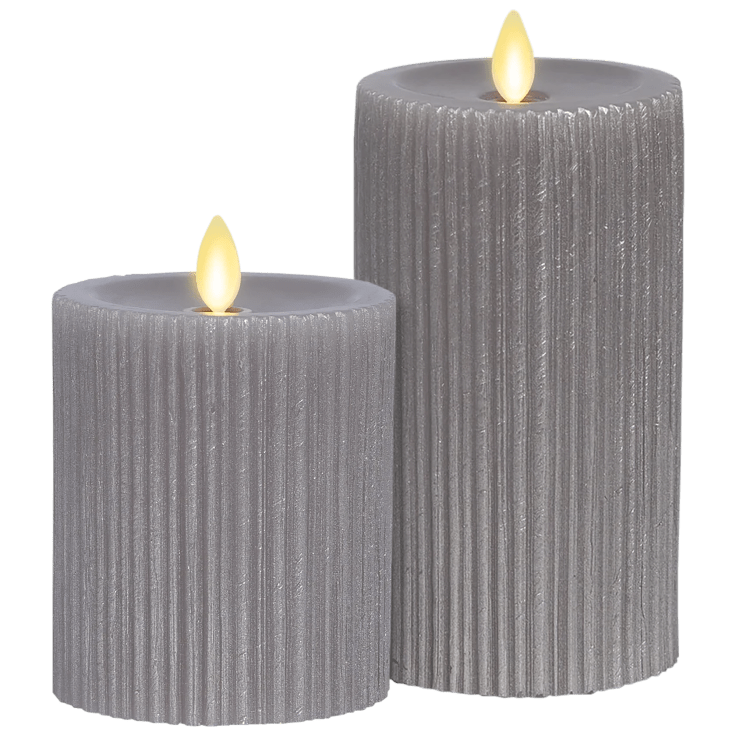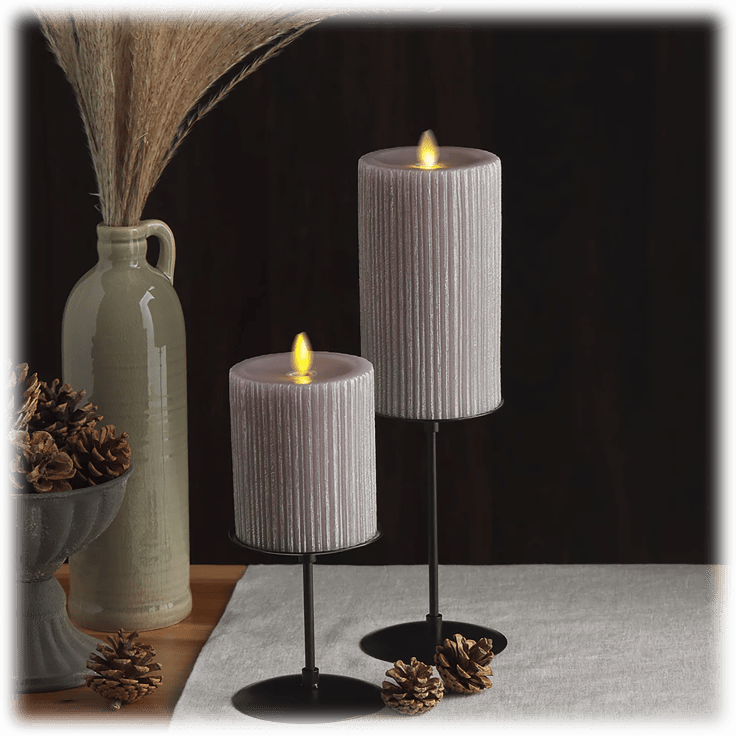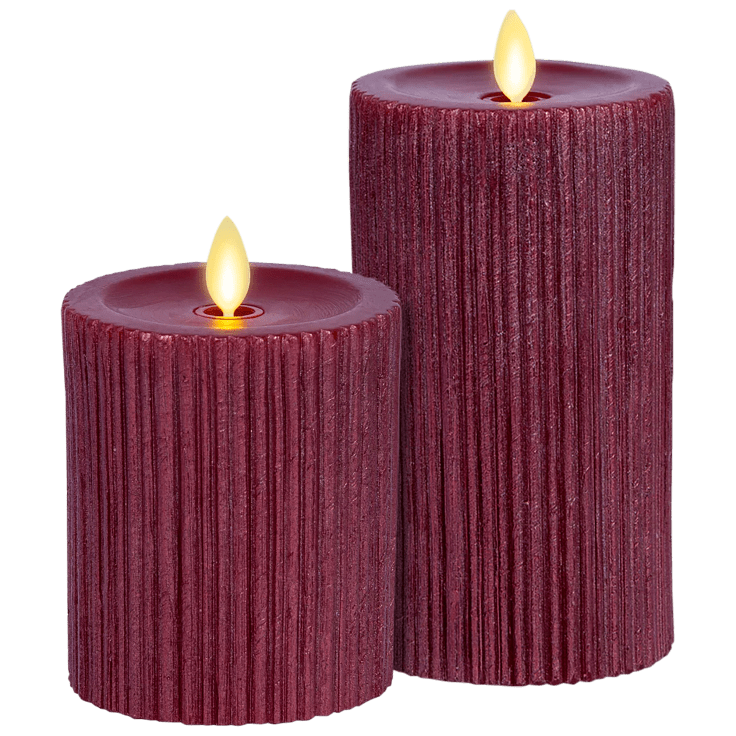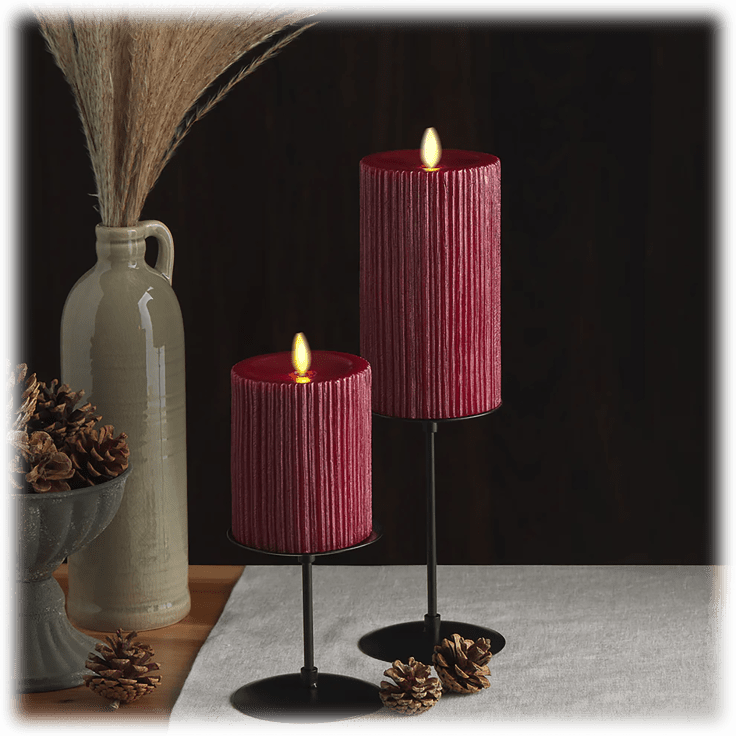 2-Pack: Luminara Indoor Ribbed Metallic Furrow Unscented Moving Flame Pillars
Features
Available in Autumn Maple, Pearl Ivory, Lum White, Grey, or Chili Pepper
Comes with a candle at 3.25" in diameter and 6.5" high and 3.25" in diameter and 4.5" high
Enjoy the cozy glow of candles without any of the fuss! This real flame-effect candle isn't so small it disappears into the background, but not so big it dominates the room. This style of flameless candle is capable of being operated by a remote (sold separately). It is turned on and off by a switch on the bottom, which also activates the timer.
Luminara Flameless LED Metallic Embossed Furrow Candles are made with 100% pure paraffin wax, hand poured and carefully designed to look like traditional candles. They are safer to use than traditional candles, since no actual combustion or wax consumption happens. That means no soot or chemicals are released into the air, making them perfect for use indoors. They're perfect for households with small curious children and rambunctious pets.
The light is a warm white color encased in a yellow flame designed to be as realistic as possible. It automatically flickers when you turn the candle on, increasing the realism. Perfect for winter displays, New Year's Eve parties, or for anyone who likes a bit of sparkle.
Each candle takes 2 C Batteries (purchase separately). When using the timer function, the candle will light up for 5 hours, and then automatically shut off for 19 hours. Candles can provide up to 600 hours of runtime before needing to replace the batteries. With proper care, these flameless candles will provide years of lovely, safe illumination.
Candles come packaged in sturdy boxes to protect them during the shipping process. They also are easy to wrap without having to search for just the right shaped box. They make excellent presents for any occasionChristmas, birthdays, Mother's Day, party hostess gifts, or even for yourself!
What's Included?
2-Pack: Luminara Indoor Ribbed Metallic Furrow Unscented Moving Flame Pillars
Warranty