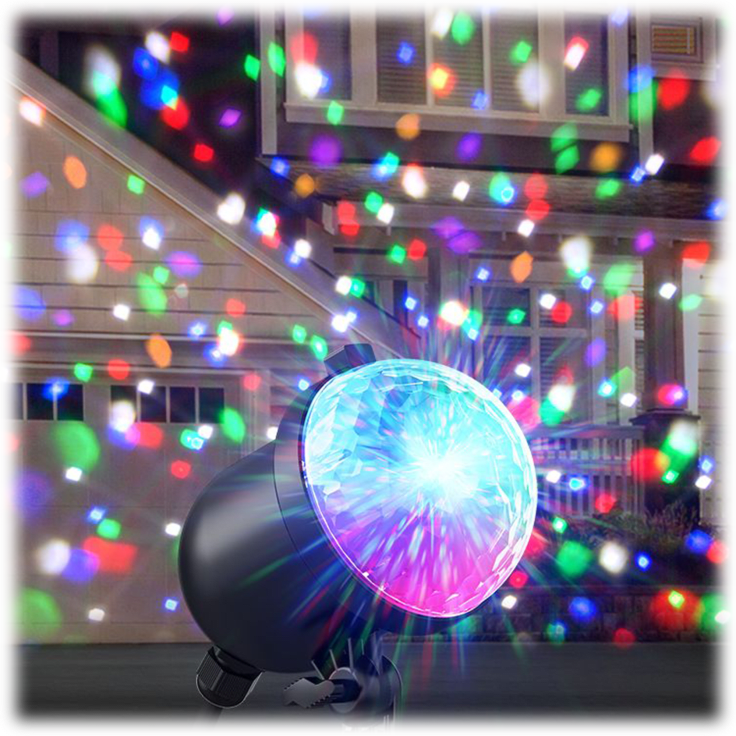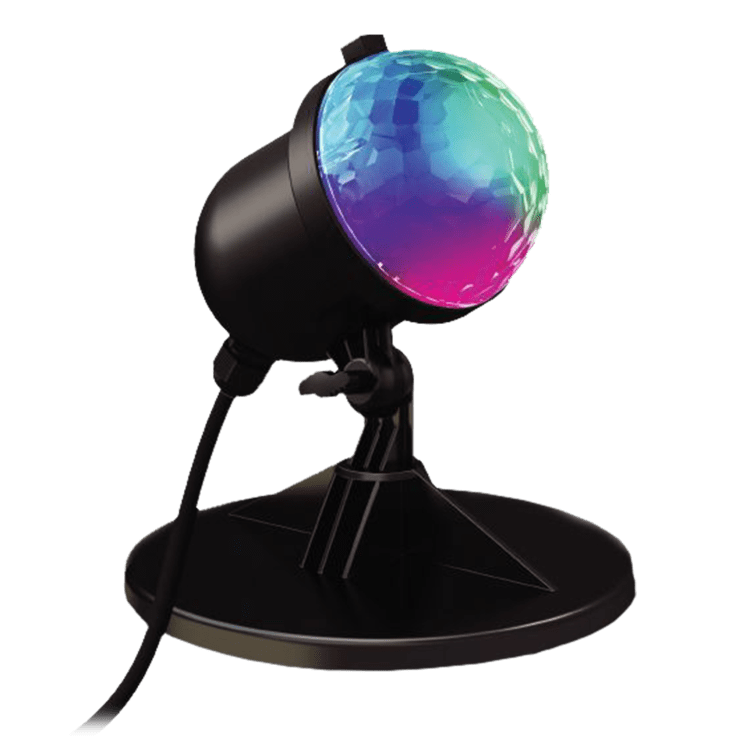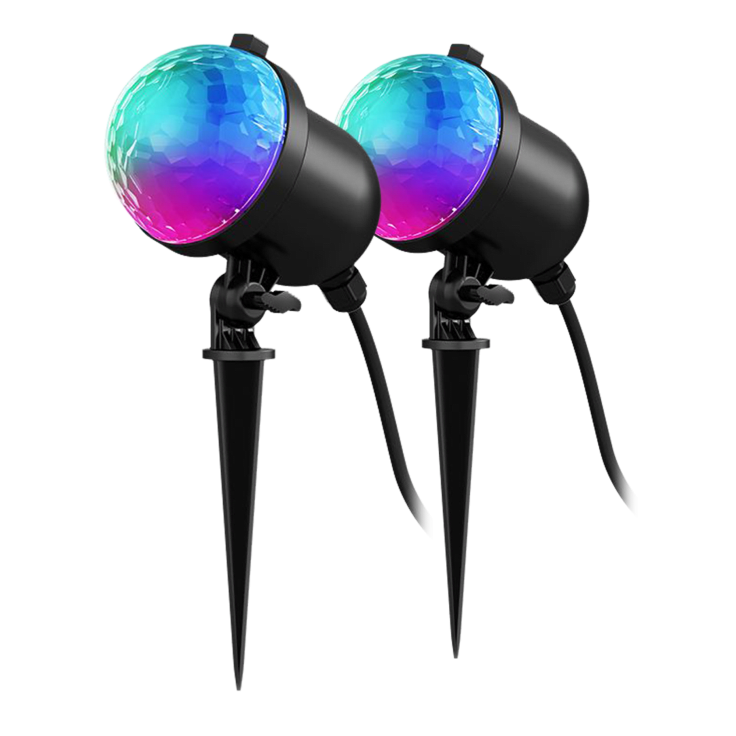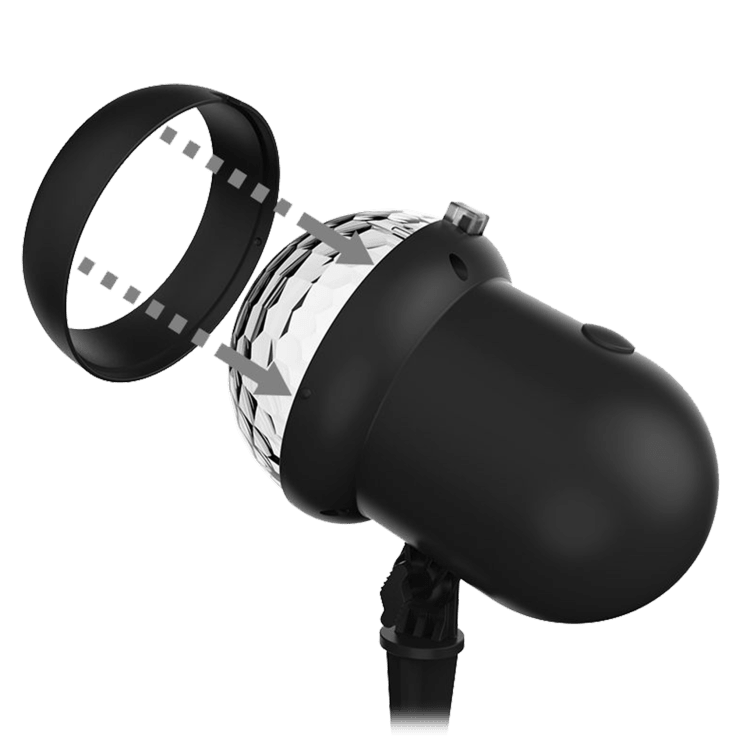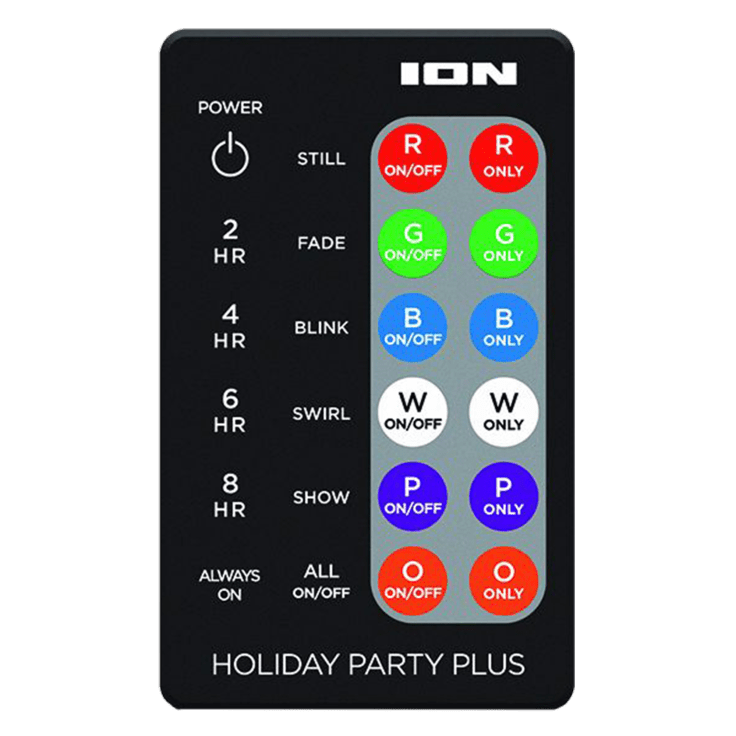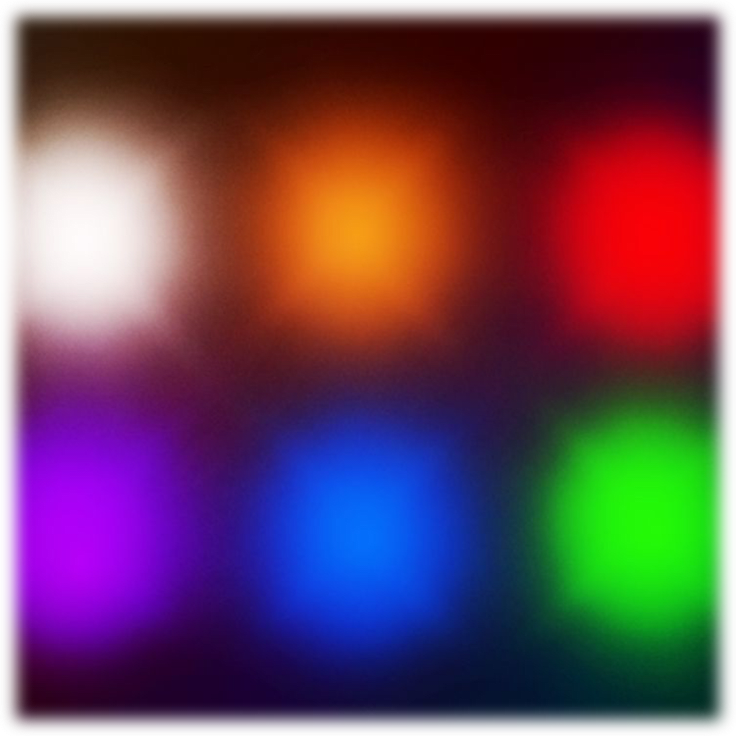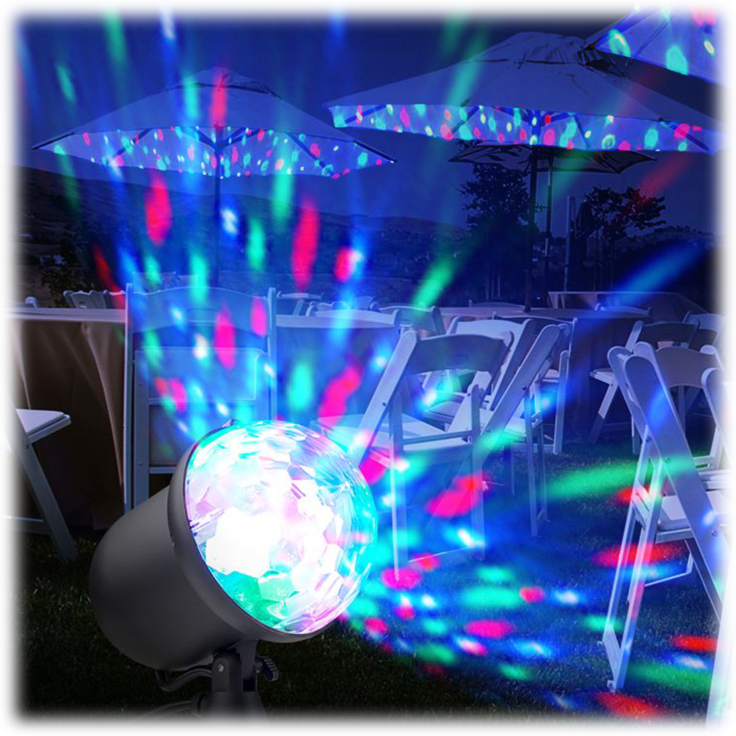 2-Pack: ION Holiday Party Plus Multicolor Projected Lights with Remote
Features
Super bright colorful LEDs will project white, red, green, blue, purple, and orange
Sets up in seconds! Use these outside by staking them into the ground or inside with a stand
Remote allows you to control the power, colors, motion, and schedule timer
With its weather resistant housing, leave it outdoors to light up your next backyard get-together!
Specifications
Model: HOLIDAYPARTYPLUS17XUS
Condition: New
Dimensions: 4.9" x 7.4" x 11.9"
Weight: 2.6 lbs
Power: 100-240V, 50-60Hz, 20W, 350mA
Remote control range: 32 ft
Operating Temperature Range: -4°F-113°F
Water Resistance Class: IPX4
LEDs: (9) 3-watt LEDs (2 red, 2 green, 2 white, 1 blue, 1 orange, 1 purple)
Covers houses up to 4,000 sq ft from 15 ft distance
Remote features daily repeat timer function
Weather-resistant housing: leave outside in rain or snow
Either stake into ground or use flat surface stand
Caution: Like the sun, this light is very bright. Do not look into the light when setting up
Not recommended for setup or installation by children
For further safety details and more: Quickstart Guide
Included in the box
2x Ion Holiday Party Plus Indoor/Outdoor Projection LED Light
2x Remote Control
2x Flat Surface Stand
2x Light Limiting Ring
2x Quickstart Guide
2x Safety and Warranty Manual
Warranty
Reviews
Verified Purchase
Great for Parties and Holidays
This light is so heavy and nice. It show beautiful, unbelievable colors. The remote works wonderfully to change the colors and pattern of the lights. It's just what I need for an upcoming birthday party during the holidays…it's gonna set it off!
Written by @cfwoodall - October 31st 2019
Verified Purchase
Absolutely Beautiful !
I have one of the two I ordered in my back yard set and working for after dark . The timer feature is Great . No worries about falling asleep and forgetting to turn it off . Super fun function settings too !
Written by @juliebobikevich - September 7th 2019
Verified Purchase
Easy to set up and use!
I already had one of these lights and decided to add 2 more. Now I have 3 sides of my house "lite up", and calls from 2 neighbors saying things look great.
Written by @herbt - December 10th 2019
Verified Purchase
Amazing Party Lights!
Party lights work perfectly. Covers a big room and easy to use. I highly recommend.
Written by @Clreyes - January 8th 2020
Verified Purchase
Beautiful
These multicolored projected lights are beautiful. I love them. Will get good use out of them on my patio and my deck this summer.
Written by @Buddyshop - April 7th 2020
Verified Purchase
The most important to me is how the product came through the post office safely I like that
I like everything about the product very nice thanks morningsave.
Written by @ayerh - February 19th 2020
Verified Purchase
Written by @putche - December 6th 2019
Verified Purchase
Written by @nenaarvesu - November 8th 2019
Verified Purchase
Love ordering from the site
Written by @Panky5656 - September 28th 2019
Verified Purchase
Very quick shipping. Lots of options.
Written by @Leggs0108 - October 29th 2019