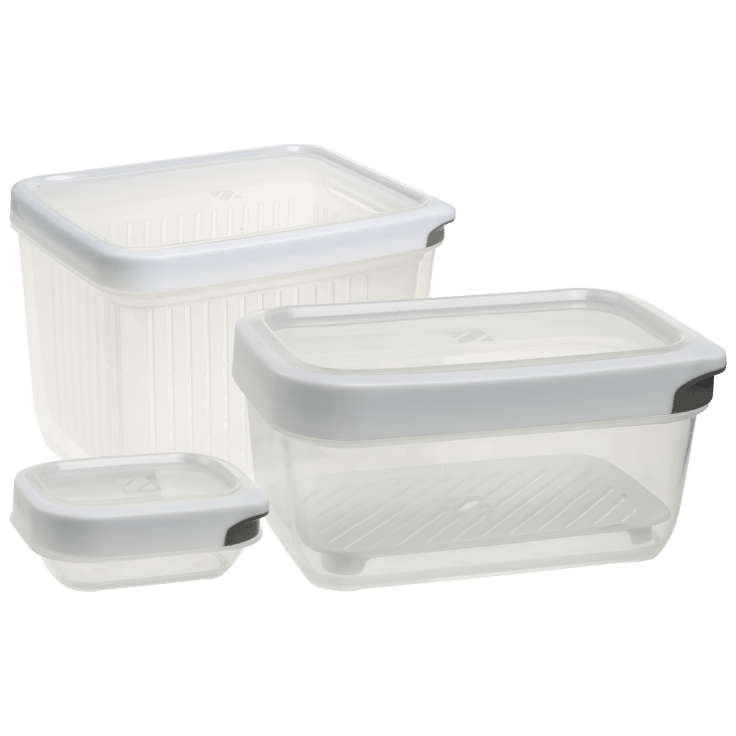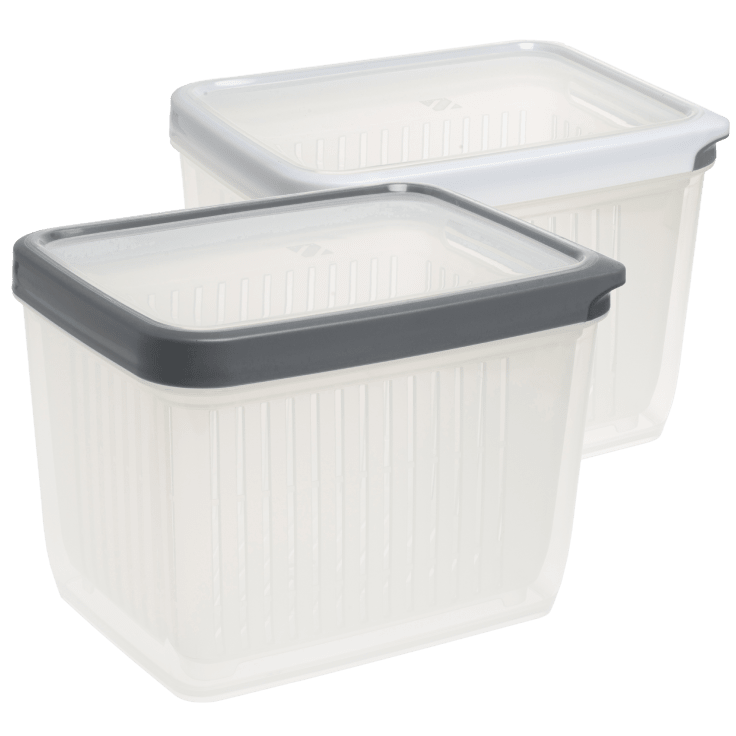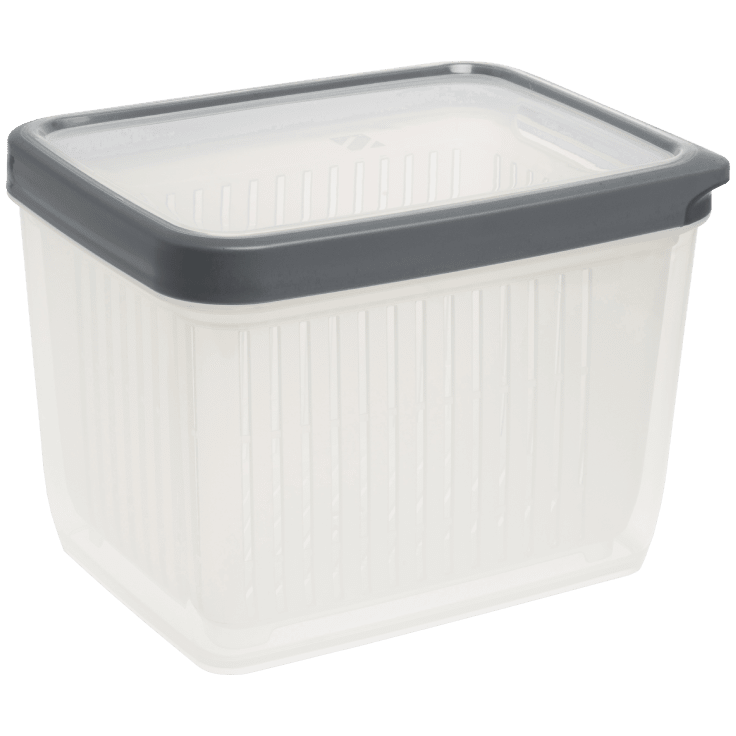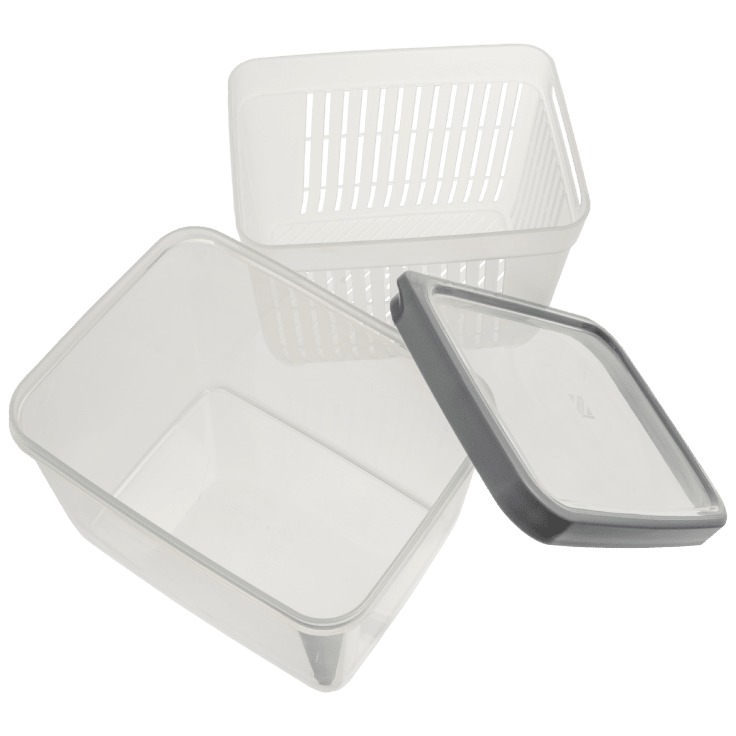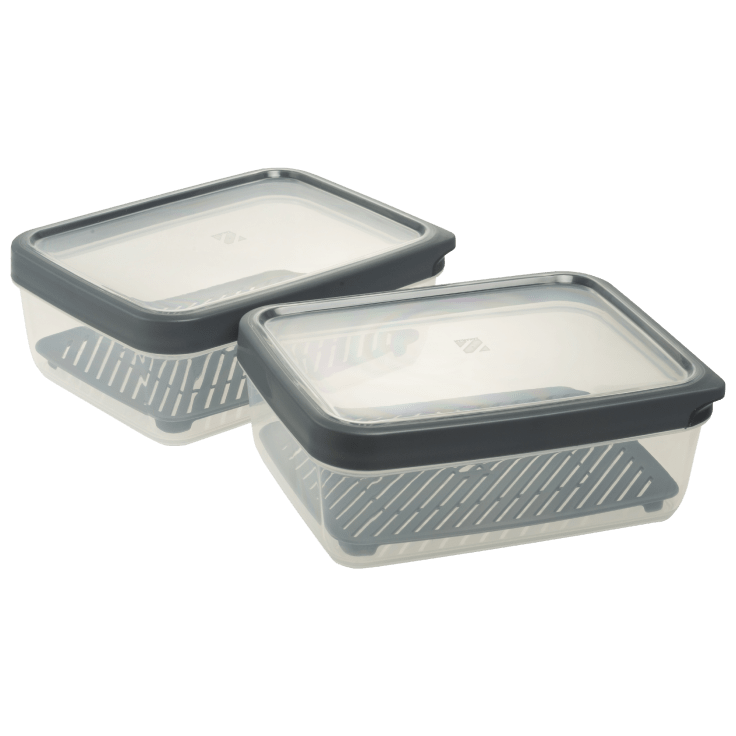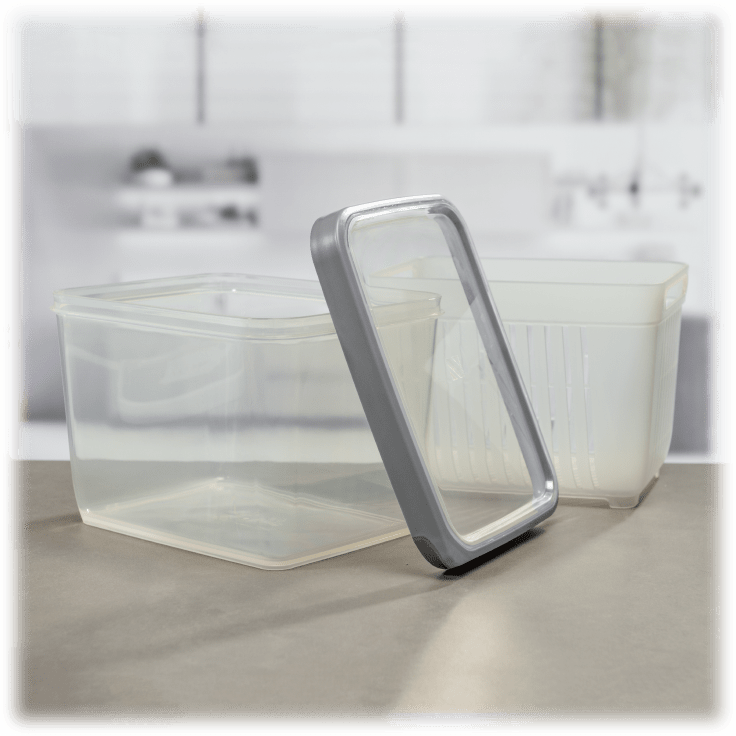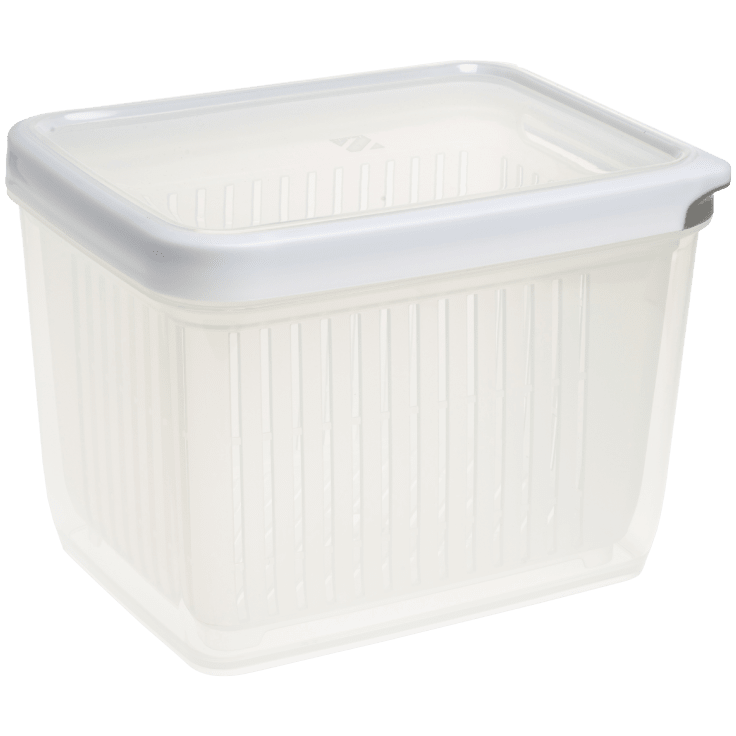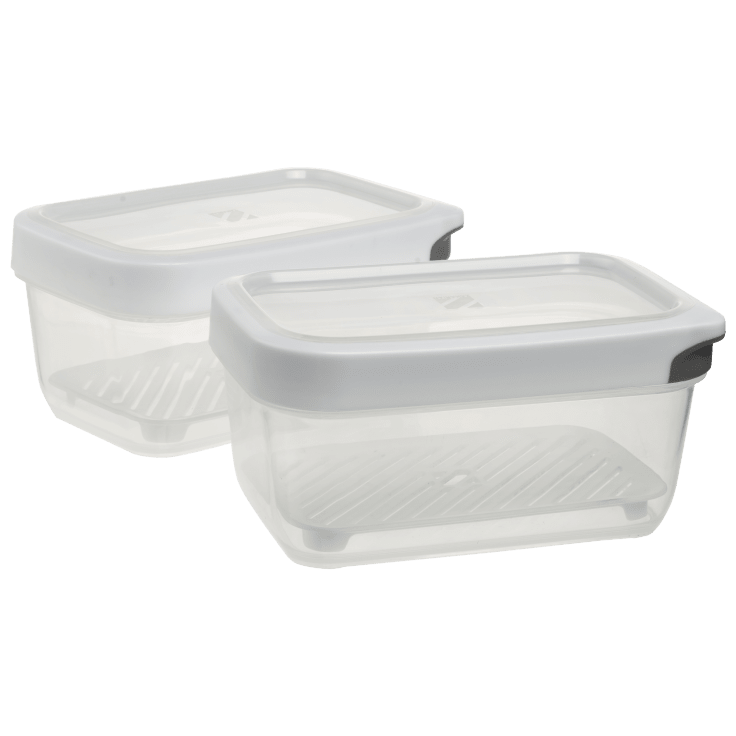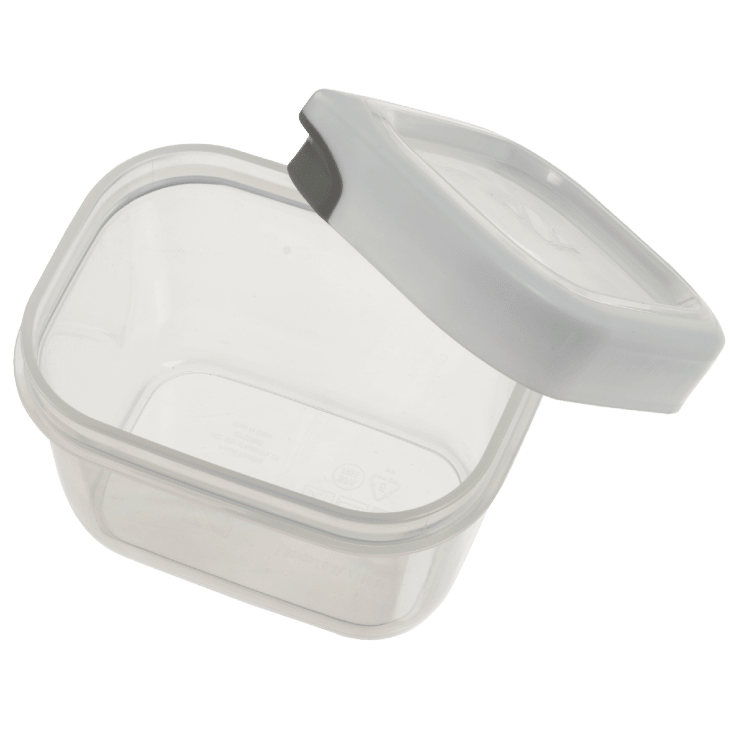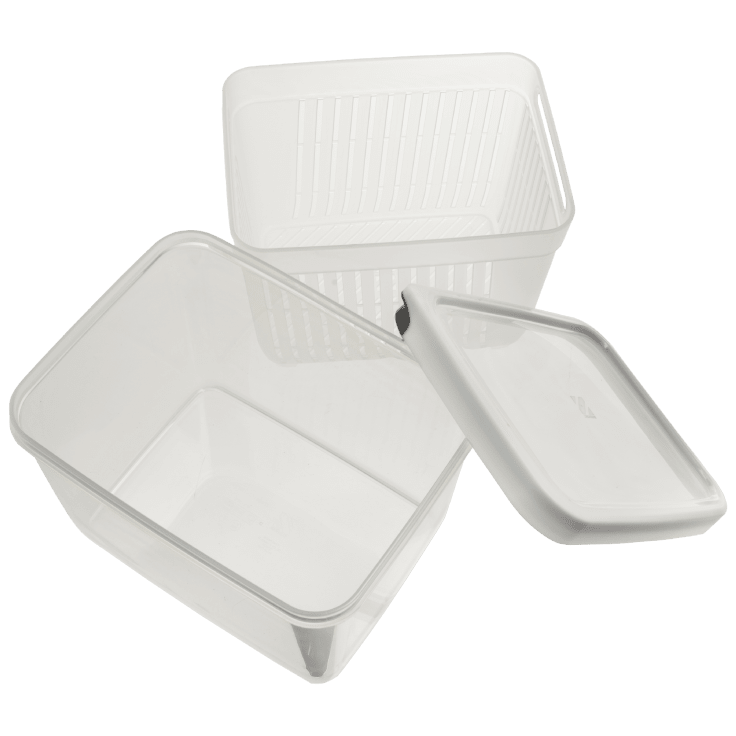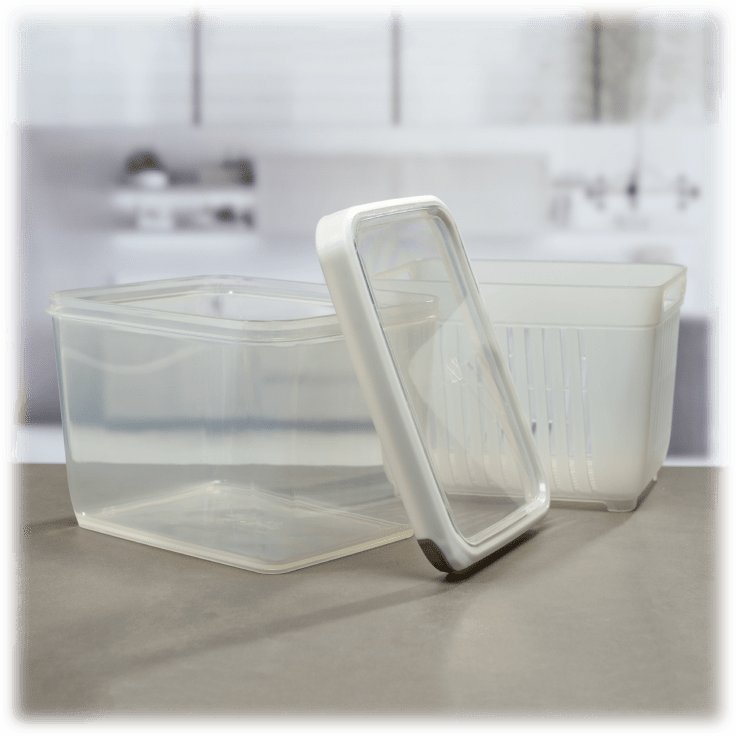 2-Pack: Geoffrey Zakarian Food Storage Canisters (6oz, 34oz, 161oz)
Features
Each container is made of professional-grade
BPA Free materials are extremely strong and durable
The line is also dishwasher, microwave, freezer, and fridge safe
Unique write-on labeling capability
Superior lid construction that will not come apart or break over time
Unique finger lift tab that makes each container easy to open and easy to seal
Available sizes and colors are:

Grey (X-Large or Medium)
White (X-Large, Medium or Mini)
Specifications
Capacity:

Mini: 6.04oz with lid
Medium: 34 oz with lid
X-Large: 161 oz with lid

Dimensions:

Mini - Approx. 4-1/2"L x 3-1/2"W x 1-3/4"H each
Medium - Approx. 6-7/8"L x 4-1/2"W x 3-1/2"H
Extra Large - Approx. 9"L x 6-7/8"W x 7"H
what's included?
2x Geoffrey Zakarian Canisters with lids in your size choice
Warranty
Available States
AL, AZ, AR, CA, CO, CT, DE, DC, FL, GA, ID, IL, IN, IA, KS, KY, LA, ME, MD, MA, MI, MN, MS, MO, MT, NE, NV, NH, NJ, NM, NY, NC, ND, OH, OK, OR, PA, RI, SC, SD, TN, TX, UT, VT, VA, WA, WV, WI, WY, AK, HI
Reviews
Verified Purchase
Resolution
I want thank you for the prompt resolution .I am very surprised and please with you response.I notified you that I received my order with a lid broken and I was hoping you would send me a replacement lid and you quickly replaced both containers with their lids .Thank you for you wonderful and swift customer service.
Written by @MarleneVienneau - November 22nd 2020
Verified Purchase
161 oz. Very good quality plus a draining or steaming basket.
Ordered 2 of the 161 oz size. They came with interior fitted baskets which are handy for storing washed produce and keeping it from setting in water or to steam food. Good quality product.
Written by @Saponaria - September 27th 2021
Verified Purchase
Love this product!
Was pleasantly surprised upon arrival, love the fact food is kept away from moisture giving it a longer life!
Written by @RuBear - December 12th 2020
Verified Purchase
So so good for veggies
Best storage canisters I have ever purchased
Written by @malvaso8 - March 26th 2021
Verified Purchase
Totally satisfied
Real nice, sturdy and sizeable.
Written by @chafree53 - May 23rd 2021
Verified Purchase
DURABLE & VERY USEFUL
I REALLY LOVE THIS XL 2•PK FOOD STORAGE CANISTERS BY THE AMAZING "IRON CHEF" HIMSELF… & COOKBOOKS AUTHOR, RESTAURANTEUR , & 1 OF THE HOSTS ON "THE KITCHEN" ON FOODNETWORK~ ETC•ETC•ETC… "THE 1 & ONLY": (((GEOFFREY ZAKARIAN)))… IT IS DEFINITELY SOOOO (((DURABLE & USEFUL)))… ABSOLUTELY MADE

% OF THE VERY BESSST (((HIGHEST QUALITY))), WITHOUT A DOUBT FOR STORAGE TO USE IN YOUR HOME OR PROFESSIONAL KITCHEN!!! IT IS DEFINITELY A

(((5





))) PRODUCT… THE ONLY REASON THAT I GAVE IT A

"4




OUT OF 5"~ IS BECAUSE

ALTHOUGH, THESE XL STORAGE CANISTERS ARE A "GOOD SIZE", I ENVISIONED IT TO USE FOR A "PARTICULAR THING" BUT, UNFORTUNATELY DUE TO THE SIZE, I WON'T BE ABLE
TO USE IT FOR THAT REASON… BUT THIS SET CAN DEFINITELY STILL BE USED IN MANY OTHER WAAAAYS~ FOR MANY YEARS TO COME… & I DEFINITELY RECOMMEND IT TO OTHERS FOR BUYING IT FOR SURE!!!… & "THANK YOU" SOOOO VERY MUCH

(((G•Z))) FOR THIS (((AMAZING PRODUCT))) ON "YOUR INCREDIBLE HUGE LINE"… & ALSO "THANK YOU" TO

MORNINGSAVE.COM FOR OFFERING IT AT SUCH AN AMAZING PRICE!!!

Written by @RubyAMSaves - September 30th 2021
Verified Purchase
Written by @elizabethfoster - December 6th 2020
Verified Purchase
MUCH TOO SMALL
I did not know these containers were so small. WOW! Very misleading details on this product!
Written by @LSSREAL812 - January 14th 2021
Verified Purchase
They are too small the description said X-large
Written by @djenkins14711 - March 10th 2021