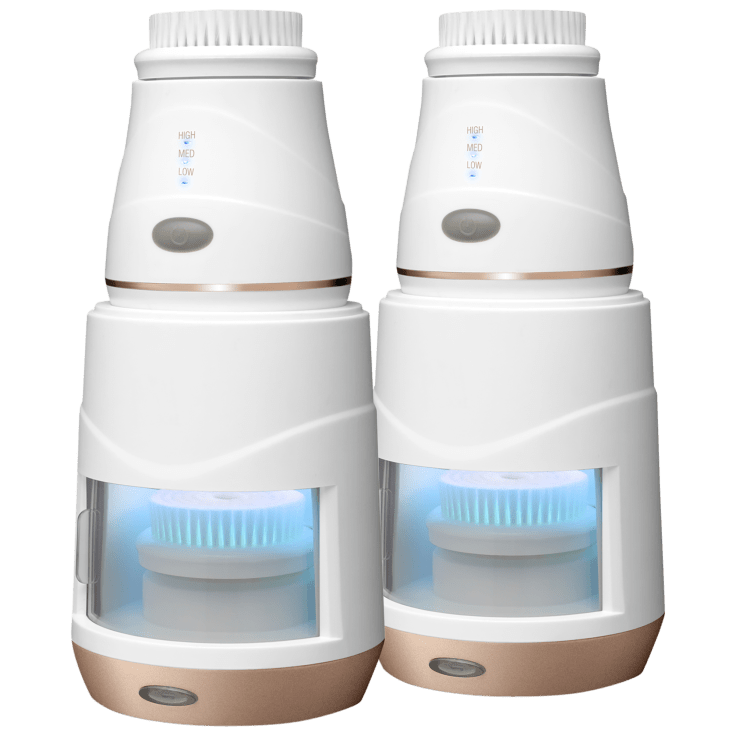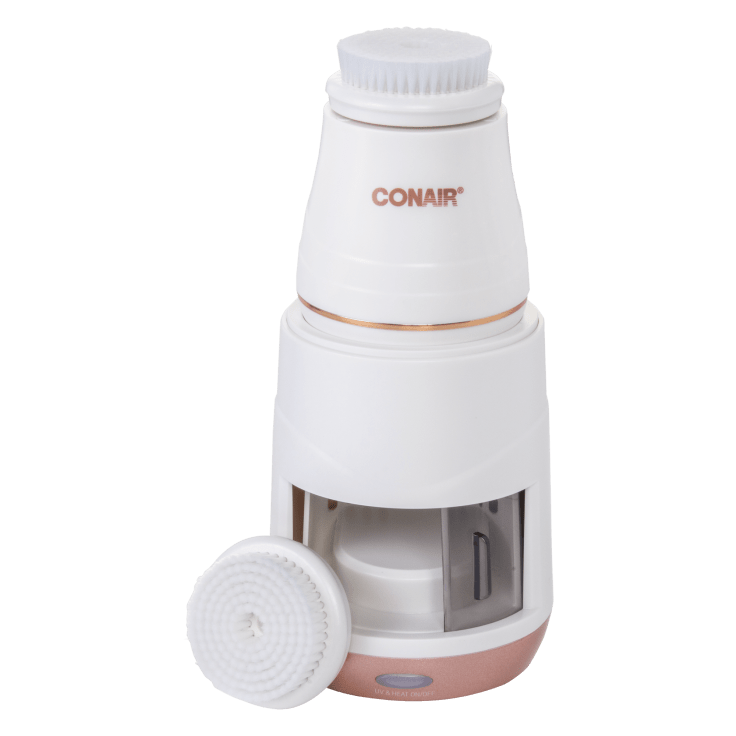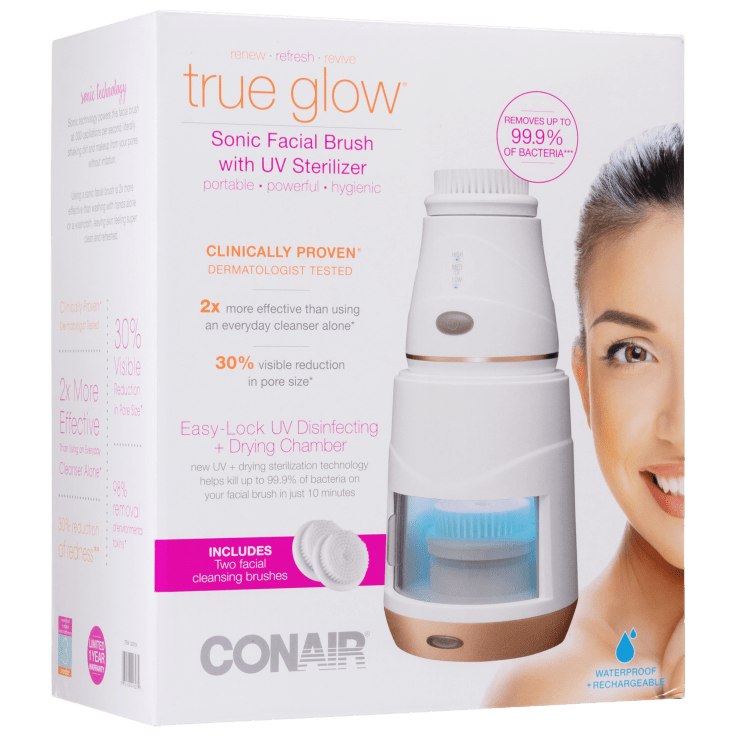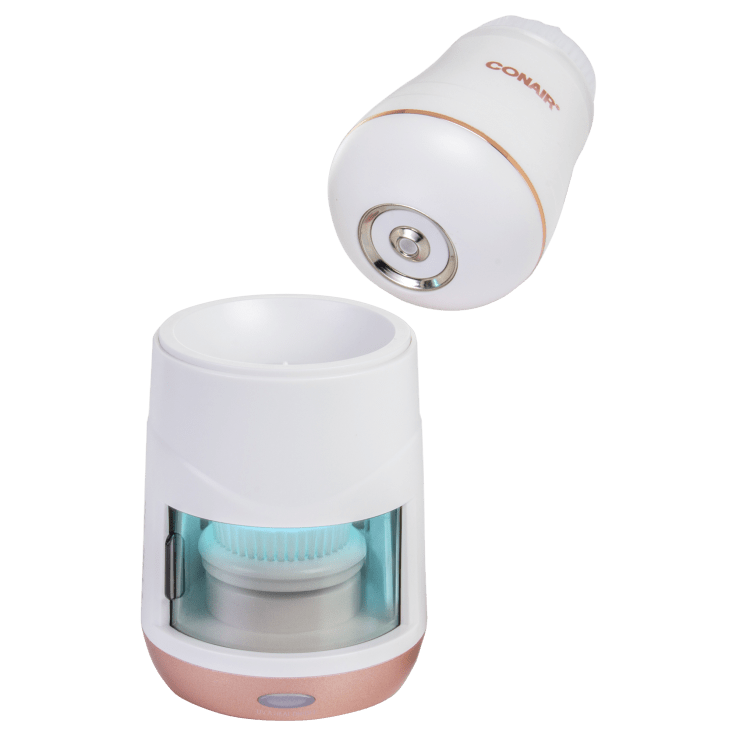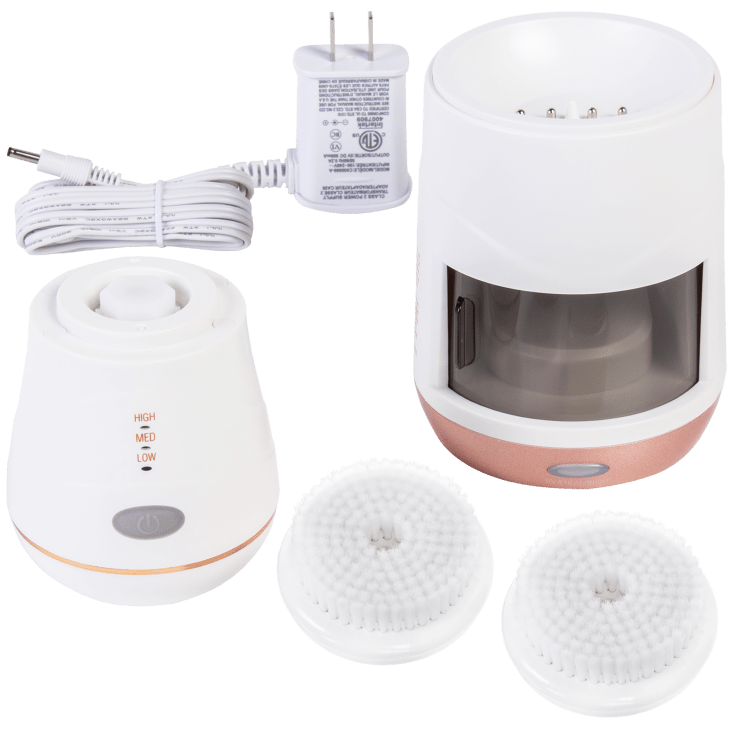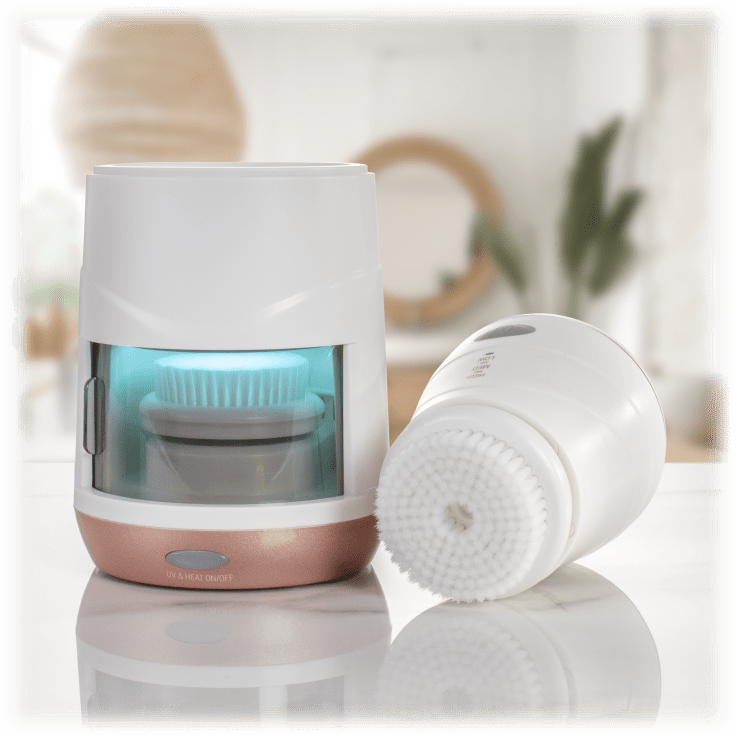 2-Pack: Conair True Glow Facial Brush with UV Brush Sterilizer
Features
Cleans your face and then cleans itself in the sanitizing base
New 360° UV/LED brush sterilizer station with storage
UV/LED technology removes bacteria from the bristles
Kills 99.9% of germs
Sonic facial brush head operates at 300 oscillations per second
3 speeds: low / med / high
The even-cleanse timer tells you to move to every 10 seconds to new area of the face
Gentle enough to use as part of an everyday cleansing regimen
Helps reduce areas of dry skin, oil patches, and visible blemishes
Waterproof so you can use in the shower
Fully rechargeable with charging stand (included)
Specifications
Dimensions: 11.5" x 13.5" x 6.375"
Weight: 3.06 lb
What's Included?
1x UV/LED Brush Sterilizer Station with Storage
2x Facial Brushes
1x Charging stand included
1x Storage pouch
Warranty
Estimated Delivery Date
Friday, Jun 9 - Monday, Jun 12
Reviews
Verified Purchase
Excellent Customer Support Team
The customer support was extremely diligent & empathetic to my needs. My concern was immediately addressed and I am pleased with the outcome.
Written by @cbst367 - March 29th 2023
Verified Purchase
Soft And Smooth
Love this product. I gave one to my granddaughter also. Makes your face feel so soft and smooth after using. The beeper is a great reminder to move over the face.
Written by @vanlilly - April 20th 2023
Verified Purchase
Great product
Now I can take my facial products to the next level. I feel it cleans my pours more deeply. Gentle enough for sensitive skin and a very user-friendly waterproof brush. Great in the shower.
Written by @LoriHawley - November 5th 2021
Verified Purchase
SCRUB AWAY!
Amazing product my skin feels much more cleaner. I love the UV sanitization process. A great little investment I bought 4. Will gift a few
Written by @SEXYONE2200 - April 6th 2023
Verified Purchase
Fast delivery
I love the 2- Pack : Conair True Glow Facial Brush with UV Brush Sterilizer, the price is just right. Thank you for this wonderful offer.
Written by @joyceaku - April 30th 2023
Verified Purchase
Facial Cleansing
The brushes are very soft and it does hold a good amount of cleansing solutions.
Written by @mejaycee - June 4th 2023
Verified Purchase
Great Face...Use this
Nice skin feels soft n ckean
Written by @galwaygirl - February 26th 2023
Verified Purchase
I just received the sonic glow facial brush with UV sterilizer…so far this is Fabulus… I will use this and continue my review…
Written by @JanaPratt - April 22nd 2023
Verified Purchase
This is beautiful and works really well!
Written by @Erenadina - June 19th 2021
Verified Purchase
Thank You

Written by @pushyreyes - June 17th 2021
Verified Purchase
Written by @tmatthias23 - March 5th 2023
Verified Purchase
Written by @NancyBaker - February 25th 2023
Verified Purchase
Men too
Nicely build, works great
Written by @Pacmon70 - April 3rd 2023
Verified Purchase
I'm requesting membership be terminated. No future orders
Written by @lorettamiller - September 6th 2021
Verified Purchase
Don't buy
Ordered 3 of these. The first one I tried and big mistake on my part. You barely touched your face and it would shut off. When on, there's no way this brush would do anything for your face. Not worth it. Then had big issues on returns. Never did get them returned because it would of cost over $60 to return. That's is about what I paid for them. So not happy, never again
Written by @bbaxter - November 7th 2022
Verified Purchase
Not at all what expected as shown on tv!! Big etc never used. Never out of box. Want shipping label to be returned immediately! Thank you
Written by @Fionasum1 - April 19th 2023