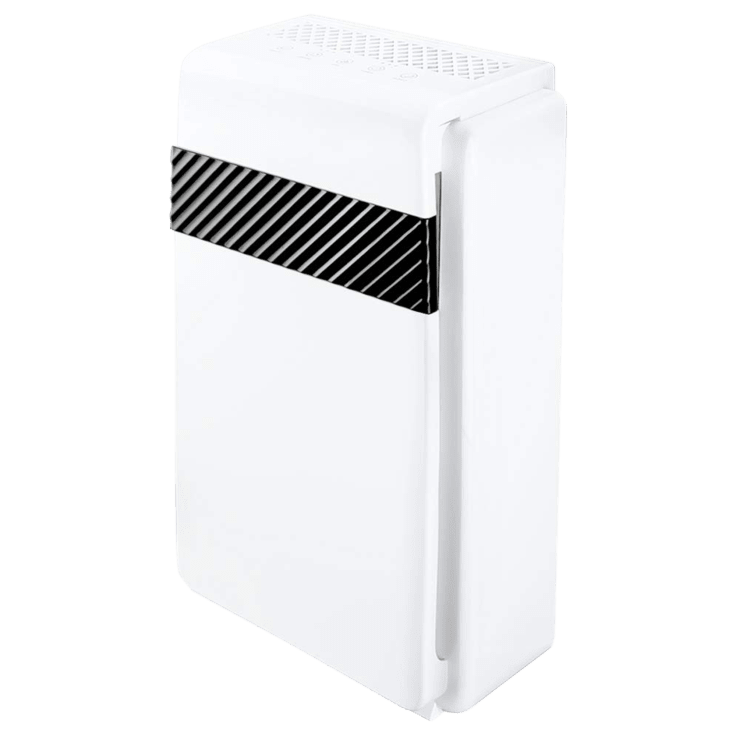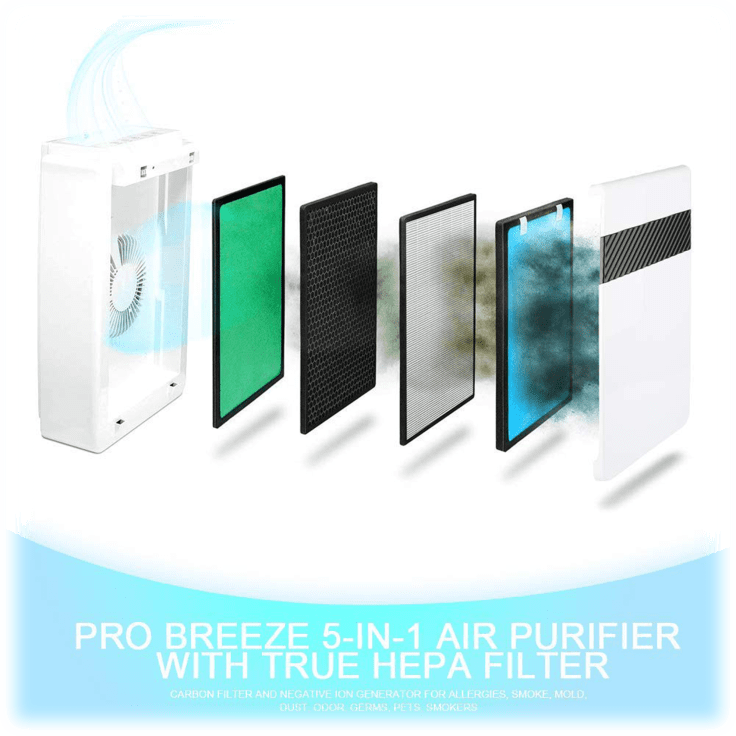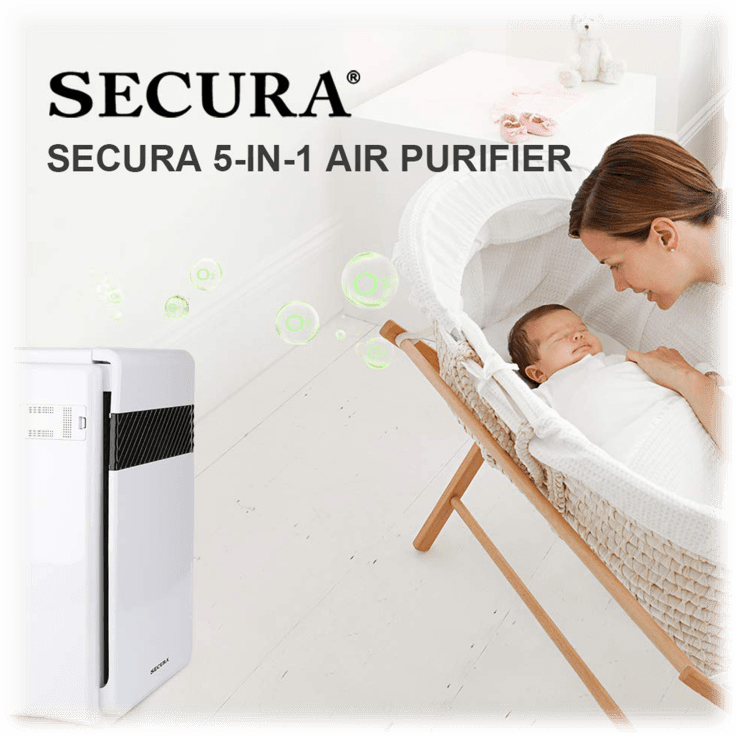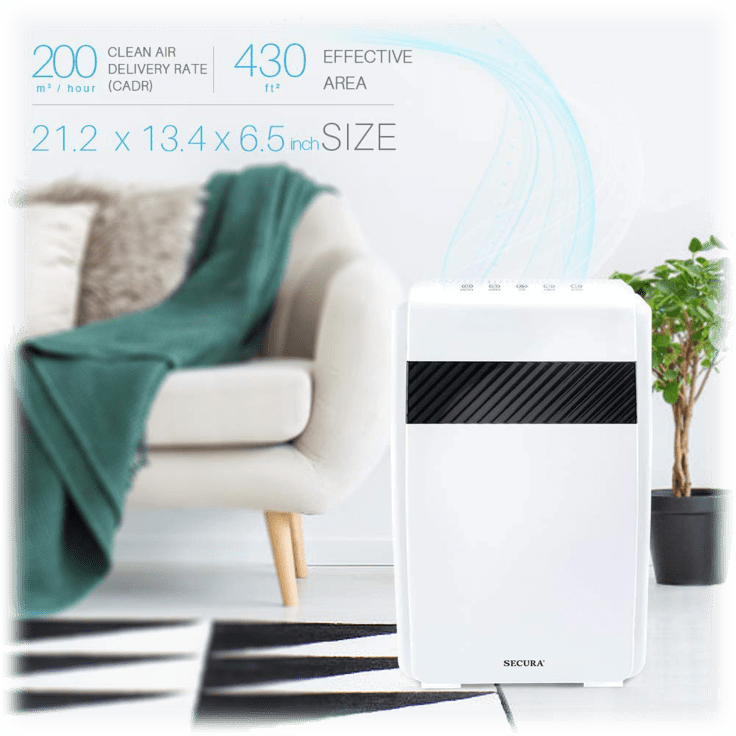 Secura True HEPA 5-in-1 Large Room Air Purifier
Features
GET A BETTER BREATH OF AIR – SECURA's 5-in-1 Composite Filtration System (Pre-filter, True HEPA filter, activated carbon filter, cold catalyst filter, negative ion generator) Air Filter can remove 99. 97% of hair, dust, pollen, smoke, odor, mold spores and pet dander. Filters air pollution including particulate matter with a diameter of less than 2. 5, formaldehyde and TVOCs, allowing you to breathe easier and live better.
BREATH FRESH AIR AT HOME - Not an ordinary air filter, the SECURA Air Purifier contains a negative ionizer generator that releases negative ions into the air, eliminating airborne bacteria and contaminants and producing clean, fresh air for your home.
SUITABLE FOR SMALL TO LARGE ROOMS - CADR: 200 m³/hour, covers an area of up to 40 m²/430 ft², making it a perfectly-sized, elegantly-designed air purifier perfect for your home or office. With three (3) fan speeds, simply adjust as needed.
EASY OPERATION AND WHISPER QUIET - Auto-on and auto-off timers enable the air purifier to automatically switch-on or off after 1, 2 or 4 hours. Convenient sleep mode filters the air while keeping noise level under 30 dB and without distracting lights. Air filter promotes peaceful, undisturbed sleep throughout the night.
HIGHER EFFICIENCY – The SECURA Air Purifier is with features designed to save energy and provide quality assurance. Uses only 40 watts of power, or about 1kWh per week (based on four hours of operation per day).
Specifications
Dimensions: 24" x 15" x 8.5"
Model: KJ188F-A077
Included In The Box
1x Secura True HEPA 5-in-1 Large Room Air Purifier
Warranty
Estimated Delivery Date
Friday, Nov 6 - Wednesday, Nov 11
Reviews
Verified Purchase
Allergy Assist!
I have allergies and although I live in a brand new house, the dust that accumulates is unreal. I keep my HEPA running 24/7 and the air remains fresh and dust free. The sleep mode is great also because it keeps the air purified with minimal noise. I have three of them throughout my house now!
Written by @bchitten - April 4th 2020
Verified Purchase
Very quiet excellent money value!
Written by @momsports40 - March 21st 2020
Verified Purchase
Written by @gmshelley - March 20th 2020
Verified Purchase
Stuffy nose gone...
I plugged the unit in and let it run. At the end of an 8 hour run time my stuffy nose was gone. Nice.
Sleek unit: lighter than expected, very quiet, easy to operate, small footprint, sleep option is great. Well packaged. Very happy with purchase.
Written by @TwilightPainter - March 15th 2020
Verified Purchase
Works great and is very quiet!
Written by @irenechapman - March 6th 2020
Verified Purchase
simple easy connect and clean air
i love my new air cleaner highly reccomend
Written by @jaysunique - March 5th 2020
Verified Purchase
Great product
This is a fantastic product and even better with the price. The filter is very basically the size of the entire unit. They said 5,000 hours worth of use, I'm thinking more specially if I don't use it 24/7. Wish they had one for the entire house.
Written by @Maverickspawn - February 23rd 2020
Verified Purchase
Sleek and Quiet
I am very impressed with the size, look and performance of this unit. It is perfect for my office, where I am surrounded by my pet birds! Lots of dander! This purifier is a life saver!!
Written by @mrwiggles - February 22nd 2020
Verified Purchase
Air purifier
Love the size. It's very quiet. Just received it today so we'll see how it runs but so far I like it
Written by @GailReed - February 20th 2020