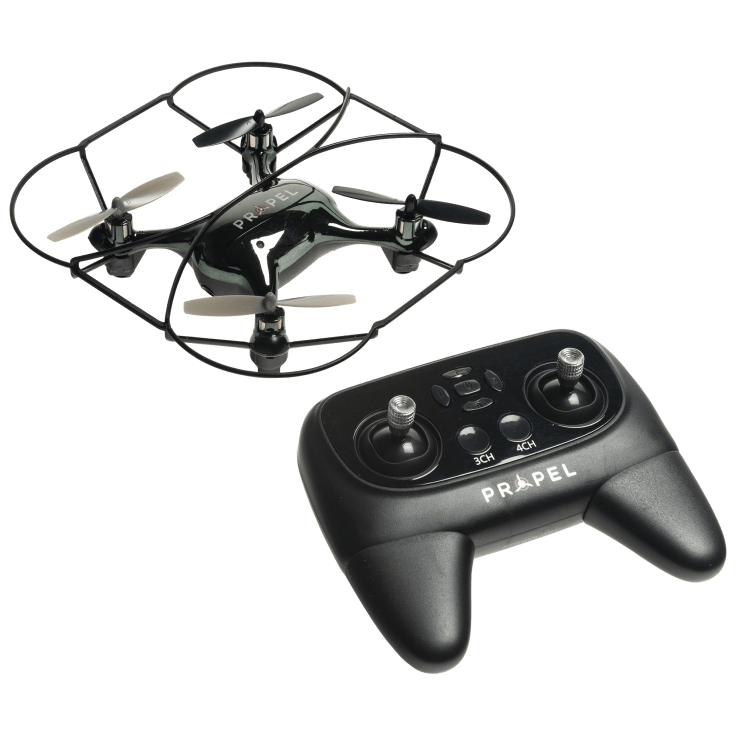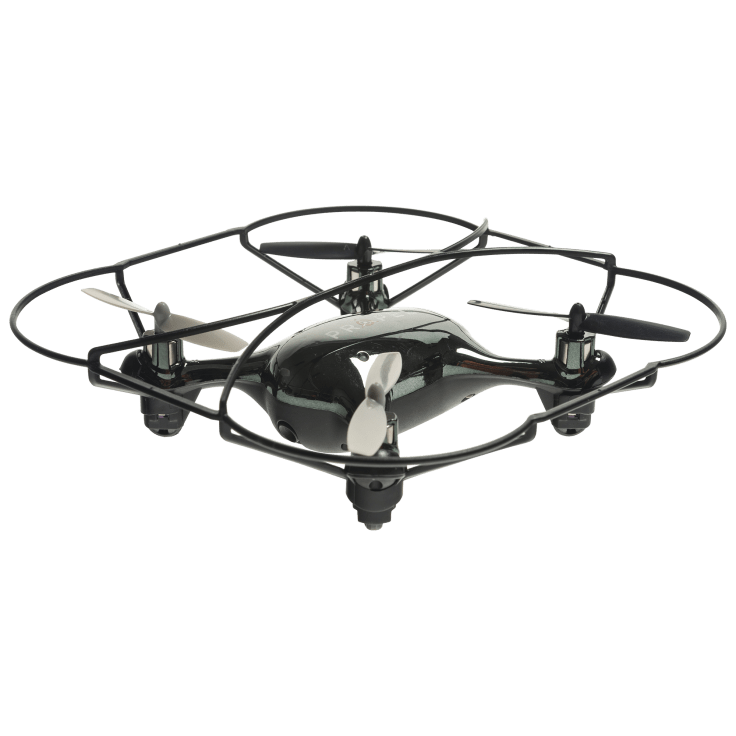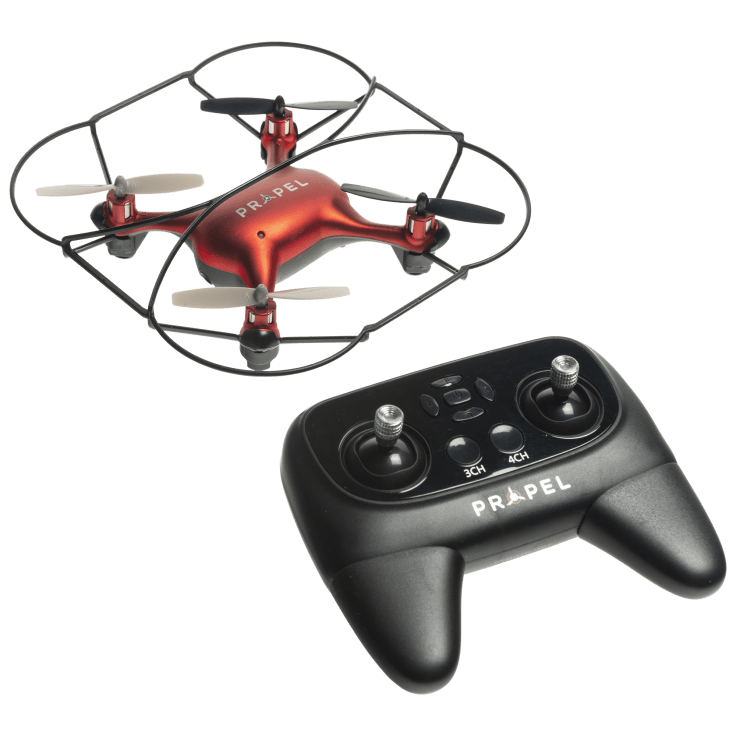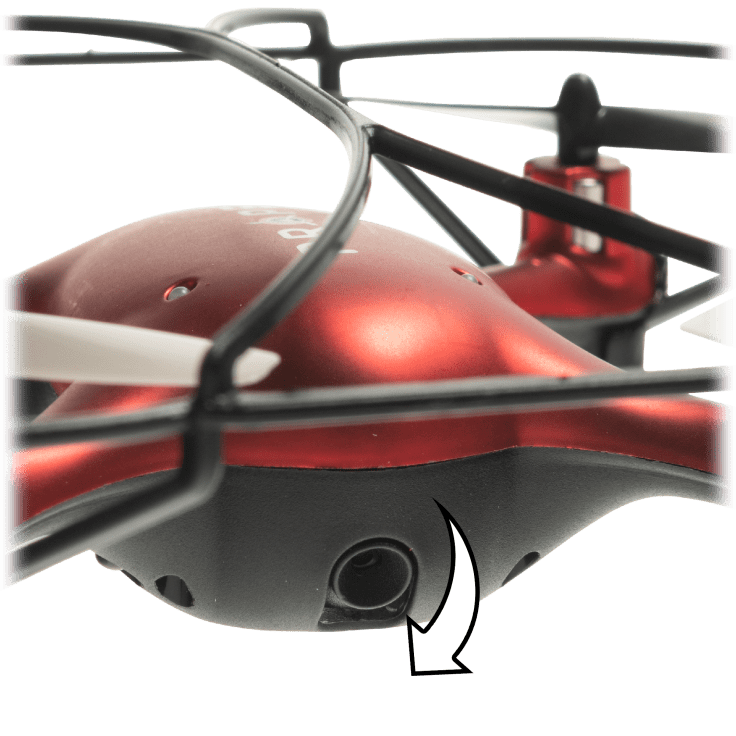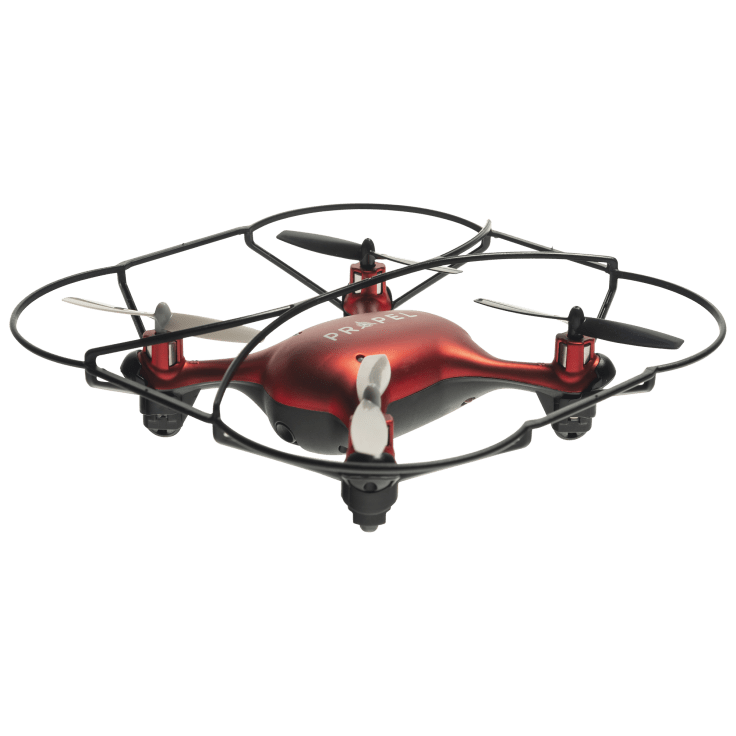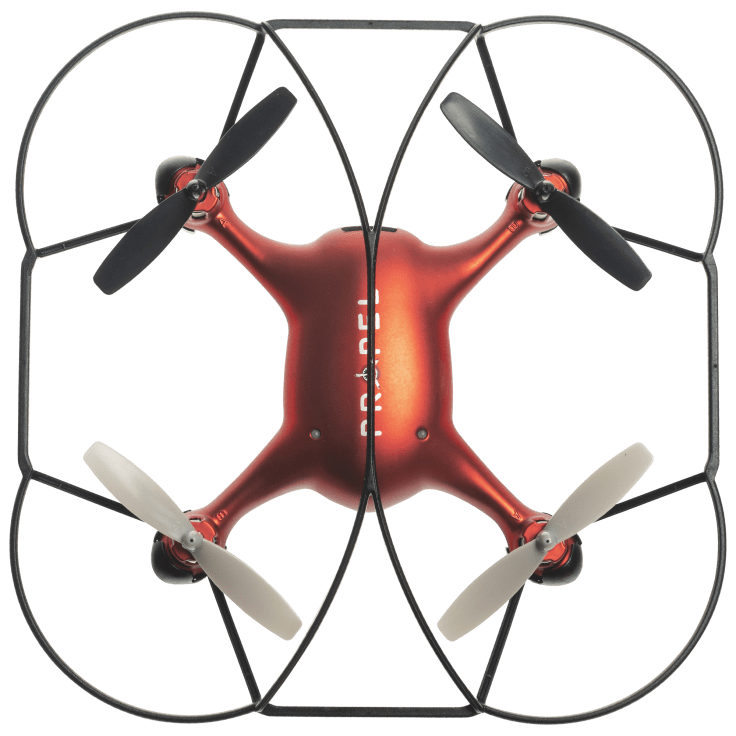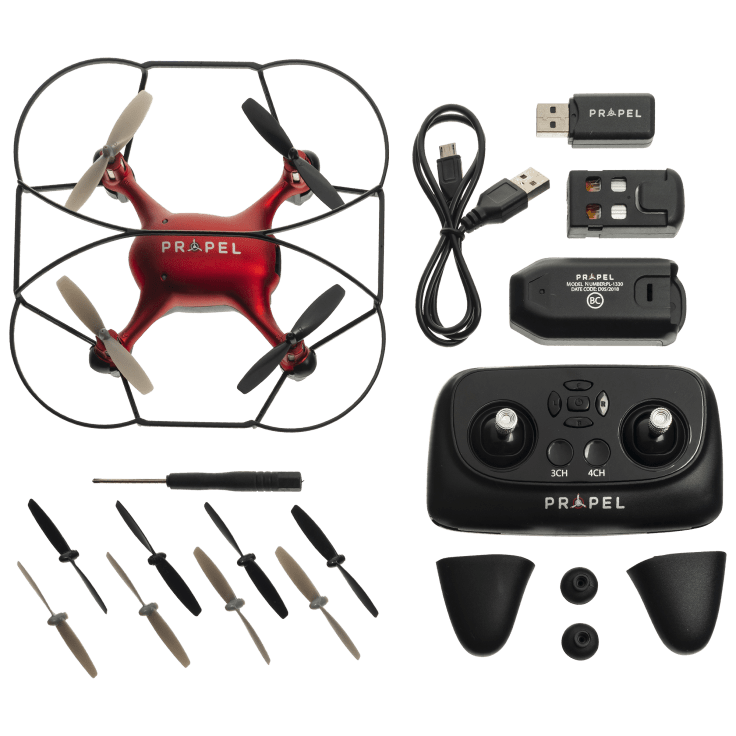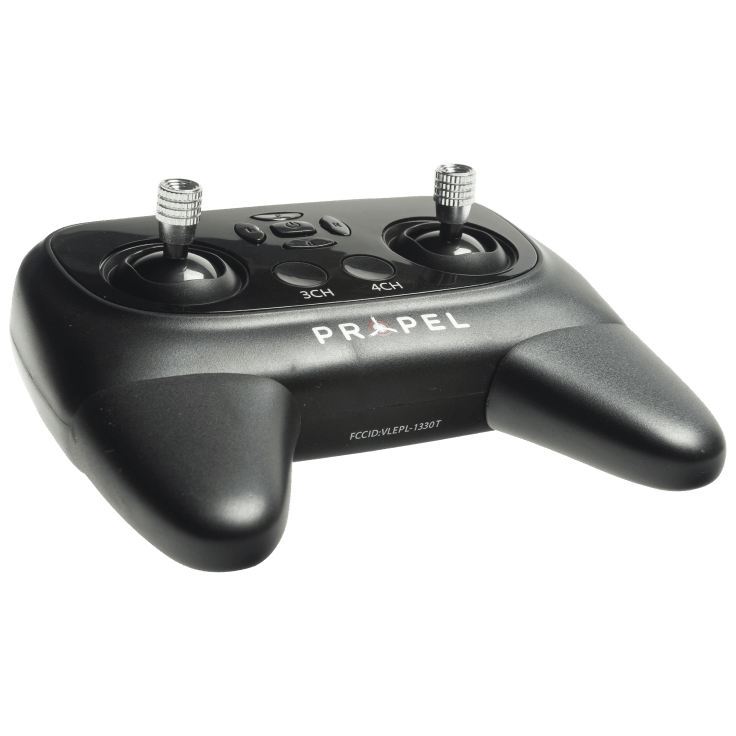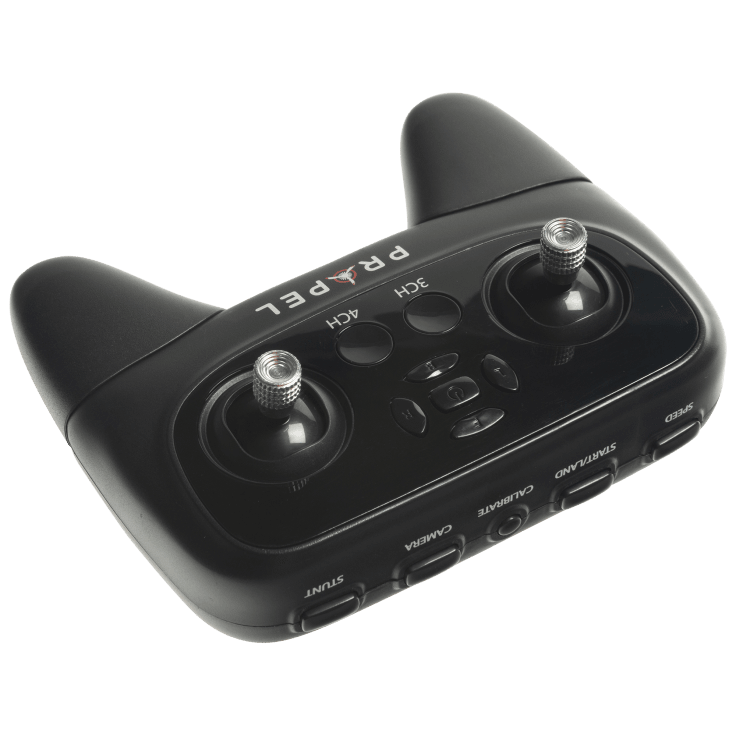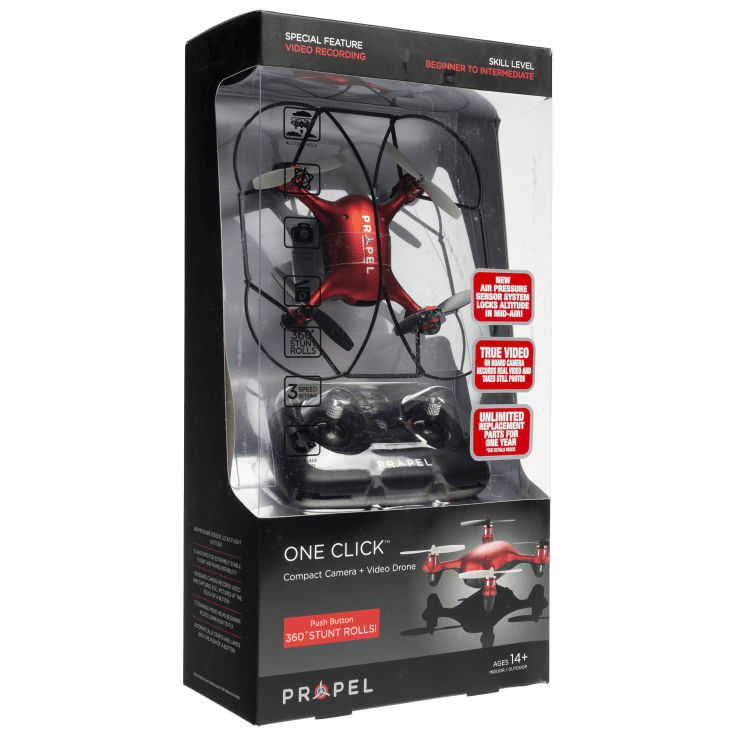 Propel One-Click Camera + Video Drone with Push-Button Take-Off and Landing
Features
A fun and easy to fly drone that makes a great gift
This fun drone features a onboard positional camera with one-push video and still image camera shutter buttons
Air Pressure Sensor Locks Altitude in Mid-Air, meaning you don't have to struggle with the throttle
Automatic Push Button Take-off and Landing
Push Button Stunts to impress your friends
Includes Propeller and drone guard to prevent a crash if you bump into a wall
Easy Slide-in, Slide-out battery design, so you don't have to fidget with cable
Battery Charges via Micro-usb.
Unique Switch Blade Technology Allows for 3CH or 4CH flight modes
– 3-Channel mode is for beginners who need a little more stability in flight while they're learning
– 4-Channel mode allows for more maneuverability, and is great for flying after gaining a little more experience
Specifications
Camera Memory Type: Micro SDHC Card (not included)
Remote Frequency: 2.4GHz
Remote Channels: 3CH or 4CH
Flight Time: 5 - 7 Minutes, Varies by conditions
Battery Capacity 340 mAh
Battery Charge Time: 30-40 Minutes
Charging Cable: Micro-USB
Remote Batteries: 2 x AAA's
Drone Dimensions: 5.5" L x 5.5" W x 1.55" H
INCLUDED IN THE BOX:
1x One-Click Camera Drone
1x Drone Battery
1x Slide-In Micro-USB Battery Charger
1x Micro-USB Charging Cable
1x Remote Controller
1x Pair of Remote Palm Rests
1x Remote Rubberized Tips
1x Screwdriver
Spare Propellers
Instruction Booklet
Warranty
Estimated Delivery Date
Thursday, Nov 5 - Tuesday, Nov 10
Reviews
Verified Purchase
Morningsave is the best
Written by @Tywayne1985 - May 1st 2020
Verified Purchase
Great
Written by @abbey9599 - April 16th 2020
Verified Purchase
Shipping
I recieved my item but it took some time to get to me and the tracking was not good and I was unsure when it was coming, bad updates on tracking
Written by @Elijah62 - May 5th 2020
Verified Purchase
Wow so small and red and hi - tech!!wow
This making my back feel better!!Thanks u r u aware I got run over by a car on 3 ,3,2020?Thanks4 putting a smile on my face. guys. Godbles bye! Happy. EASTER
Written by @SydneyPVE - April 8th 2020
Verified Purchase
Fell apart on opening box
The box was torn when received. On opening the package, the drone fell aprt. The directions are not easily understood.
Written by @RosannaClayton - March 13th 2020